---
Redmi Note 4 is the best-selling smartphone in India and Xiaomi has sold millions of Redmi Note 4 devices. We have come up with a list of best cases and covers available for Redmi Note 4.
If you are planning to buy Redmi Note 4 then take a look at its review here.
We have tried to cover all types of cases like printed case, armor case, flip case etc. Price range of these cases and covers will vary from Rs 200 to Rs 600.
1. Flipkart Smartbuy Metallic Finish Shockproof Case | Rs 299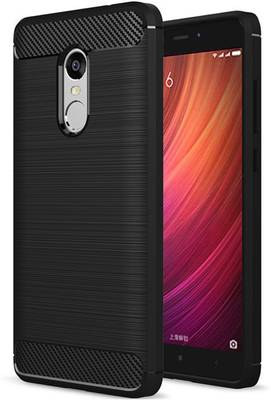 This is a Rugged Armor TPU Case With Anti-Shock Corners. It provides great protection to your phone and makes your phone stand out in the crowd by enhancing its looks. It has high-quality eco-friendly materials, unique textures on the back and perfectly fits your phone.
Flipkart SmartBuy Rugged Armor Series case provides 360-degree protection to your device while maintaining its slim profile. Its unique Air Cushion Technology and shockproof corners make your phone impact resistant from all sides on a drop. Raised Lips protect the camera and screen. Rugged Armor Case gives your phone an all-around protection.
Flipkart SmartBuy Rugged Armor Case is made in a mold designed especially for your phone model so it takes care for smallest details of your phone such as sensors, protruding camera, speakers etc. Made up of high-grade environment TPU materials that are non-toxic & odor free to protect the environment and also does not affect your health, unlike other Cheap cases. Also, it is highly flexible and made up of tough material which is random deformation & tear free.Easy to remove & install, anti-fingerprint, anti-scratch & washable.
2. Fashionury Transparent Back Cover for Redmi Note 4 | Rs 249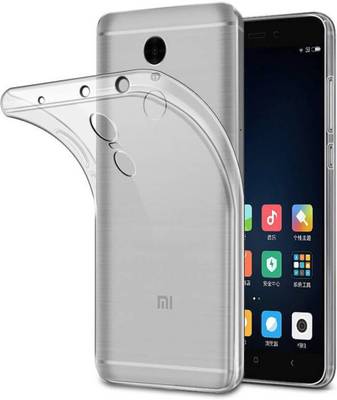 This soft silicone Transparent cover will protect and prevent your phone from scratches, damage, and dust. The silicone cover is made from a lightweight tough strong high-quality rubber/silicone material which will help you to keep your phone safe. It comes in a smooth texture. This will not only look good on your phone but will protect it. This case will Style your mobile.
3. Kapaver Bumper Case for Xiaomi Redmi Note 4 | Rs 499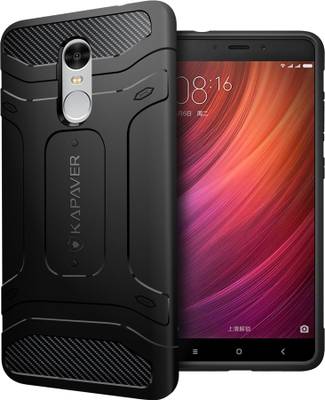 This is a premium looking case from Kapaver. It provide360-degreeee protection to your device while maintaining its slim profile. Its unique Air Cushion Technology and shock proof corners make your phone impact resistant from all sides on a drop. Its intelligently designed upper lips extend over the sides of the phone to give an extra safety to your screen and camera on a fall and when kept down on a flat surface. Every Rugged Armor case has Unique Smooth Silk Brushed Texture and carbon fibre with glossy accents on the back side to enhance the looks of your phone and make your phone stand out.
4. Flipkart Smartbuy Rubber Case with Stand | Rs 399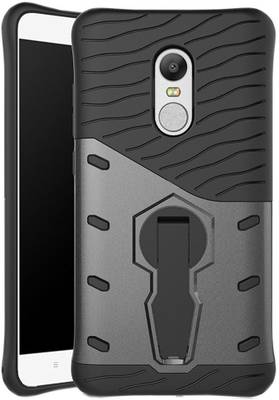 Military-inspired Flipkart Smartbuy Sniper Shock Proof Case, the outer polycarbonate layer features a rugged grenade molded design, delivering a surplus of protection. The inner layer combines a glossy and matte TPU for an eye-catching effect. Together the layers provide a durable, shock-absorbing design withstanding even the worst drops and bumps. The collapsible stand lets you watch video or video chat at just the right angle. Fighting for phone protection, the SmartBuy Shock Proof case combines dual layers and a media stand for unparalleled power.
5. Bracevor Flip Cover for Xiaomi Redmi Note 4 | Rs 594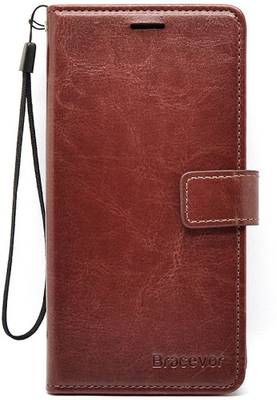 Invest in your brand new Xiaomi Redmi Note 4 device's protection today through this fit to use executive brown leather stand wallet case flip cover and save yourself from the heartbreak and agony of watching the scratches and damages on your device multiply periodically. This sleek executive flip cover case is designed to a perfect fit on your mobile and smooth surface further adds to its polished looks.
This pouch comes with inner TPU back cover that does not break easily and aids in shock absorption during impacts. This wallet case comes with card slots to store receipts, cards or emergency cash. You can now video chat or watch movies hands-free in landscape mode with the wallet stand. Perfect and precise cutouts allow easy access to all ports.
6. Flipkart Smartbuy Rubber Plastic Dual Layer Case | Rs 399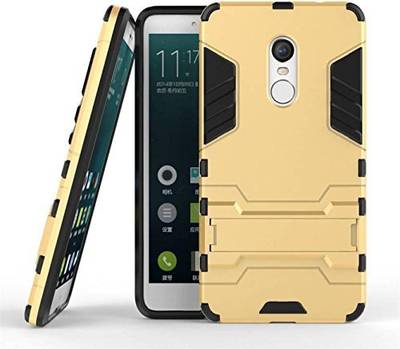 The Flipkart SmartBuy Hybrid Shock Proof Military Armor Series Case Cover not only protects your mobile phone but also makes it stunningly beautiful. It is a hybrid case cover with the outer layer made of hard poly-carbonate to sustain heavy impact and a soft rubberized Flipkart SmartBuy shell beneath to protect the case from cracking if you happen to drop your smartphone.
The Flipkart SmartBuy Shock Proof series case offers military-grade protection for your mobile phone and can sustain very high impact levels. Never again do you have to worry about your smartphone slipping from your hands as the Flipkart SmartBuy Hybrid Shockproof case offers a firm grip and fits comfortably on your device and your palm. It is carefully designed just for your mobile phone and has precise cut-outs for easy access to the volume keys, power button, charging port and the headphone jack.
7. Noise Printed Back Cover for Mi Redmi Note 4 | Rs 399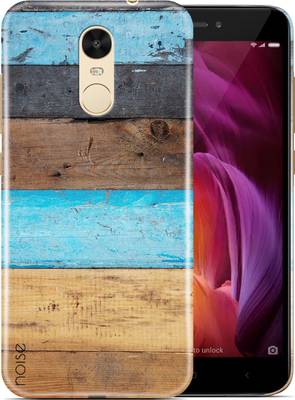 Protect your MI Redmi Note 4 with these designer hard back cases. Made from toughened polycarbonate plastic, they will protect your phone from bumps and scratches and keep it in pristine condition. These cases come with the Peacock design printed directly into the back surface to bring life and style to any smartphone.
These designs were carefully crafted here in the India by our in-house team of specialist designers and they are printed directly on the cases using the very latest in IMT print technology. The specially formulated ink dries instantly to produce a tough and durable finish making sure that your phone and its case look great at all times.
So these were some of the best cases and covers available for Redmi Note 4. If you have any questions please post them in comment section below.
Like our Facebook page Suggest Phone to stay updated with latest smartphone news, leaks, reviews, ratings.
Deals/Offers: Check Out the Best Deals Available on Smartphones on Amazon.
---
---
Latest Comparisons
---