---
If you are not living under a rock, you know what a Bluetooth speaker is. In case you were under a rock, Imagine a speaker without wires, using Bluetooth and playing your favourite music wirelessly, on the go. How cool is that? All your favourite music, loud and portable.
Though Bluetooth speakers were an expensive business quite some time ago, things have eased a bit in the past couple of months, owing to more newcomers taking ground with budget offerings, plunging a few big names into the game as well. So the question comes up, what best can you get under Rs. 1000?
SuggestPhone's Best Bluetooth Speakers Under 1000 & 1500
Below is SuggestPhone's Pick of Best Bluetooth Speakers under 1000, and the ones that made to list consist of speakers from Portonics, Zoook, Logitech, iBall, boAt, F&D, and Blaupunkt. Let read the reviews of each of them one by one.
Deals/Offers: Check Out the Best Deals and Offers Available on Amazon.in Today!
1. Portronics POR-280 Sound Pot Bluetooth Speaker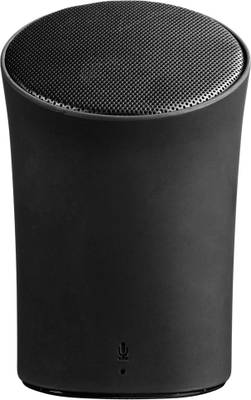 This isn't a surprise, is it? This tiny audio-powerhouse by Portronics is the champion of budget Bluetooth speakers in India. At first look, you'll say that we must be delusional when we call It the best, how can this tiny puck best other larger and more hunk-y Bluetooth speakers but that's the beauty of this Sound Pot, despite being puck-sized.
It has got powerful sound output, It's not only loud, It has got a richer sound spectrum than most of the others in the category. It also supports simultaneous connection to more than one source devices, so you get to connect more than one devices to this speaker, and play uninterrupted music. The pairing is usual with no added troubles, It has got a decent range of about 9-10 metres. The small build allows easy carrying, you can even fit it in your pockets but we would advise you against that.
Sound Pot POR-280 has great performance and sound quality with a battery that can go non-stop for 7 hours before It requires to be charged again. The sound is loud, punchy with no noticeable distortion at high volume. Certainly richer than any of the other candidates on the list. There's also an AUX port at the back of this speaker, so you can also get wired by using a 3.5mm audio cable. This Portronics speaker can be purchased for around ₹ 1000 and is one of the best Bluetooth speakers under 1000 in India.
Buy Portronics Bluetooth Speaker from Flipkart
Buy Portronics Bluetooth Speaker from Amazon
2. Zoook ZB-JAZZ Portable Bluetooth Speaker
Zoook ZB-JAZZ stands second in our rankings of Best Bluetooth Speaker under 1000. The speaker takes heavy inspiration from JBL Pulse series but It's not that exactly there. The speaker is a small cylinder and is embellished with LED lights all along Its curved surface, which looks phenomenal. The lights change and wave as music goes on and It looks super cool and pricey but It is not.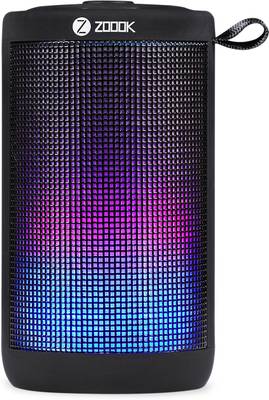 This speaker from Zoook is one of the great budget beauties. Though It's not as good in loudness and sound quality as the previously mentioned SoundPot POR-280 but this one accomplishes a lot of other fronts such as design and versatility. ZB-JAZZ has a decent sound output not too loud and powerful but still powers clear and distortion free sound, enough for a room.
The looks tell a different story all along, the dynamic LED lighting on the surface is very attractive and makes a great living room showpiece. The other thing beside looks that put this speaker up on our list is versatility. The speaker packs everything you'd ever ask, great Bluetooth support, memory card slot, USB-A slot, mic that allows you answer to calls. Along with a comprehensive set of buttons at the top, adding to your convenience. If you can take a small dent on your love for superior quality music, this Bluetooth speaker is just way too awesome. You can get Zoook ZB-JAZZ for around ₹ 1200
Buy Zoook Bluetooth Speakers from Flipkart
Buy Zoook Bluetooth Speakers from Amazon
3. Logitech X50 Wireless Speakers
Logitech X50 is one of the most strong contenders in the budget category with excellent sound quality, whether it be clarity or bass, X50 does a pretty neat job at handling sound. The tiny circular speakers from Logitech have enamored many customers with Its loudness and punchiness at a price which no one would believe.
The quality of sound, these speakers exude is just mesmerizing and supreme in the category. Talking about looks and design, the Logitech X50 are sturdy and rugged. The design is not very appealing to us and looks more of a standard circular Bluetooth speaker, Logitech could have done more to make this speaker a tad more attractive. The big buttons up top to control volume and play/pause are really clean and do a great job. Still, some of you might be perplexed, despite being such brilliant audio boxes, why are X50 not at the top of our list.
The reason being versatility, the X50 is standalone Bluetooth speakers with no SD card or USB support. You just get a micro-USB port to charge these and an AUX port. Coming to charge, Logitech claims around 5+ hours of non-stop playing, but that doesn't seem to be true in real life, with the battery dying in around 4 hours of use, which might disappoint some.
If you are looking for one compact and sturdy wireless speaker from a renowned brand, that pumps excellent sound at a nominal price, Logitech X50 is your best bet. You can get the X50 for around ₹ 1199.
Buy Logitech Bluetooth Speakers from Amazon
Buy Logitech Bluetooth Speakers from Flipkart
4. boAt Stone 260 Portable Bluetooth Speakers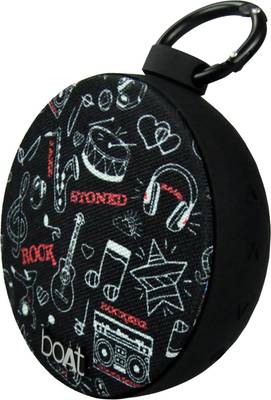 boAt Stone 260 is a relatively new entry in the budget segment by boAt and is a great new offering at a frugal price by boAt. The Stone 260 follows a newer, trendy circular pebble-design language. The funky looking speaker is rugged and tough, as it comes with IPX5 waterproof certification and is also shockproof as claimed by boAt.
Its handy build allows you to take it anywhere you go. So the only question remains, how far are you ready to take music with you. Coming to sound, these tiny speakers is veritably loud and powerful, powers a dynamic audio, with decent bass levels, clear and distortion free sound.
One of the main reasons behind great sound quality is deemed to be the Bluetooth 4.1 standard used by this Bluetooth speaker. Hence, the transmission losses and noise are minimal and you get the rich sound. boAt Stone 260 is undoubtedly small and light and comes with a ring, so you can just hook it anywhere and play your music on the go.
The build is really decent and is one of the better looking Bluetooth speakers given you like the rock-pop imprints on the speaker. With 1000mAh of battery, Stone 260 is not the best on battery out there but pumps sound for at least 4 hours on one charge. If all of this checks out perfectly for you, you can get these super funky boAt Stone 260 for around ₹ 1200.
Buy boAt Bluetooth Speakers from Flipkart
Buy boAt Bluetooth Speakers from Amazon
5. F&D W4 Portable Bluetooth Mobile/Tablet Speaker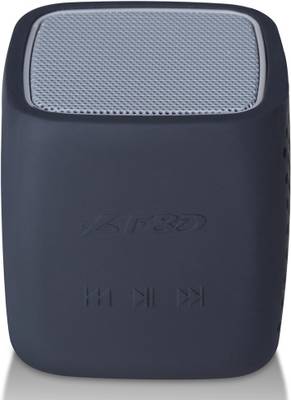 F&D makes its mark in the budget segment with W4 Bluetooth speaker, W4 is another tiny, cubic speaker which sounds way larger than Its size. The sound is crystal clear and well balanced. Even at peak volumes, no distortion can be observed, which is really commendable. The bass levels are good, while the speaker is quite loud as well. The speaker is tiny and can be carried around quite comfortably.
The F&D W4 uses Bluetooth standard 4.0, which is fairly nice and offers good sound transmission with low losses and noise. The speaker gets charged with a micro-USB port at the back, sharing the neighbourhood is a microSD card slot. On the front, you get soft rubber buttons to control music. The W4 is well built and looks sturdy. You might have to take the battery life with a pinch of salt, as the company claims It to be 5 hours but In real life usage, we didn't see It going past 3-3.5 hours.
The W4 is a decent buy at the price, but we miss the AUX port and battery could have been certainly better. This small hand-Sized F&D W4 is one of the best Bluetooth speakers and can be bought for around ₹ 1100.
Buy F&D W4 Bluetooth Speakers from Flipkart
Buy F&D W4 Bluetooth Speakers from Amazon
6. iBall Musi Cube BT20 Bluetooth Speaker with FM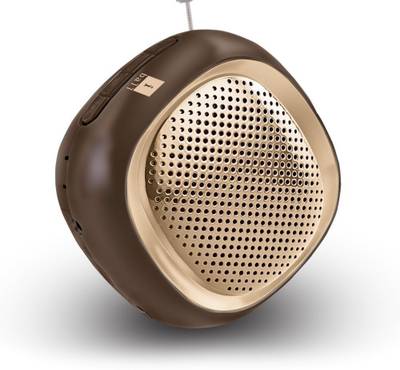 The iBall Music Cube BT20 is a Bluetooth Speaker with all the new wireless magic in a classic, retro design, which makes this speaker really something to stare at. The Music Cube BT20 is a decent wireless speaker with not the most powerful and rich sound at the club but has a lot more versatility and looks to show for. The audio output is fairly loud and clear, the sound is not very rich and punchy as one would like but for a small room, the speaker does the job.
Talking of versatility, Musi Cube BT20 has got a lot of connectivity options in-house for you, USB-A, MicroSD, and AUX. Guess what, It has also Inbuilt FM so that old-classic appeal is justified. It has also got control buttons on the top, though the buttons are not something you'd love to use and often gets a bit annoying. The build quality is decent but the battery life isn't. This is our major beef with Cube BT20, It has a dire 500mAh battery which lasts for about 3-3.5 hour tops. With a charging time of about 2 hours, this really is a bad equation for people who like to take their music on the go.
If you want a small speaker with a great build and classic looks, along with fair sound quality, iBall Musi Cube BT20 can be purchased for around ₹ 850.
Buy iBall Bluetooth Speaker from Flipkart
Buy iBall Bluetooth Speaker from Amazon
7. Blaupunkt BT-01 BK Portable Bluetooth Speaker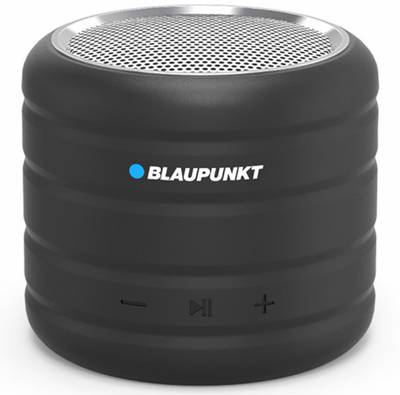 Blaupunkt BT-01 BK is one of the unsung budget champions Bluetooth speakers in India. The 3W wireless speaker exudes loud, crisp and clear sound. The sound is very powerful and with solid levels of bass, you certainly don't expect from a device this small. This cylindrical speaker fits right in the palm of a hand. The build is not the most premium one, but a more standard yet robust build, that is rugged and sturdy. These german built wireless speakers best the Phillips BT64, with sound as well as price.
Blaupunkt BT-01 BK packs an AUX, TF card port and it is fairly good with Bluetooth connectivity with a range of up to 10m. To make the deal sweeter, you also get FM Radio on board, with memory for 10 channels. It has also an inbuilt mic, allowing you to take calls with this powerhouse. The battery inside this one is fairly small, at just 400mAh, which powers non-stop music for 4 hours tops. On top of that, It takes 3 hours to charge from zero to full, which makes me a bit hesitant. If you more of an on the go listener, Blaupunkt BT-01 BK might disappoint you with battery life, If not you can't get more powerful sound in just under ₹900. In this list of best Bluetooth speakers under 1000, this one is our favorite.
Buy Blaupunkt Bluetooth Speaker from Flipkart
Wrapping Up
So that's all people. We hope we did a fine job bringing you the best Bluetooth speakers under 1000 & 1500 in India 2019. Music is the lifeblood for many of us, It inspires us, moves us and elates us. So for the love of music, we hope we served you well in this article by providing you with the best devices to take your music on the go with you.
Wireless speakers are becoming popular media devices by each passing day, so It's a great time to get one and listen to your favorite melodies without any wires. Did we miss any great wireless speakers in the sub ₹ 1000 range? If you think, some other wireless speaker deserves a place here, do tell us in the comments. Have you been using any of the above mentioned wireless speakers? or used in the past? what were your experiences? Do share with us, we'll be waiting to hear from you.
If you can spend a bit more, check out our list of best portable bluetooth speakers under 2000 in India.
---
---
Latest Articles on our blog
---
9 Best Wireless Bluetooth Earphones & Headphones Under 2000 in India 2020
In this blogpost, we take a look at the 9 best wireless bluetooth earphones & headphones under 2000 in India 2020. These earphone and headphone use bluetooth technology to connect to your phone and stream music. If you are a regular wired earphone user, you would love the wireless experience.
---
AMX XP 60 Review: One Charger For All of Your Devices
AMX has recently introduced a 4 port charger that has 1 PD port and 3 USB ports. The Power delivery port can be used to charge the laptop, MacBook, iPhone, Pixel and other latest smartphones. The other 3 ports are conventional Type-A ports and you can normal Type-A to MicroUSB or Type C to charge your phone, smartwatches, bands, power banks, etc. In this article, we are going to take a look at the brief review of AMX XP-60. We have covered the features, specs, design, and performance.
---
Best Headphones & Earphones Under 3000 in India (Wireless Bluetooth & Wired)
Everyone loves music and In this article, we bring you the list and brief reviews of best headphones and earphones under 3000 in India 2019. This list has both earphones and headphones. Both wired and wireless bluetooth earphones/headphones have been covered in this article from brands like Sony, Samsumg, JBL, boAt and Motorola. The price range varies from 2000 to 3000 rupees.
---
The 8 Best Earphones Under 1500 and 2000 in India September 2019
A list of top 8 best earphones under 1500 and 2000 available in India as of September 2019. Best earphones from brands like Sony, JBL, Noise, Sennheiser, and bOAT have been listed in this article. All these earphones have excellent sound quality and provide an immersive listening experience.
---