---
Hola ladies and gentlemen, today we are all set to answer some of the most buzzing questions in tech space, in India. What are the best Bluetooth speakers under 2000 in India as of 2019? Since we are on the cusp of going digital with music, one of the most important aspects of our modern culture mostly left untouched since the beginning of techno-era.
While we must progress towards digital music, some of the golden standards of the analog world still enamor us so much, that we can't let them go that easy, on the other side, we have a pleasing sight of ditching wires from our most used consumer devices. Bluetooth speakers are one big cog in the digital music era, and we know you love them. All these Bluetooth speakers deliver loud and clear sound with high bass. You can charge them via your regular smartphone charge and they will deliver sound for around 5-8 hours on a single charge.
The BT speakers on this list are priced from around Rs. 1300 to 2200. If you want to spend less, then take a look at best bluetooth speakers under 1000 in India.
Now, let's take a look at best bluetooth speakers under 2000 in India.
1. Blaupunkt BT-51 Bluetooth Speaker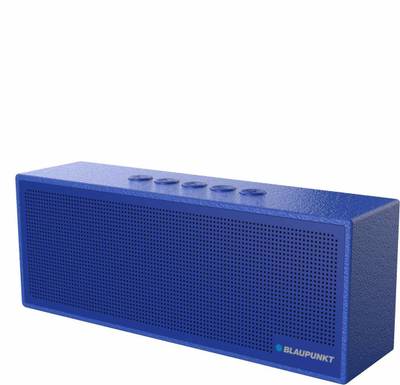 Well, you gotta cry 'Heil german engineering' when you see and feel the sheer sound these Bluetooth speakers pumping in. The 8W mono speaker outperforms many dual ones in loudness and music clarity. Even at high volumes, sound doesn't get distorted. There's ample bass, the balance is good and the music is more lively. The sound is definitely something you'd be surprised and pleased about.
Talking about design, It's not the most unique out there, but there's nothing bad about being too mainstream too. The rectangular build is solid, with a few circular buttons up top to control volume and toggle music. The battery within these speakers is pretty impressive too, with Blaupunkt claiming 10 hours, but Its close to 8.5-9 hours in real life usage which is still a lot. The charge time of 4 hours, might make you shrug your shoulders a bit. The Blaupunkt BT-51 uses the latest Bluetooth v4.2, no doubt the sound quality is that great. The connectivity is quite hassle-free, with a range of 9 meters in real life usage.
These speakers from Blaupunkt, really are impressive, given the price and well deserve the first place on our list of Best Bluetooth Speaker under 2000. If you are looking some brilliant acoustics at a nominal price, go grab Blaupunkt BT-51 wireless speakers for around Rs. 1500.
Buy Blaupunkt BT-51 Bluetooth Speaker from Flipkart
Deals/Offers: Check Out the Best Deals and Offers Available on Amazon.in Today!
2. Sony XB01 Wireless Bluetooth Speakers
Talk about brilliant acoustics, and we have Sony XB01 to join the party. XB01 is a pure performer when It comes to sound quality, with solid beats and crisp audio. These get to impressive loudness levels as well. The sound coming from these at full thrust could easily fetch your neighbors at your door. With an enclosure, that small, XB01 really does impress. On XB01 you do get a mic, so you can answer phone calls. These Bluetooth speakers have extra bass for a deep and punchy sound.
The looks are pretty similar too, the same set of 4 buttons on top, man these look cool! I really like the build, Its sturdy and stylish, not a unique design but there's much to look for here. There's a standard 3.5mm AUX port, alongside a micro USB port for charging. You get 6 hours of nonstop music with a charge, that's respectable form speakers of this size, easy to carry around. You can get these cool wireless speakers for under 2000. This is our favorite and the best bluetooth speaker under 2000 in India.
Buy Sony Bluetooth Speakers from Flipkart
3. Portronics POR-871 Bluetooth Speakers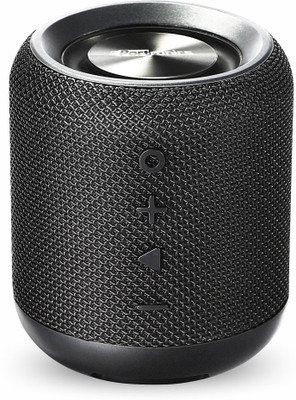 Portronics POR-871 SoundDrum is a really fantastic set of wireless speakers from Portronics. With 10W of output, these cylindrical speakers from Portronics are very loud, very handy and very stylish. The bass is high, but treble still goes a bit up. The sound quality is crisp and clear, with apt punchiness. Talking about the looks, the textured mesh up top with rubberized rings make the POR-871 look really premium.
The battery in this one goes non stop for up to 6-7 hours. What we really love about Portronics POR-871 is the versatility that comes bundled along. You get USB support, microSD as well as an AUX port, Bluetooth connectivity is a breeze as well, as the name suggests. What's interesting is that Portronics POR-871 boasts TWS Stereo connectivity option, what that essentially means is that If you have another POR-871 they both can interact with each other to get more powerful and stereo sound through the combo.
The built-in mic allows you to answer calls, the mic works reasonably well. We really admire the comprehensiveness of this wireless speaker by Portronics. Its a complete package at the price, the sound quality is not the best of the lot but It has several other features to compensate for that. If you can bear a little on the acoustics, you can get these wildly beautiful wireless speakers from Portronics from for just under 2000.
Buy Portronics Bluetooth Speaker from Flipkart
Buy Portronics Bluetooth Speaker from Amazon
4. Boat Stone 600 Bluetooth Speaker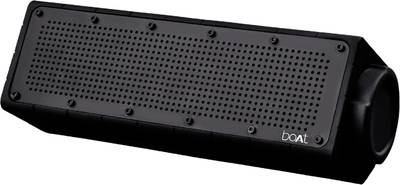 How could we miss the famed BoAt Stone 600 from the list of Best Bluetooth Speakers? Stone 600 from BoAt are not your average pretty wireless speakers. These are rugged and sturdy, might look that these come straight out of a military base. On the back and around, there's a rubberised matte finish. The Stone 600 packs a dual speaker configuration, with a combined power output of 10W which is just astonishing. The sound from these is supremely powerful and clear. The bass is not as strong as the sound itself but does a decent job. The punchiness and balance are quite stable and makes a clean and imperious listening experience. The speaker is also IPX6 certified waterproof, so that's added assurance.
The Stone 600 uses Bluetooth v4.0 for better transmission with minimal losses and noise. On the side circle, we have a micro USB port for charging and an AUX-in with the ON-OFF toggle switch. The 1500mAH battery inside this one, powers non-stop powerful music for 8 hours. The firm set of buttons at the back of Stone 600 help you control volume and switch between tracks. The cylindrical design allows you to carry it around quite easily. You can get these rock-solid wireless speakers with excellent music prowess for around 1800.
Buy Boat Stone 600 Bluetooth Speaker from Amazon
Buy Boat Stone 600 Bluetooth Speaker from Flipkart
5. Portronics POR-568 Posh Bluetooth Speaker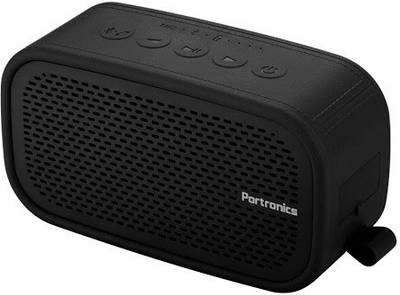 Portronics POR-568 Posh is another great offering from Portronics, the POR-568 has dual 3W speakers built in to pump stereo sound. The loudness is decent not the loudest in the lot but Its exceedingly enough for a room. The clarity and crispness of sound are great, with no distortion at peak volumes. The bass levels are good if not the best and make the listening experience richer.
If you are more into hard rock type of music, POR-568 might not be the fittest. The build quality is also quite good, with IPX4 certification ensuring sprinkle and splash proof build. On the top, you get firm circular buttons for toggling music and controlling volume levels. Portronics POR-568 uses Bluetooth v4.0 so you get the best sound quality with minimum losses during transmission.
On the side, we have a micro USB port for charging and an AUX-in, along with a tiny reset button. The paring is easy and hassle-free, these wireless speakers from Portronics can fire nonstop music for 5 hours, which is good enough for most users but could have packed more battery in that rectangular enclosure. The rubberized sides give a nice visage to the speaker and also makes It not skid from surfaces. The design is not very unique and flashy but does the job nicely. Portronics POR-568 gets a place in our Best Bluetooth Speaker under 2000 list and can be purchased for around 1800.
Buy Portronics POR Posh Bluetooth Speaker from Flipkart
Buy Portronics POR Posh Bluetooth Speaker from Amazon
6. JBL GO Portable Bluetooth Speaker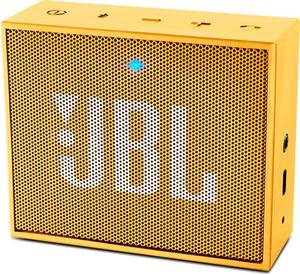 While many JBL fans would be ripping their hair out by now for JBL GO to be at a better position in the list, we humbly disagree. JBL Go is a decent speaker with good level of volume and pretty average richness in sound. The bass levels are not at par with others in the list, which you might expect from a big name like JBL at the price. The Go is a portable, colourful sound box which is good for occasional out goers who can take a little low for acoustics but none on the design and branding front. J
BL Go asks more than what It delivers. Still you'll find a large group of people owning these. The design is more appealing than the sound, the boxy look with classy JBL branding on the grills. The build is sturdy and looks more durable. It quite easy to carry given Its small enclosure and with a stunning battery of 6 hours, many people might find the perfect speaker in JBL Go, partially owing to the grand JBL name.
Nonetheless, the sound is clear and crisp but lacks power and dynamics. Volume levels are also not up to the mark, though there's no distortion even at peak levels. On the side, you get an AUX-in, a micro USB port for charging, along with the mic cavity. So yeah, you can answer calls from JBL Go. If you are not serious about volume and bass, JBL Go is a decent choice.
You can buy JBL Go from for around ₹ 1800, in a whole bunch of pop colors. This is our favorite of this list of best Bluetooth speakers under 2000.
Buy JBL GO Bluetooth Speaker from Flipkart
Buy JBL GO Bluetooth Speaker from Amazon
7. Zoook Rocker Encore Wireless BT Speaker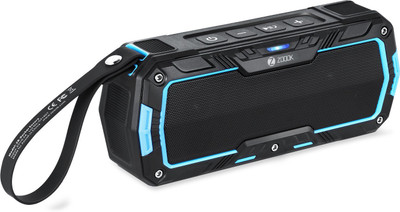 If the question is value for money, you can't keep Zoook out of the mix. Rocker Encore is Zoook's answer. Encore is a robustly built speaker, which doesn't compromise with anything when it comes to ensuring durability. It is IP65 water-resistant, dust resistant and shock resistant as well. It's pretty much ready to go alongside with you, wherever you want to. As much the speaker looks solid, the bass follows. Sound quality is praiseworthy, with clear, crisp audio.
The 12W of power output is clearly visible as the sound this speaker exudes is truly blowing. There's some distortion at peak volumes, talking about volumes, you would have to think twice before cranking it up all the way to high because these are some super loud wireless speakers. On the top, you get firm buttons, meant for switching tracks and controlling volume. Though We admire Zoook for packing more features into their speakers, Rocker Encore is a bit low on versatility I'd expect. There's only an AUX-in and a micro USB at the side for charging.
Talking about charging, you get 4 hours of uninterrupted entertainment, though we are a little unhappy with the connectivity range being 7 meters tops. Zoook Rocker Encore is a great buy If you don't like to move around too much from the source. Worth mentioning here is that Rocker Encore is quite heavy, owing to that armor.
You can get these armored powerhouse wireless speakers from around ₹ 2200.
Buy Zoook Bluetooth Speaker from Amazon
Buy Zoook Bluetooth Speaker from Flipkart
Concluding Remarks - Best Bluetooth Speakers Under 2000
Ah! so that was our best picks for best bluetooth speakers under 2000 in India 2019 with great sound and high bass. We have been quite rigorous with bringing you the best out there. As the death of headphone jack has struck the world quite hard, the spree to ditch the wires has been welcomed quite nicely. Wireless headphones are getting into mainstream quite rapidly, as they present the best amalgamation of convenience, style, and portability.
With each new Iteration closing the quality gap between wired and wireless audio equipment. We at SuggestPhone love music, and in that pure admiration, we bring out the best for you. Did we miss any great wireless speaker in the sub ₹ 2000 range? If you think, some other wireless speaker deserves a place here, do tell us in the comments. Have you been using any of the above-mentioned speakers? or used in the past? what were your experiences? Do share with us, we'll be waiting to hear from you.
If you need something a bit more premium with better sound output, take a look at our list of best bluetooth speakers under 3000 and best bt speakers under 5000.
---
---
Latest Articles on our blog
---
9 Best Wireless Bluetooth Earphones & Headphones Under 2000 in India 2020
In this blogpost, we take a look at the 9 best wireless bluetooth earphones & headphones under 2000 in India 2020. These earphone and headphone use bluetooth technology to connect to your phone and stream music. If you are a regular wired earphone user, you would love the wireless experience.
---
AMX XP 60 Review: One Charger For All of Your Devices
AMX has recently introduced a 4 port charger that has 1 PD port and 3 USB ports. The Power delivery port can be used to charge the laptop, MacBook, iPhone, Pixel and other latest smartphones. The other 3 ports are conventional Type-A ports and you can normal Type-A to MicroUSB or Type C to charge your phone, smartwatches, bands, power banks, etc. In this article, we are going to take a look at the brief review of AMX XP-60. We have covered the features, specs, design, and performance.
---
Best Headphones & Earphones Under 3000 in India (Wireless Bluetooth & Wired)
Everyone loves music and In this article, we bring you the list and brief reviews of best headphones and earphones under 3000 in India 2019. This list has both earphones and headphones. Both wired and wireless bluetooth earphones/headphones have been covered in this article from brands like Sony, Samsumg, JBL, boAt and Motorola. The price range varies from 2000 to 3000 rupees.
---
The 8 Best Earphones Under 1500 and 2000 in India September 2019
A list of top 8 best earphones under 1500 and 2000 available in India as of September 2019. Best earphones from brands like Sony, JBL, Noise, Sennheiser, and bOAT have been listed in this article. All these earphones have excellent sound quality and provide an immersive listening experience.
---