---
These are digital times, and since everyone is cutting the cords, why not start with the lifeblood of the society? Music connects us all yet has been all but connected with wires, wireless speakers aim to change the landscape. While Bluetooth speakers have been quite successful in recent years, they still have a lot to cover If they truly want to replace their wired counterparts. If you are looking to get on the future-bus and get all the Liberty, Power and Finesse that comes with a wireless speaker - here are some of the best ones right now on the market. Bluetooth speakers are available in the market from Rs. 500 to Rs. 2000. We have already covered the best Bluetooth speakers under 1000 and 2000. In this article, we take a look at the list of best Bluetooth speakers under 3000 in India. We have considered 3 things while selecting these speakers: build quality, audio quality, and battery backup. We think these are the most important aspects and a great speaker should have a balance between all three things.
Deals/Offers: Check Out the Best Deals Available on Flipkart Today!
The Best Bluetooth Speakers Under 3000
1. Sony Extra Bass SRS-XB10 Portable BT Speaker
We aren't surprised and neither should you to find this cute little can speaker by Sony in this list. Resembling a small can, Sony SRS-XB10 is a little monster when It comes to sound. The speaker features a solid plastic casing, with speaker grills firing from the top. Its very small and can fit Into any little corner in your home or bag If you want to take your music on the go. Despite Its deceivingly small size, the speaker is heavier for Its footprint, weighing just shy of 400 grams. There's matte rubber finish up top on the plastic body which makes XB10 look unmistakably durable. Sony SRS-XB10 is also IPX5 rated so It can take the splash but It isn't made to swim with you.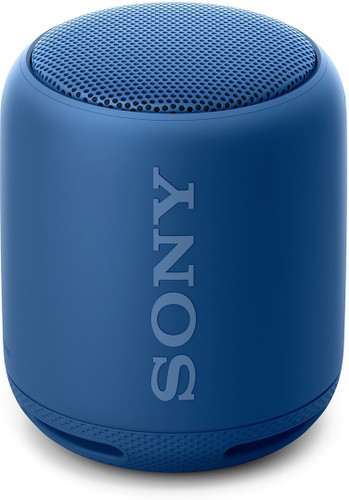 At the bottom-end, there are aux port and micro-USB for charging sealed with a rubber flap. There is also a comprehensive set of controls on the lower end of the speaker in form of soft rubber buttons, which are placed too close to each other. So often you'll find pressing more than one at a take. Sony SRS-XB10 has Bluetooth v4.2 but lacks the support for multiple sources. Thankfully, NFC works seamlessly on this one.
Coming to the core of the powerhouse - XB10 is powered by a large 46mm audio driver with a passive radiator, the output is clear, powerful and distortion free audio. Noticed the 'Extra Bass' in the title, ergo this speaker takes Its pride in pronounced bass levels which makes It a great suit for Hip Hop, Pop and Bollywood. This speaker is good but is great for EDM, classic rock struggles a bit with muddy lows. Well, don't be too critical with this entry-level quality speaker from Sony.
Interestingly, there's a strap with this speaker to hang It to a bicycle maybe but that doesn't work out all too well. With a mind-blowing 16 hours of battery life as told by Sony. The speaker goes well above 10 at full volume which is really impressive. As with others, Sony XB10 comes with add-on functionality which lets to connect It to another XB10 to create a dual speaker configuration which works decently as a stereo. The inbuilt mic lets to take hands-free calls through the mic is not that good as the speaker. The Sony SRS XB-10 is available for around Rs. 3000. It is one of the best looking bluetooth speaker under 3000.
Buy Sony BT Speaker from Flipkart
Buy Sony BT Speaker from Amazon
2. JBL Clip 2 Bluetooth Speakers
JBL Clip 2 is a budget aimed wireless bluetooth speaker from JBL. The word 'budget' in the first line shouldn't put you away though, because JBL has put some effort into making JBL Clip 2 a lot better than the predecessor. The speaker follows the same design language with the round enclosure covered with fabric mesh on top and matte rubber finish for the back. The speaker looks modern and good to carry around with just 184 grams of weight.
The Clip 2 features a single front-firing tweeter with 3W output, backed by a 40mm audio driver. Talking about the sound quality, because that's the king here and we tend to expect a lot from big names like JBL but the speaker has to be looked from a different view. The Clip 2 is impressively clear and loud. The lows are not that good with bass kicking in sooner than expected the same is with highs as they sound fainted. The mids are somewhere in between but not the best we've heard in the range. Its just fit to pump clear sound, if you expect more than that, you shouldn't.
Battery life sees the strongest upgrade from JBL Clip +, as Clip 2 has 8 hours of battery life which is still not blowing me away but that's normal for a speaker this size. Plus, It is not gonna last even 5 full hours on max volume, so yeah battery life is an issue with this JBL offering as well. On the sides, you would find round control buttons for volume, phone calls, power and bluetooth. JBL Clip 2 does have inbuilt mics to support handsfree calling. Also, there's rubber sealing over aux port and micro-USB for charging. Also, there is lined cavity for tucking away 3.5mm cord but I don't like the premise of integrated 3.5mm cord as it is not very long and hinders with flexibility.
JBL has built a carabiner into the speaker so you don't need any straps, just hook it anywhere you like and listen to your favourite music on the go. The speaker is a sturdy one with the IPX7 rating - which means that you don't have to worry about splashes or rain anymore with this speaker. JBL Clip 2 is probably the safest bet but not the most profitable one in the category. It is a decent speaker - enough for a mid-sized room or even for a small outdoor gathering but not more than that.
The bluetooth range of up to 30 feet (line of sight) is admirable. The pairing is a one time deal, after that the speaker connects as soon as it is turned on. Also, It can connect to other Clip 2s and create a single unifying listening experience which works as advertised, no complaints there. The JBL Clip 2 is available just under Rs. 3000 in India. It is available in plenty of colors. Take a look at them on links below.
3. Logitech X300 Portable Bluetooth Speakers
Logitech has built a good reputation for the name when It comes to audio gear. We've previously recommended the X50 and this time around we find recommending the big brother - X300. Logitech X300 is a bold attempt by Logitech to make a mark in the budget bluetooth speaker market. Its features a totally new design which is not a boring vertical cylinder or a round puck or even a cuboid. Built with rubberised plastic and a matte finish, the speaker feels refreshing.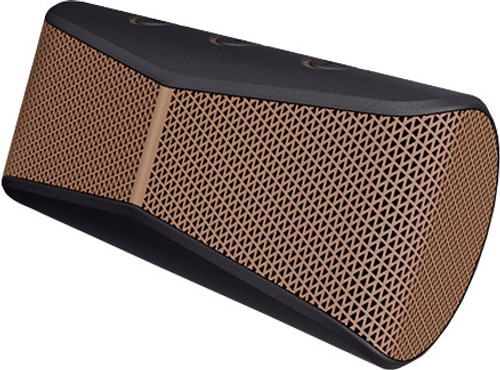 The Logitech X300 has a sort of trapezoidal shape with tapered sides, enabling It to be kept in both horizontal as well as vertical positions. Much like Its younger siblings, X300 is minimal when It comes to hardware controls. Just 3 big round buttons up top to control volume and bluetooth sync. With an engraved Logitech branding at the back below which we find the power button with an LED indicator below It, accompanied by aux and micro USB ports on the other side. In all, the design is new, feels good to hold in hands and is sturdy enough.
Despite being a small speaker, X300 like Its younger brother didn't surprise us by being louder than we ever expected. It can easily blast sound in your living room but what's more important is the quality of sound It exudes. There is great levels of clarity and almost no distortion. X300 has Its downsides as well, the bass is not on spot and feels a bit deficient, where X300 tries to cover It up with loudness. So, the speaker isn't good with acoustics and rock genre in general as the different instruments sound faint and confined. Nonetheless, you can't expect a lot more from a budget oriented speaker like the X300.
The Logitech X300 has a 5-hour battery as marketed by the company and we are happy to report the speaker gives 5-hours at the very least. It also has inbuilt microphones to help to with handsfree calling. Weighing at just 336 grams, Logitech X300 is a serious powerhouse albeit a little off on sound quality. The bluetooth connectivity is strong up to 30 feet and we really didn't have any complaints in that regard. Logitech X300 is a complete package headed by great design and power but If you are a sound nerd, this isn't for you. Logitech X300 is available at around Rs. 2900. It is available in 3 colors. Check them out on links below.
Buy Logitech X300 from Flipkart
4. Boat Stone 1000 Bluetooth Speakers
Boat is one of the favourites when It comes to providing quality audio equipment at amazing prices. And here we have one 'monster' from the company. The Boat Stone 1000 is a giant wireless speaker which is probably the least portable speaker on the list but the most thunderous one when It comes to sound and we don't just mean about loudness, It punches decent quality sound. The 14W output can be hard on your ears - It is that loud. It can easily be the life of the party.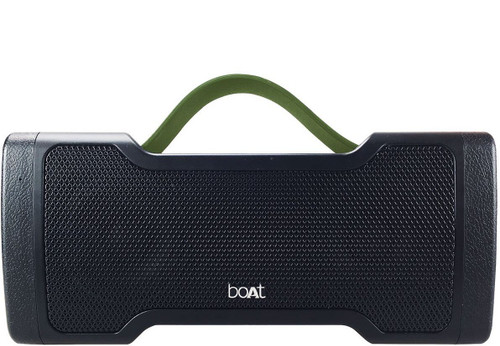 The speaker has a retro design with a cuboidal outfit with large straps up top to carry It around, which can be tiresome given the 1.5Kg of weight this thing has. The sound is quite clear with impressive staging and balance. As you might be fearing, the sound gets distorted as you crank up the volume. The bass doesn't live up to the size of the speaker, yet. The speaker is built of silicon plastics as the company says with a matte rubber finish. I am not a fan of the look and feel of the speaker but that's not what everyone's after. The big boy blasts volumes about durability and the IPX5 rating assures us the speaker being splash proof and shockproof.
With a giant 3000mAh battery, the speaker can be the life of the party for about 8 hours which is the point where most parties would end. The control buttons are firm rubberised buttons on the sides of the cuboid which I don't like as they are quite difficult to get done with. A rubber flap seals a cavity containing aux port and a micro USB port for charging Boat Stone 1000. With Inbuilt mics, you can easily take calls from the speaker. The mic quality is quite average though.
The speaker being front-firing has Its usual setbacks, you have to be aware of the facing of the grills to get the best listening experience. The wireless connectivity is not a thing the Boat guys would love to share as the speaker uses age-old Bluetooth 2.1, which is disappointing at the price, Ergo connectivity struggles after 8 metres of distance. Priced at around 2999, We would recommend this to people who are not sound nerds but would love to have a giant, firing speaker, which they won't be carrying around a lot. Great sound output makes it one of the best bluetooth speakers under 3000.
Buy Boat Speakers from Flipkart
5. Portronics POR-795 Breeze Speakers
Portronics has a really strong presence in budget speaker market, especially under ₹ 3000 and here we have another competitor - Portronics POR-795 Breeze, which is probably the most versatile speaker in the list. The design is fairly standard - a cylindrical tower with Portronics own touches such as the rubberised matte ends with metal caps and the fabric mesh all around the surface with an array of buttons on the sidebar.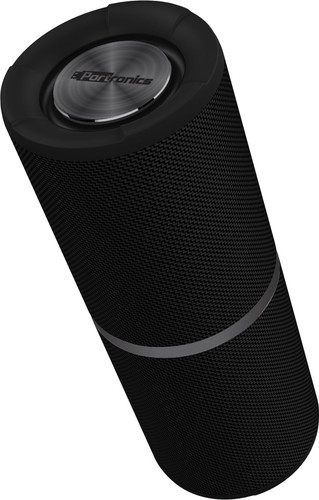 The build quality is sturdy and the speaker in all looks good. Powered with Bluetooth 4.1, the speaker can connect with others of Its kind to form kinda stereo effect which we've seen with other candidates on the list as well. Portronics likes to call It 'True Wireless Stereo' sound. The speaker has FM inbuilt, with support for aux and USB playback using OTG as well. On top of that, there's a microSD card slot as well.
So we have a lot of options for the source of music, what about the music? The speaker is quite loud and we see some distortion at peak volume, the bass is average. The highs and mids are decent, the lows struggle a bit. The clarity of sound is decent but the separation gets faint as the loudness increases. With 2200mAh of juice, the speaker can go on for about 4 hours on average with over 2 hours of playback at full volume. The speaker is splash proof with an IPX6 rating so yeah, It is ready to be in the rain with you but not for dunks in the pool.
The Bluetooth range is quite standard and we didn't have any complaints with regards to that. Portronics is known for providing good value for money and the POR-795 is a eulogy to that spirit. It is one of the loudest and probably the most versatile music box in the list and you can get this one from Amazon under 2500.
Buy Portronics Speaker from Flipkart
Buy Portronics Speaker from Amazon
So that was our list of best portable bluetooth speakers under 3000 in India. We hope it was helpful. Music is at the heart of the society. It can be totally subjective, while some music can be your favourite but might not be for us, same is with the devices that produce the sounds, a speaker that might be good in your experience might not be for others so take the list above with a pinch of salt and a lot of heart and do share with us if you would like to see some other speakers on the list. If you are confused about which one you should buy then go with our favorite which is the Sony SRS-XB10 Bluetooth Speaker.
---
---
Latest Comparisons
---