---
We have already covered the best bluetooth speakers in India under 1000, 2000 and 3000 in our previous articles. Here we will take a look at the best bluetooth speakers under 5000 in India 2019. Latest speakers from brands like Sony, Philips, JBL have been covered in our article
Portable wireless bluetooth speakers have been in trend from the last 2-3 years. The market is flooded by bluetooth speakers priced from Rs. 500 to Rs. 20000. Wireless speakers have been successful and the demand for wired speakers have gone down. Initially, the bluetooth speakers delivered a very average sound that was nowhere near to what you get from a wired 2.1 music system. But now the portable speakers have improved a lot and they deliver incredible sound with rich bass.
Let's take a look at our list of best bluetooth speakers under 5000 now.
Deals/Offers: Check Out the Best Deals and Offers Available on Amazon.in Today!
SuggestPhones's List of Best Bluetooth Speakers Under 5000
1. Sony SRS-XB21 Bluetooth Speaker
Sony has some really great bluetooth speakers out there but SRS-XB21 is very close to our heart. Sony SRS-XB21 belongs to Sony's 'Xtra-Base' lineup of audio equipment hence you get base-enriched, powerful and dynamic sound. This speaker can easily be the life of any party with Its supreme power in handling EDM and pop. Sony SRS-XB2 is a 20W stereo speaker, which really exudes amazing sound. Equipped with Bluetooth, this speaker isn't gonna give you any troubles with the pairing, instead Its super fast and efficient.

The cylindrical brick design is great and gives a nice comforting feel while held in hands. The speaker is not very heavy given the specs and just weighs 481 grams. There is10 hours of music playback capacity which is not the max out there but certainly not disappointing. The speaker has a rubberized finish with speaker grills at both front and back, unmistakable Sony branding at front and a side rubber cap which elegantly hides the 3.5mm jack for aux and a micro-USB port for charging along with a small reset button.
On the top, we find 6 nice and elegant round control buttons. The buttons are really well built and reflect the premium appeal of this device. Additionally, Sony has given an option to pair two of these to form a dual-speaker configuration, where both the speakers will behave as a part of a single organization which is really cool. Sony SRS-XB21 is also IP67 water-resistant so It's okay to keep It alongside the swimming pool or while showering.
There is inbuilt mic to support handsfree calling as well. The speaker is equipped with LDAC for high fidelity wireless audio, all thanks to the big 42mm neodymium drivers. Sony SRSXB2 is a complete audio package which checks all the boxes from design to features to audio quality and durability. Coming from a big name like Sony is an added assurance, hence SRS-XB2 tops our list of best bluetooth speakers under 5000.
Buy Sony Speaker from Flipkart
2. JBL Flip 3 Portable Bluetooth Speakers
How could JBL Flip 3 miss the best speakers list? JBL Flip 3 is no doubt one of the most iconic and popular bluetooth speakers by JBL. While Flip 3 is the newer and better one, Flip 3 isn't out of the race just yet. With a strong power output of 16W and impressive noise cancellation, JBL Flip 3 is a powerful yet balanced speaker. Even at high volumes, the speaker shows no distortion and the sound quality is just delicious to the ears.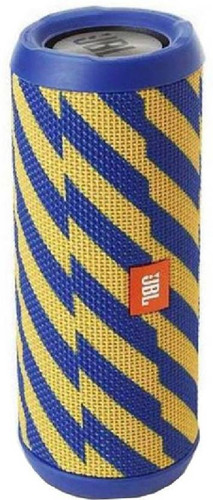 JBL Flip 3 is a cylindrical tower speaker with a premium build quality. The speaker is just 499 grams so, It can be always with you for some quality, loud music on the go. The speaker has output grills all over the surface except top and bottom where we find these strong plastic caps with metal finished rings, housing control buttons with a firm rubber feel. On the side, we find LED indicator dots to indicate the battery remaining alongside a 3.5mm jack for aux and a micro-USB port for charging.
There is a rechargeable, 3000 mAh, Li-ion battery inside Flip 3 which can easily power music for 6-8 hours. Flip 3 comes with Bluetooth 4.1 with A2DP for fast efficient pairing and better connectivity. For those, who want to take calls handsfree - JBL Flip 3 has an inbuilt mic to make that possible. The large dual-40mm audio drivers pump dynamic and rich sound which is enough to fill a room and makes a strong presence outdoors as well.
JBL Flip 3 is a really sturdy speaker but JBL has not provided any water resistance, so keep the speaker away from splashes or liquid in general. With Its well balanced, blowing sound and great noise cancellation technology complemented by a beautiful and rock-solid design, JBL Flip 3 lands second on our list. JBL Flip 3 can be bought for little more than 5000 and it is our second favorite on the list of best portable speakers under 5000.
3. Ultimate Ears Wonderboom Bluetooth Speakers
If you are into high-end audio equipment, you definitely are aware of the name Ultimate Ears, Now part of Logitech the company has been big strides in the affordable speaker market lately with the widely popular 'Boom' lineup, here we present the UE Wonderboom as the 3rd occupant on our list. UE Wonderboom is a compact barrel-shaped speaker with rubberized top and bottom with fabric mesh all over the lateral surface.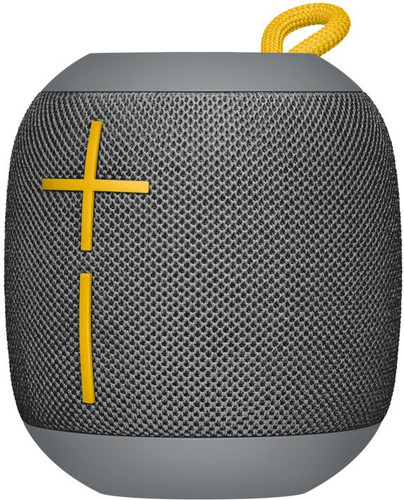 The build quality is top notch with the very distinct and minimalistic volume controls up front on the surface. The speaker weighs in at 425 grams and is fairly heavy for Its size but that's not necessarily bad as It helps the UE Wonderboom to stay put even when It is blasting at full volume. UE Wonderboom delivers absolutely blaring, dynamic and rich sound in all directions with credits to dual 40mm audio drivers with passive radiators.
The speaker is too loud for Its own good and we were left totally stunned with the quality and loudness of sound this tiny speaker can produce. The sound is quite detailed with good mids and highs. The clarity is amazing with no distortion at max volume levels which is appreciable. Bass levels are quite on spot with UE Wonderboom and totally delivers on EDM. The lows are a little out of place as bass kicks in which is the issue with almost every waterproof Bluetooth speaker. Yep, UE Wonderboom prides Itself on being IPX7 water resistant. UE claims a battery life of 10 hours but at full volume, you'll get 8 hours from Wonderboom which is one of the best from a speaker this size.
There are 3 buttons up top with one for bluetooth sync hidden under an LED indicator. The other one is for controlling playback while the last one helps with connecting two Wonderboom speakers to create a stereo effect. The speaker lacks NFC which is a bummer given the price of the speaker. The pairing isn't that slouchy but It isn't as fast and easy as NFC, though. It has 30ft of range when It comes to bluetooth connectivity but that's only for the line of sight connections, If you are separated by a few walls don't expect the range to be more than 7-10 meters.
On the bottom edge, there's a flap covering the micro-USB port. Sadly, there's no aux port, which is the second thing we don't like about UE Wonderboom apart from the absence of NFC. The third thing which hurts us, even more, is the lack of a microphone for answering calls, come on UE! If all you care about is powerful, clear and blowing sound with some care for durability - UE Wonderboom won't regret you. You can buy UE Wonderboom from around Rs. 5000 and it is available in plenty of colors. Check them out on links below.
Buy Ultimate Ears BT Speaker from Flipkart
Buy Ultimate Ears BT Speaker from Amazon
4. Philips BT6000B Portable Speakers
So as It seems, you can't keep Phillips out of the audio game and here's a perfect candidate bluetooth speaker to catch our eyes and ears. The BT6000B from Phillips is a super-sturdy and the very usual cylindrical design with 360-degree speaker grills. Phillips has given BT6000B a strong flat plastic casing, which is very durable and not the most premium build. Phillips has been frugal with buttons on the speaker with just a button on side wrap for pairing and a dial-up top for turning the speaker on and controlling volume by ya know..dialling it up and down which is very familiar and appears stylishly retro.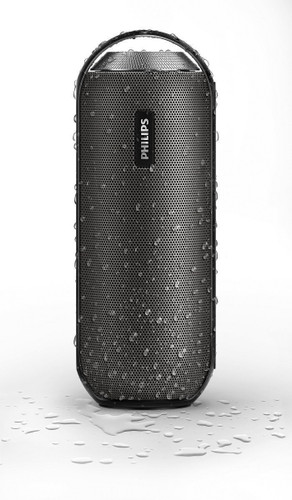 The speaker weighs around 500grams and at the bottom of the cylinder, the aux and micro-USB could be found hidden inside a plastic cap. Talking about the real thing here: the sound on Phillips BT6000B is truly fantastic. There's no distortion at max volume which is wildly impressive and you will feel the thump when you keep this speaker on a flat surface, so be ready for that. The BT6000B produces awesome dynamic sound with the help of a pair of 1.5-inch neodymium drivers producing romp of 12W. The speaker feels a little struggle with the bass on low volumes and some lows but this deficiency isn't very pronounced. The bluetooth range is quite admirable but not the best we've seen.
The tough speaker has a microphone so you can receive calls on this speaker, hassle-free. Phillips BT6000B has a 4400mAH battery inside to support good 8 hours of output, which could've been better in my view. There's NFC on BT6000B so the pairing is just a tap-job. Phillips BT6000B is a decent speaker at the price range with the solid build quality which is weatherproof, IPX4 resistant - It is not invincible against liquids but yeah It will be okay with splashes. The sound is great, balanced, lacks just a touch of bass so If you are a bass freak you might be disappointed in BT6000B. The speaker is quite powerful with a lot of grunt and absence of distortion. You can buy Phillips BT6000B for around Rs. 4000 and is available in 3 vibrant colors, Red is our favorite.
Buy Philips Speaker from Amazon
5. Ultimate Ears Roll 2 Wireless BT Speaker
The small, full of surprises speaker takes the sound experience a notch above its predecessor. The UE Roll 2 follows the round circular pad approach popularised by the JBL Clip. The UE Roll 2 is draped in fabric mesh and follows a very minimalistic but colorful approach to delivering music. On the front, there are some stitched patterns, but those patterns are more - volume control buttons. So if you observe closely Its a plus and a minus pattern.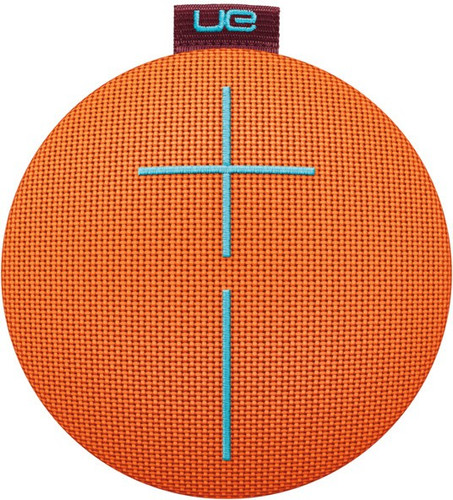 On the rubber base, you'd find two more buttons for power and bluetooth sync. There's also a sealed flab for housing aux port and micro-USB port for charging. UE includes a strap in the speaker so you can hang It around while listening to music. What's extra is that there's a 'floatation device, which can be linked to the strap to allow the speaker to float in water - in case if you are insistent on taking your music to the pool. So finally, music..music on from UE Roll 2 is a delight but the bass is misplaced. Don't get It wrong, UE Roll 2 is surprisingly loud and punchy. The experience is pleasing with mids and highs but gets a little struggled with lows. The vocals are clear but the bass lacks power, so If you love bass you might want to look over.
The UE Roll2 is IPX7 certified so Is totally ready for your pool stints. If you are looking for a speaker with an amazing wireless range of up to 20m with the utmost clarity and pleasing mids and highs, UE Roll 2 can be the ultimate choice for you with Its poppy design and 9 hours of battery life and super light 330gram enclosure. There is also an accompanying app which you can use to control all aspects of your UE Roll 2. It also enables wireless over the air updates for the speaker which is great as It allows for future improvements using the software. It is available in 4 different colors. Check them on links below.
So those were the best Bluetooth speakers under 5000 available in India 2019. We hope it was helpful and you were able to find a new Bluetooth speaker. In the end, we'd like to close with a very important point - Music is at the heart of society. It is totally subjective, while some music can be your favorite but might not be someone else, the same is with the speakers that produce the sounds. Some speakers might be great for you and someone else might not like it that much.
---
---
Latest Articles on our blog
---
9 Best Wireless Bluetooth Earphones & Headphones Under 2000 in India 2020
In this blogpost, we take a look at the 9 best wireless bluetooth earphones & headphones under 2000 in India 2020. These earphone and headphone use bluetooth technology to connect to your phone and stream music. If you are a regular wired earphone user, you would love the wireless experience.
---
AMX XP 60 Review: One Charger For All of Your Devices
AMX has recently introduced a 4 port charger that has 1 PD port and 3 USB ports. The Power delivery port can be used to charge the laptop, MacBook, iPhone, Pixel and other latest smartphones. The other 3 ports are conventional Type-A ports and you can normal Type-A to MicroUSB or Type C to charge your phone, smartwatches, bands, power banks, etc. In this article, we are going to take a look at the brief review of AMX XP-60. We have covered the features, specs, design, and performance.
---
Best Headphones & Earphones Under 3000 in India (Wireless Bluetooth & Wired)
Everyone loves music and In this article, we bring you the list and brief reviews of best headphones and earphones under 3000 in India 2019. This list has both earphones and headphones. Both wired and wireless bluetooth earphones/headphones have been covered in this article from brands like Sony, Samsumg, JBL, boAt and Motorola. The price range varies from 2000 to 3000 rupees.
---
The 8 Best Earphones Under 1500 and 2000 in India September 2019
A list of top 8 best earphones under 1500 and 2000 available in India as of September 2019. Best earphones from brands like Sony, JBL, Noise, Sennheiser, and bOAT have been listed in this article. All these earphones have excellent sound quality and provide an immersive listening experience.
---