---
Are you someone who travels a lot in a car and your phone runs out of battery? Don't worry, we have you covered. In this article, we take a look at the top 9 best car chargers in India 2019. We have listed the best options from various brands like Belkin, Ambrane, Mi, Portronics, boAt, and Irusu.
All these car chargers are suitable for both Apple iPhones and Android mobile phones. Most of the car chargers have dual USB ports while some have 3 or even 4 USB ports to charge multiple devices together. All these chargers support Qualcomm Quick Charge 2.0 or 3.0 technology for fast charging.
The phones today have got a big battery but not all of them and who knows when you will need to charge. So it is extremely important to carry a power bank in your bag or a car charger permanently put in your car so that you never face any problem. Here, we take a look at best car mobile chargers, for power banks take a look at our list of best power banks in India.
SuggestPhone's List of Best Car Chargers in India
We have covered car chargers in various price segments like under 200, 300, 500, 700 and 1000. So doesn't matter what your budget is, you will find a suitable car charger here. Let's take a look at our list of 9 best car chargers in India 2019. We have included a bonus item for those who don't have Bluetooth music system in their cars. So do check that out as well.
Deals/Offers: Check Out the Best Deals and Offers Available on Amazon.in Today!
1. Irusu 6.0 Amp Dual USB Car Charger
The first charger that we've got for you today in the Dual USB car charger by Irusu. Although the company is not among the top contender's like Portronics or Amazons own basics series, it is pretty popular with a great review.
The charger comes with Qualcomm's Quick charge 3.0 feature which takes 1/4th time of a standard charger. There are two USB output ports where each port can provide a current of 3.1 Ampere and can provide fast charging to 2 phones simultaneously. This Irusu charger is compatible with phones and tablet of both Android and Apple operating system.
In terms of wattage, this charger has a whopping 36W output in total over 2 of its USB charging ports, this is one of the most powerful car chargers on our hunt for best car chargers available in India. It also provides multiple circuit protection against a spike in temperature, voltage and current.
It comes at a price of around 650 and is the best car charger under Rs. 700 with powerful charging.
Buy Irusu Dual USB car charger on Amazon
Buy Irusu Dual USB car charger on Flipkart
2. iVoltaa QC 3.0 Dual Port 36 W Turbo car charger
The 2nd charger on our list of the best car charger is from iVoltaa QC 3.0 Dual 36W car charger. This much like the Irusu charger reviewed above with a similar massive output of 18W on each of the 2 ports thus, bringing the total output to again a massive 36W. The charger also has a very industrial looking design and also happens to be scratch resistant with a matte finish.
This charger also supports Quick Charge 3.0 and can charge the phone to 100 percent in around 50 minutes. With all the standard protection features that are expected from a performer of this caliber it also features a long LED strip at its nose in front that gives it a very distinctive look.
In terms of specifications and quality, the charger is similar to the Irusu and depending on the design you prefer, you can choose between the two. In terms of pricing, this iVoltaa charger is also priced at Rs 699.
Buy iVoltaa Dual USB car charger on Amazon
3. TAGG Power Bolt Car Charger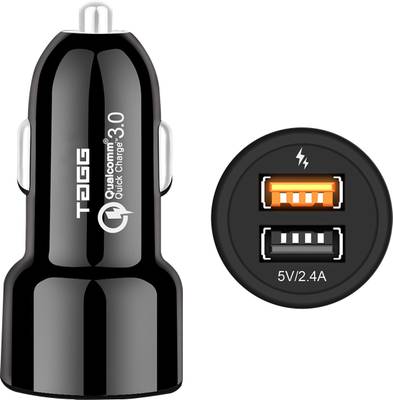 Coming at number 3 on our list, we have a power bolt car charger by TAGG is another example of a great car charger. The Power bolt is one of the most compact chargers on our list and thus takes a slight hit on the power output topping out max at 5.4A. There are 2 USB outputs with one port supporting 5V 2.4A output and the second port supporting quick charge 3.0 with a max current of 3A.
The charger comes with INOV or intelligent Negotiation for Optimum Voltage Technology which fine-tunes the power output and optimizes the charging cycles for your device. The build quality looks good and this car charger costs around Rs 700.
The company offers a replacement warranty if the charger malfunctions in one year of purchase.
Buy Tagg USB Car charger from Amazon
Buy Tagg USB Car Charger from Flipkart
4. Irusu 7.0 Amp 4 Port USB Car Charger
The 3rd car charger on our list today is again from Irusu which comes with 4 output ports and is useful for someone if you have multiple phones or multiple people traveling together. This charger one output port has Qualcomm Quick Charger 3.0 support and hence can quickly charge the phone that supports fast charging. This port has a current output of 3.5 Ampere.
Other 3 ports of the total 4 USB ports have a total current of 3.5 A. These ports have Smart IC to automatically adjust the output current based on the phone/load demand so if you are charging only 2 phones then you get fast charging if the phone supports the same. The maximum total power of the charger is 35 W
Its circuit comes with all the basic protection against a spike in voltage, current or temperature. This charger costs around Rs 800 and one of the best char charger with 4 USB output ports under 1000.
Buy Irusu 4 Port USB car charger on Amazon
Buy Irusu 4 Port USB car charger on Flipkart
5.

boAt Dual-Port Rapid Car Charger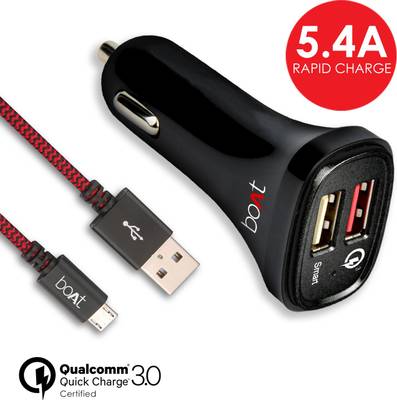 Coming in at number 5 this brand needs no description to Indian household. The company boAt has consistently dominated the Audio market in India and has also entered into manufacturing quality car accessories too. The headphones and earphones offered by boAt have good quality at great prices.
This charger is one of the chargers on our list that does not just support Quick charge 3.0 but is also certified by Qualcomm. The charger has 2 ports with one port supporting the quick charger 3.0 for quickly charging your phone and the other port has an output of 5V 2.4 Ampere. boAt has bundled micro USB cable Type C in the box which is a great add on for a product costing less than Rs 500.
If you are not much interested in having a fast charger on both the ports, then this is the best value for money car charger available in India. Along with all the features, the company offers a 2-year warranty compared to the standard 1-year warranty offered by other manufacturers.
Buy boAt Rapid car charger from Amazon
Buy boAt rapid car charger from Flipkart
6. Taslar 3.4 Amp Dual USB Car Charger
Well, this definitely is a mouthful and is so for good reason. The Taslar charger is the most unique charger on our list of 10 best car chargers available in India.
This charger also supports dual USB ports for charging two phones simultaneously. One port supports 5V 1A and 5V 2.4A and the phone does not support Quick Charge feature. This Taslar charger is a well-built charger which comes with an attractive design which has a flexible clip to bend the chargee 45 degrees from both sides.
It also has an LED display to display the car battery voltage and triggers an alarm when the voltage drops below 11.8V or increases above 18V. This is a useful feature for everyone to remain known about the battery performance of the car. This charger costs about Rs 800, the price looks high compared to the competition but depending on your usage and needs, you can choose to buy it.
In case you are looking for a similar charger without display, then you can look at this Flipkart Smartbuy car charger.
Buy Talsar USB car charger on Amazon
7. AmazonBasics 4.0 Amp Dual USB Car Charger
Well, this list of best car chargers would have been incomplete if no mentions were made of an Amazon basics product.
This car charger has a dual USB output and comes with very solid build quality. The current output is maxed out at 4 Ampere and total output of 20 W so it is not a fast charger. It supports both Android and iPhone devices. There is standard protection circuitry which shuts down the charging to protect your phone in case of any fault of over voltage, over current etc. There is a small blue LED indicator which lits up when it is charging a phone.
For the pricing, this charger costs under 500 and is a decent charger at this price which does the job right.
Buy AmazonBasics dual USB Car Charger
8. Portronics POR 334 3 USB Port Car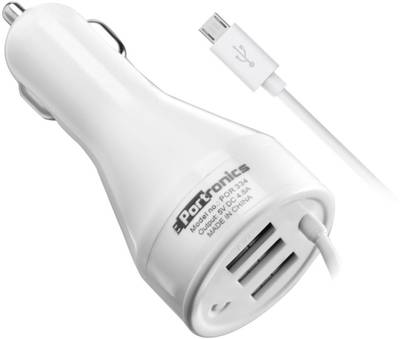 Portronics is another company that does not require much introduction to the Indian market. The Por 334 car charger is another example of a unique charger which comes at 8th on our list for 10 best car chargers in India.
This is the only charger on the list that has an extra USB cable permanently attached giving users the ability to charge up even if you forgot to carry the cable. Apart from the extra cable there are 3 USB ports, so a total of 4 phones can be charged at once. Out of the 3 ports, 2 ports support 5V 1.2A and the third port support 5V 2.4A output.
Then, of course, it also takes care of the circuit protection so that you do not have to worry about while charging your device. With a total power current output of 4.8A, the POR 334 3 will keep all your device plugged both safe and charging.
It comes with 6 months of warranty for any malfunctioning. It is priced under 400 only and is a decent charger for the price especially if you have multiple phones to charge at once.
Buy Portronics 334 car charger on Amazon
Buy Portronics 334 car charger on Flipkart
9. Ambrane ACC-11QC-M Dual Port Car Charger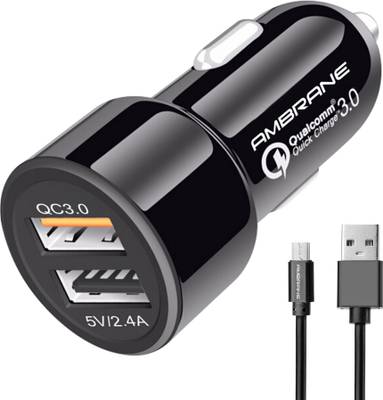 We finally come to the end our hunt for the best car chargers available in India with the ACC-11QC-M charger from Ambrane. The charger provides has a dual USB output with 1 port supporting Qualcomm Quick Charge 3.0 which can deliver 5V 3A output and the second USB port has 5V 2.4A output, so the total current output of this charger is 5.4A. This charger is exactly similar to the TAGG power bolt car charger reviewed above.
This comes with an additional micro USB cable bundled in the box. With all the standard safety features and weighing at 18.1 g only, this is definitely the lightest option on our list. It supports all the phones with a MicroUSB port or USB Type C and the charger has 6 months of standard manufacturer warranty.
Buy Ambrane dual port car charger on Amazon
Buy Ambrane dual port car charger on Flipkart
So this was our list of best car chargers in India 2019. Did you like it? Here's a bonus for you. This is a car charger which will also help you to connect your phone to the car's music system via Bluetooth.
CRUST In-Car Radio Adapter Dual USB Rapid Fast Charger with Bluetooth
Well, this is the Swiss knife of car chargers, cause not only is it a car charger that pumps out QC 3.0 standards output but it also has Bluetooth 4.2. Wait why does a car charger have Bluetooth in it? Cause the CRUST allows the users to pair their smartphones in order to stream music, make and receive calls and much more.
The charger gets connected to car radio using radio frequency and you have to match the car FM frequency to the charger frequency. The charger has physical buttons to change the song or to answer a call. It shows the incoming caller phone number on the charger display. The display otherwise is used to show the car battery voltage and triggers an alarm in case the voltage is very high or low as per normal standards.
Out of the two USB ports, you can use the 2.4A port to even attach Pendrive and play a song. It not only streams music but also provides Echo cancellation. With support for A2DP High stereo audio and multi-platform smartphone support, the charger is the best charger especially for some who do not have Bluetooth support in their car stereo.
This Crust charger costs around Rs 1400 and has 6 months of warranty.
Buy Crust car charger on Amazon
Buy Crust car charger on Flipkart
So that was all we had on best car chargers in India. We hope the list was useful and you were able to find a suitable car charger. If you have one of the latest phones which support fast charging, go with car chargers that have QC 3.0 support. If you carry multiple devices then a 3 or 4 port car charger will be useful for you.
---
---
Latest Articles on our blog
---
9 Best Wireless Bluetooth Earphones & Headphones Under 2000 in India 2020
In this blogpost, we take a look at the 9 best wireless bluetooth earphones & headphones under 2000 in India 2020. These earphone and headphone use bluetooth technology to connect to your phone and stream music. If you are a regular wired earphone user, you would love the wireless experience.
---
AMX XP 60 Review: One Charger For All of Your Devices
AMX has recently introduced a 4 port charger that has 1 PD port and 3 USB ports. The Power delivery port can be used to charge the laptop, MacBook, iPhone, Pixel and other latest smartphones. The other 3 ports are conventional Type-A ports and you can normal Type-A to MicroUSB or Type C to charge your phone, smartwatches, bands, power banks, etc. In this article, we are going to take a look at the brief review of AMX XP-60. We have covered the features, specs, design, and performance.
---
Best Headphones & Earphones Under 3000 in India (Wireless Bluetooth & Wired)
Everyone loves music and In this article, we bring you the list and brief reviews of best headphones and earphones under 3000 in India 2019. This list has both earphones and headphones. Both wired and wireless bluetooth earphones/headphones have been covered in this article from brands like Sony, Samsumg, JBL, boAt and Motorola. The price range varies from 2000 to 3000 rupees.
---
The 8 Best Earphones Under 1500 and 2000 in India September 2019
A list of top 8 best earphones under 1500 and 2000 available in India as of September 2019. Best earphones from brands like Sony, JBL, Noise, Sennheiser, and bOAT have been listed in this article. All these earphones have excellent sound quality and provide an immersive listening experience.
---