---
Realme 2 Pro has received an outstanding response from its users and Realme has become one of the hottest known brands in just less than 6 months. With this article, we help you choose the best cases and covers for Realme 2 and Realme 2 Pro.
Realme 2 comes at a price of under 10000 and a notch design with a decent processor and certainly was a top pick for users looking to spend between 8k to 10k. On the other hand, for a pricing of under 15000, Realme 2 Pro is a beautiful phone with a waterdrop notch design and looks amazing and is powered by the Qualcomm Snapdragon 660 processor. It comes in 3 variants of 4GB/64GB, 6GB/64GB and 8GB/128GB. You can check out the full review of Realme 2 Pro here and if you haven't bought the budget beauty yet, check it on Flipkart here.
We see this phone as one of the best value for money smartphone and you must be eager to protect it from any damage using a case or cover. Here we have the best 5 cases/cover for Realme 2 Pro and top 3 cases/covers Realme 2 of different like the TPU, Flip Covers and the Armor safe shockproof cover. Without any further delay, let us check the best cases and covers for the Realme 2 Pro.
Please note that the list and reviews of best cases will be updated as and when new cases are available. The pricing of these cases vary from under Rs.100 to 500 depending on the quality and need. Also, the prices keep changing, so check on Flipkart or Amazon from the links provided along with each case to know the latest price.
Deals/Offers: Check Out the Best Deals and Offers Available on Amazon.in Today!
Top 5 Cases for Realme 2 Pro
First, we take a look at the top 5 cases for Realme 2 Pro and then we will take a look at the best cases and covers available for Realme 2.
1. Flipkart Smartbuy back cover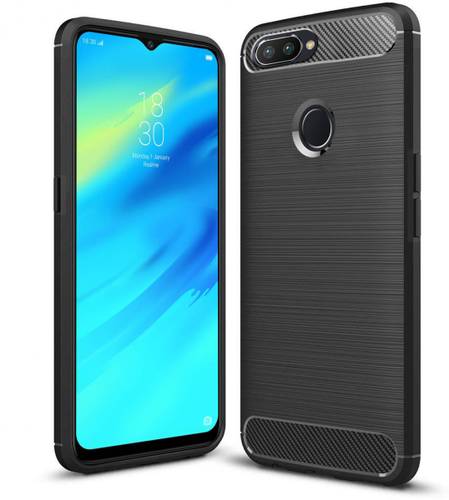 Flipkart has been aggressively pushing its own branded back cover for the phones and they come at a very good pricing. This is a rubberized material cover which comes in black cover and has decent quality for the pricing. It can protect your phone when it falls from a small height of less than a metre. The design and quality parameter of this cover is good and if you are looking for a cover for Realme 2 Pro, which does not cost much, then you choose this one. It is available only at Rs 129.
Buy Flipkart SmartBuy Back Cover
2. Flip Cover for Realme 2 Pro
This is a beautiful and stylish brown colour flip cover from Duston. The flip cover protects the mobile from any damage on any side of the phone and this is a very good quality cover. The grip is well designed and makes it easy to hold and with premium and a scratch resistant design. The brown colour also looks eye-catchy and if you are looking for a flip cover for your Realme 2 Pro, then this is an ideal choice with a price tag of Rs 250 only.
Buy Duston Flip Cover for Realme 2 Pro on Flipkart
Buy Artificial Leather Flip Cover for Realme 2 Pro on Amazon
3. 3D Structured TPU Rubberised Back Cover
This is a very solid 3D designed case from FOSO. If you are looking for a very solid back cover with perfect finishing with wear and tear protection, then you can look into this cover. With its rubberised design, the cover does not attract any fingerprint smudges and gives proper protection to your Realme 2 Pro. The 3D design, however, will keep the phone slightly above the surface when kept on its back, but if you like these design, you can get this cover for less than Rs 300.
Buy 3D Structured TPU Rubberised Back Cover on Amazon
4. KAPAVER ShockProof Armor Back Case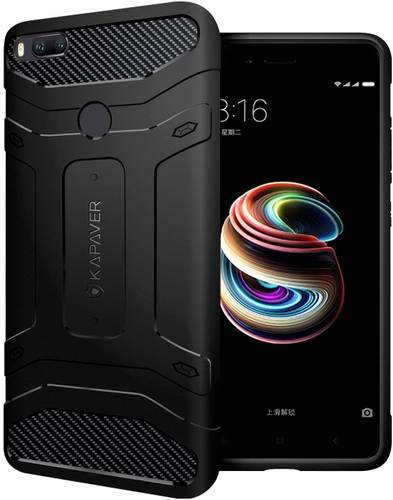 Kapaver is a well-known brand in the back case and cover industry and manufactures well build and solid protection covers to protect your mobile phone from any damage. This is a TPU case which comes with Matte Finish for your phone to look best along with proper safety. The case has a Carbon Fiber texture and is well designed for an accidental drop from a metre or a little more. It can absorb a slightly higher intensity of fall compared to other cases and is designed to be shockproof. The grip of the cover is perfect and looks attractive.
This back case for Realme 2 Pro has proper finishing with the cuts properly made at the headphone jack, fingerprint sensor, camera and charging point. The case is slightly raised from edges to protect the screen in case of fall. Overall, the Kapaver case would look good to you and because of the good quality and design, it is slightly costly and available for around 399. You must check this cover on below link to see other images and latest prices on this cover.
Buy KAPAVER Shock Proof Armor Back Case on Amazon
5. Printed cover for Realme 2 Pro

There are a lot of printed colour variant available for the Realme 2 Pro back cover and here we have choosen the cover which mimics the Oppo famous diamond cut design. Your Oppo Realme 2 Pro would look great even when protected with this cover. It is made from silicon and hence is a flexible case with good gripping capability. The power and volume buttons are covered properly and are easily clickable despite the case. The finishing is decent and overall a good printed cover with many good designs. In the green and purple shade, the cover looks amazing.
These covers are available for around 150 to 250 and have various themes which you can choose from.
Buy Diamond Cut Back Cover for Oppo Realme 2 Pro on Flipkart
Check here all the best designs of printed back cover on Flipkart
Best Cases/Covers for Realme 2
Here we cover the top 3 back covers/cases available for Realme 2 on Flipkart and Amazon. A basic review and links to buy are given along with each of the cover.
1. Flipkart SmartBuy Back Cover for Realme 2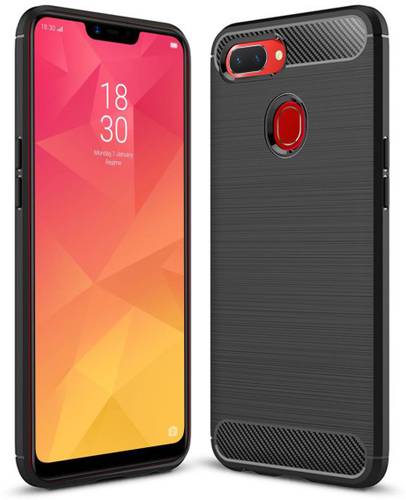 Flipkart SmartBuy covers are available at a good pricing and offer decent protection to your phone. If you are cautious with your phone most of the time, then this cover is good to go option. The cover is made of rubber and grips easily in hand. It also has a minimalistic design (carbon fibre texture) on the back which is again decent. The finishing is also good and for the pricing on under 150, this is a most economical option for a back case of Realme 2.
Buy Flipkart Smartbuy back cover
2. Leather Wallet Flip Case Cover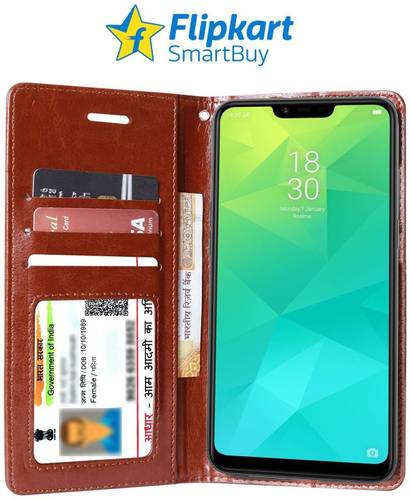 Jkobi is a well-known brand for back covers. It is lightweight and perfectly designed to add beauty to your smartphone. This cover comes with hands-free standing so that you can watch the movie at different angles while travelling or at home. This flip case is strong and very well protects the smartphone. There is a pocket on the inside of the cover to keep your bank cards or some money for easy access. The Jkobi case comes in a great blue and black color shade.
A similar flip cover is available on Flipkart under the Flipkart SmartBuy brand tag and comes in brown leather color. There are multiple pockets to keep your cards and money on this cover.
Check Jkobi Flip Case on Amazon
Check SmartBuy Flip Cover on Flipkart
3. Hybrid Foldable Kickstand Hard Skin Case Cover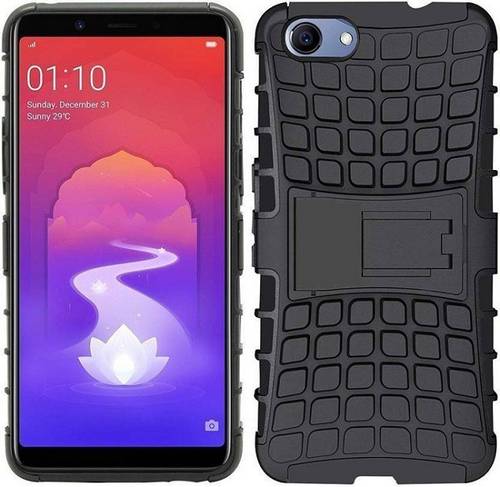 This is a kickstand type cover for the Realme 2. It is a foldable cover made of very high-quality rubber material. The cover feels very solid and has very clean finishing and edges. The kickstand at the back helps to align the stand against a horizontal surface to watch movies or videos on your phone at the appropriate angle of your choice. For a pricing between 200 to 250, it has a decent cover with shockproof protection capability.
Buy Shockproof Armor Kickstand Case on Flipkart
Buy Foldable Kickstand Hard Skin case Cover on Amazon
So this was our top picks of back cover and cases for Realme 2 and Realme 2 Pro. Hope you were able to find a good cover for your smartphone. Stay tuned to SuggestPhone for reviews, leaks and other updates from tech industry.
---
---
Latest Articles on our blog
---
9 Best Wireless Bluetooth Earphones & Headphones Under 2000 in India 2020
In this blogpost, we take a look at the 9 best wireless bluetooth earphones & headphones under 2000 in India 2020. These earphone and headphone use bluetooth technology to connect to your phone and stream music. If you are a regular wired earphone user, you would love the wireless experience.
---
AMX XP 60 Review: One Charger For All of Your Devices
AMX has recently introduced a 4 port charger that has 1 PD port and 3 USB ports. The Power delivery port can be used to charge the laptop, MacBook, iPhone, Pixel and other latest smartphones. The other 3 ports are conventional Type-A ports and you can normal Type-A to MicroUSB or Type C to charge your phone, smartwatches, bands, power banks, etc. In this article, we are going to take a look at the brief review of AMX XP-60. We have covered the features, specs, design, and performance.
---
Best Headphones & Earphones Under 3000 in India (Wireless Bluetooth & Wired)
Everyone loves music and In this article, we bring you the list and brief reviews of best headphones and earphones under 3000 in India 2019. This list has both earphones and headphones. Both wired and wireless bluetooth earphones/headphones have been covered in this article from brands like Sony, Samsumg, JBL, boAt and Motorola. The price range varies from 2000 to 3000 rupees.
---
The 8 Best Earphones Under 1500 and 2000 in India September 2019
A list of top 8 best earphones under 1500 and 2000 available in India as of September 2019. Best earphones from brands like Sony, JBL, Noise, Sennheiser, and bOAT have been listed in this article. All these earphones have excellent sound quality and provide an immersive listening experience.
---