---
So, you've finally thought of giving your photography aspirations some air by moving on to DSLR from a smartphone or a point and shoot camera. Congratulations! To get you started nice and fast, we need a DSLR, right? So while you ponder for days, talk to far residing cousins for suggestions and fight with your friends over a DSLR being better than another at the price, we've put some effort to break you out of this loop by curating some of the best DSLR cameras under 40000 in India 2019, you can kickstart your photography journey with.
Things You Should Consider Before Buying a DSLR:
Camera Sensor
Image Processor
Megapixels
Aperture
ISO
Shutter Speed
HDR
Auto Focus
If you don't have knowledge about the above points then take a look at our article: How to buy the best DSLR?
A camera is better than another can't be stated at absolute levels, as Its subjective business, so pardon us If you find number 3 on the list better than number 2. They are more or less the same with somethings that make them better not only for us but for a lot of owners, who have expressed their views over a dozen websites. As DSLRs are getting more pervasive, we bring you the best DSLRs you can buy right away, SuggestPhone's promise!
Best DSLR Cameras Under 35000-40000
While most of the DSLR cameras are priced under 40000, you will some great options under 30000, 35000 and 45000 as well. So if you are on a tight budget go for the one priced under 30000, if you can spend more, go for the DSLR priced under 45000. Let's take a look at the reviews and specifications now.
Deals/Offers: Check Out the Best Deals and Offers Available on Amazon.in Today!
1. Canon EOS 200D Digital SLR Camera
If you are comfortable going past that Rs. 40000 mark, just a little, Canon EOS 200D is an elysian camera in the range. Its Canon's second generation, ultra-compact DLSR with all of the latest Canon Magic in photography like the thunderous Digic 7 image processor, Dual Pixel Auto Focus, alongside other notable features such as Wi-Fi, Bluetooth, NFC and plain old HDMI support.
On top of this killer tech, you get a brand new interface, built from ground up for beginners, as we said, this machine is an elysian camera, just a little above the 40k mark. The 24.2MP CMOS sensor on this one provides better resolution and detail than the 18MP sensor on 700D. The 9-point AF system is no doubt old, but the new dual-pixel Auto Focus compensates well for it. The touchscreen on this one is 3-inch, 10 million dots resolution with variable support.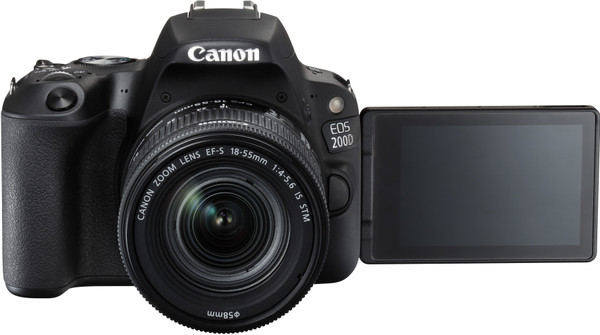 The ISO range is 100-25600 making this DSLR good for low-light as well as light flood situations, what's great is that ISO can be increased to 51,200 in high settings. Canon EOS 200D has 11 scene modes as well as a bunch of creative filters, to help out the newbies entering photography. The optical viewfinder above the screen isn't covering 100% but a decent 95%, which is what you expect from a beginner camera.
The DSLR is solidly built and provides a host of features in probably the smallest and lightest enclosure. For a beginner, this camera has everything you'll need to get started and get high on your photography journey. No doubt, we had to put it as the best you can get for around ₹ 40,000.
2. Canon EOS 1500D DSLR Camera
If you are new to photography and want to get your feet into the water, you can't get anything better than the Canon EOS 1500D. It can be well touted to be the best DSLR under the 40,000 price tag. The image quality beats everything in the range. If you want to start your photography journey magically, 1500D is the perfect wand.
The Canon EOS 1500D sports a 24MP lens with a 3-inch LCD display. The touchscreen is responsive and swift. The interface is simple, and you'll get started in no time. The LCD display can be flexibly rotated to fit your requirements, all the way 360 degrees.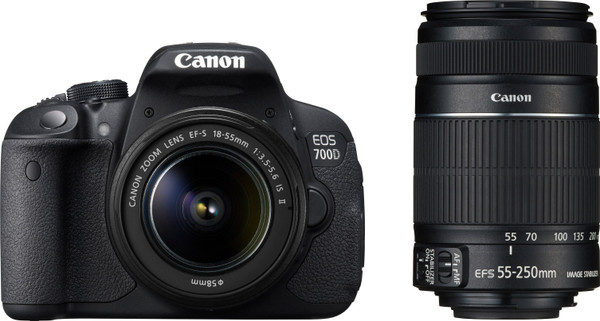 With an ISO ranging between 100-12800, this camera is an absolute delight even in low-light situations. Canon 1500D supports HDMI, USB and PictBridge for connectivity, with a 440 shot battery capacity and 2 years of warranty, Canon EOS 1500D makes a bold budget statement and more importantly a gratifying start for the newbies, It weighs around 525 grams and comes bundled with an 18-55mm IS II and EF S55-250mm II lens.
You can get this stunner for around 38000 from Flipkart and Amazon. It is one of the best and our favorite DSLR camera under 40000.
3. Nikon D5300
D5300 by Nikon succeeds the very popular budget entry, D5200 and makes some increments upon the best features of D5200. The camera sits in the middle of Nikon's offerings with D3300 lying below and D7200 sitting above. D5300 is almost similar to D5200 on the outside but is a tad lighter.
Nikon D5300 is a 24MP camera with no anti-aliasing, putting it a cut above D5200 in terms of Image resolution. The video aspect of D5200 has been boosted in D5300 with capability for 1080p/ 60p HD video. The standard ISO range of 100-12800 performs fairly, with admirable low-light performance.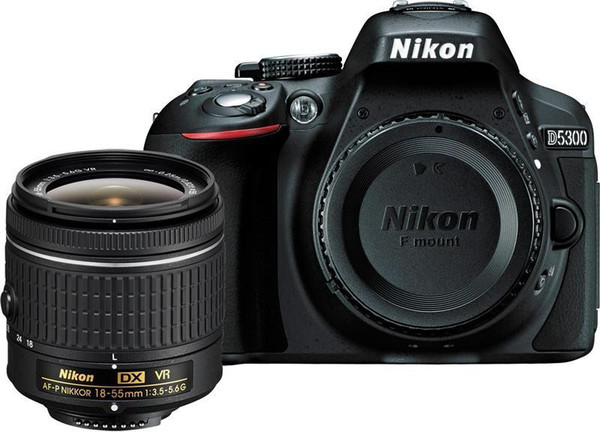 The display gets an upgrade as well, It is now 3.2-inches vs the 3-inch on its predecessor. Also, with Nikon DSLR lineup, you get Wi-Fi and GPS which might be taken for granted but they are worthy add-ons. Battery life on D5300 has also been shot up to 600 shots, which no doubt doesn't hold up all too well with Wi-Fi and GPS turned on.
One thing, I don't think Nikon has been nice with is the display on this DSLR. It is 2018 and Its still not a touch screen, come on! Besides that, I really appreciate the offering by Nikon at the price point, It really stands out as one of the best under ₹ 40,000 price range. Weighing 480 grams, Nikon D5300 is the best of Nikon under 35000 in India.
4. Nikon D3400 DSLR Camera
You might be tired of this already but Nikon D3400 is Nikon's refined attempt at budget DSLRs. The camera is fully loaded with top-notch features and builds up upon the best features of Its predecessor, the widely popular D3300. D3400 is very similar to all Nikon budget entries on the outside. With small enclosure, lightweight body, It is a comfortable device to use for prolonged durations.
Nikon has done some good refinements with D3300 which we see in D3400. It boasts an improved 24MP sensor, a 3-inch LCD display with 9.2million dots of resolution. With an optical low-pass filter, this camera gets a noticeable edge over others. The ISO sensitivity of 100-25600 really makes the day, with superior handling of poor lighting conditions alongside over-lit conditions. D3400 boasts an 11-point AF system, with a single cross point, coupled with Nikon's 3D focus technology, autofocus is really good.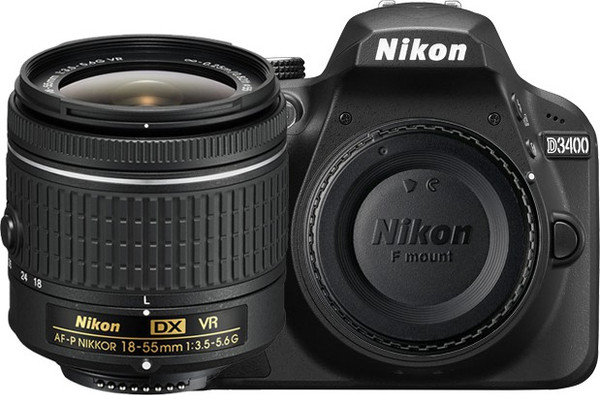 Wi-Fi hasn't been built into this one, but the wireless transfer of images is still on through Snapbridge feature. Although there are a lot of improvements, there are also some cut-offs from D3300 that we really miss, first one being the microphone port around the camera, which has been removed in D3400 limiting the user to just micro aural mics. The flash on D3400 appears toned down. And probably the most admired, sensor cleaning built-in technology has been absent in D3400.
There's no touchscreen as well If you care for one. These tradeoffs Nikon has made with the D3400 restrict It to the third spot on our list. Nonetheless, Nikon D3400 is one of the best DSLRs you can buy under 35000 to 40000 in India.
5. Sony SLT-A58Y
Sony, a name which makes an array of the consumer has an impressive display of DSLRs as well, with Sony SLT-A58Y championing Its budget cause. Sony SLT-A58Y comes with a host of features and a breathtaking quality that's the hallmark of Sony products. Sony A58Y jumps over previously established A37 and A53 budget entries.
With a boosted 20MP CMOS sensor, A58Y packs a new Image processor by Sony claimed to be more efficient at reducing noise and getting the best, detailed images. It has a 15-point AF and 3 cross-type points for accurate AF detection. Sony has also introduced Lock-On AutoFocus technology into A58, which offers faster and better AF performance. As with all Sony DSLRs, this one also used Sony's Translucent Mirror technology that replaces traditional mirrors in DSLRs and a direct result is an electronic viewfinder.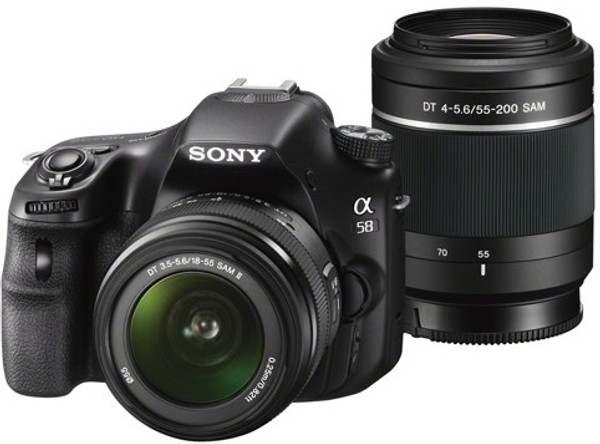 The electronic viewfinder now has OLED Tru-Finder technology by Sony which is aimed at reducing power consumption. The burst modes on Sony DSLRs are fantastic as ever, all thanks to that translucent lens. With an ISO range of 100-16000, A58Y by Sony really stands out in low-light photos and Image Stabilization.
The only downsides I can pick on this one is the electronic viewfinder might not be the first choice for many 'Pro' photographers, the A58Y is also deficient of any wireless connectivity mojo. Anyways, It makes a decent buy at around 40000 from Flipkart, you do get 18-55mm + 55-200mm lenses with this one.
6. Canon EOS 1300D Digital SLR
Well, If you've researched about Canon EOS 700D, you also might have come across Canon EOS 1200D. It is almost like a toned down version of 700D with an 18MP CMOS sensor and a 3-inch LCD display like the 700D. The image processor on this one is same as on 700D, Digic 4. Availing smart, responsive and fast performance.
Canon has put a lot of force on the Wi-Fi and NFC capabilities of 1300D, which work really nicely. The interface is easy to use, as is with all Canon cameras. The display is really good at the price. Canon 1300D is a great choice for newcomers, who want to try out photography with some cool shots to start with.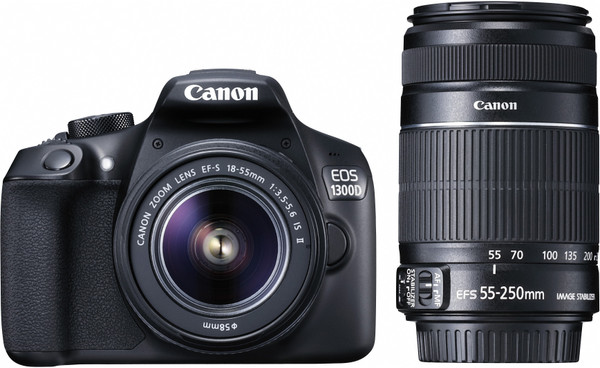 The ISO is almost half of 700D at 100-6400, which conspicuously reveals that the camera is not as solid a performer as you'd expect in low-light or light-flood situations. The screen is fixed, there's no touchscreen, now that's a little more, I agree.
The focusing is a little slow and that's pretty much all. The camera is lightweight, sturdy and gives decent performance at a respectable price. You can get a Canon EOS 1300D from Flipkart for less than 35000 with Dual Lens: EF-S 18-55 mm IS II + EF-S 55-250 mm F4 5.6 IS II and a 16GB memory card.
Concluding Remarks: SuggestPhone's Best DSLRs Under 40000
Aaaaand that's all folks! hope you liked our efforts. These were the best DSLRs under ₹ 40,000 from SuggestPhone's point of view. What do you think? Something we missed or something we did great? Do share your views in comments, we are dying to hear from you. SuggestPhone has none but a single vision of enabling you with the knowledge to make more informed and satisfying choices for all your gadget cravings.
In this list, we covered the best DSLRs under 40000. If you want to spend more, take a look at more options in our list of best DSLR cameras under 50k.
---
---
Latest Articles on our blog
---
9 Best Wireless Bluetooth Earphones & Headphones Under 2000 in India 2020
In this blogpost, we take a look at the 9 best wireless bluetooth earphones & headphones under 2000 in India 2020. These earphone and headphone use bluetooth technology to connect to your phone and stream music. If you are a regular wired earphone user, you would love the wireless experience.
---
AMX XP 60 Review: One Charger For All of Your Devices
AMX has recently introduced a 4 port charger that has 1 PD port and 3 USB ports. The Power delivery port can be used to charge the laptop, MacBook, iPhone, Pixel and other latest smartphones. The other 3 ports are conventional Type-A ports and you can normal Type-A to MicroUSB or Type C to charge your phone, smartwatches, bands, power banks, etc. In this article, we are going to take a look at the brief review of AMX XP-60. We have covered the features, specs, design, and performance.
---
Best Headphones & Earphones Under 3000 in India (Wireless Bluetooth & Wired)
Everyone loves music and In this article, we bring you the list and brief reviews of best headphones and earphones under 3000 in India 2019. This list has both earphones and headphones. Both wired and wireless bluetooth earphones/headphones have been covered in this article from brands like Sony, Samsumg, JBL, boAt and Motorola. The price range varies from 2000 to 3000 rupees.
---
The 8 Best Earphones Under 1500 and 2000 in India September 2019
A list of top 8 best earphones under 1500 and 2000 available in India as of September 2019. Best earphones from brands like Sony, JBL, Noise, Sennheiser, and bOAT have been listed in this article. All these earphones have excellent sound quality and provide an immersive listening experience.
---