---
Hey, Welcome to SuggestPhone. Since you are already here, we can safely presume that you are quite done with smartphone photography or those fancy point and shoot cameras. So what are you doing about your burning photography aspirations? Well, you've been looking for a decent camera to kickstart your journey right? If you've been unsuccessful in your search till now, you've come to the right place.
We have studied and curated some Best DSLR Cameras in India on the market right now, under 50000 mark, just for you. A camera is better than another cannot be stated at absolute levels, as its subjective business, so take this list with a pinch of salt. They are more or less the same with somethings that make them better not only for us but for a lot of owners, who have expressed their views over a dozen websites. As DSLRs are getting more pervasive, we bring you the best DSLR Cameras under 50000 in India 2019.
If you are little tight on budget, you can check out our list of Best DSLR Cameras under 40000. If you are a newbie and looking for buyers guide for a DSLR, we have got you covered here with our How to buy the best DSLR
Ok, Let us check the list of best DSLRs under 50000 now. These DSLR Cameras have their Flipkart and Amazon buy links after their description through which you can directly buy and read user reviews.
Deals/Offers: Check Out the Best Deals and Offers Available on Amazon.in Today!
1. Canon EOS 200D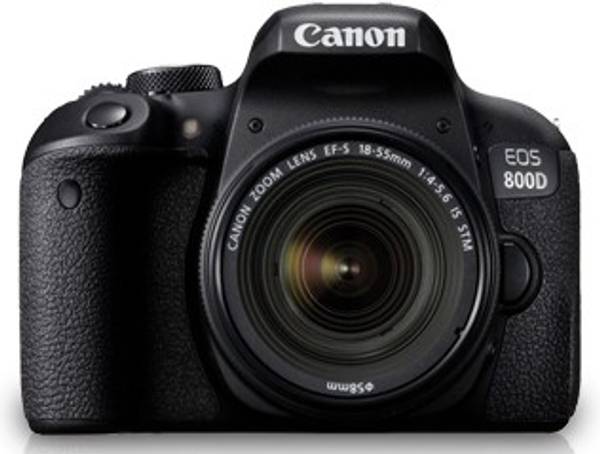 Well, you might call us Canon buffs but Canon EOS 200D really is a gem at the price. Though It is priced slightly above 50,000, It is a buy you will cherish for years. With a standard 24.2 MP CMOS APS-C sensor. That was just the starter specs, we have Canon's breakthrough dual pixel AutoFocus with the latest DIGIC 7 image processor, which provides exemplary performance at blazing fast speeds. Canon EOS 800D has a whopping 45point AF system, what this translates into is just 0.03 seconds of focus time. To view all those astonishing shots in their full glory, we have a 3-inch, 10 million dot resolution, vari-angle LCD display. With an ISO range of 100-25600, this DSLR performs great, whether its low light or a light flood. It packs lots of connectivity options as well such as Wi-Fi, Bluetooth, and NFC. The only aspect where we feel this camera misses out is video, with no 4k support. With an admirable battery of approximately 600 shots, Canon EOS 200D weighs in around 532 grams which are fair in our view. You get a marvelous camera along with a 16GB memory card and camera bag.
Buy Canon EOS 200D from Flipkart
Buy Canon EOS 200D from Amazon
2. Nikon D5600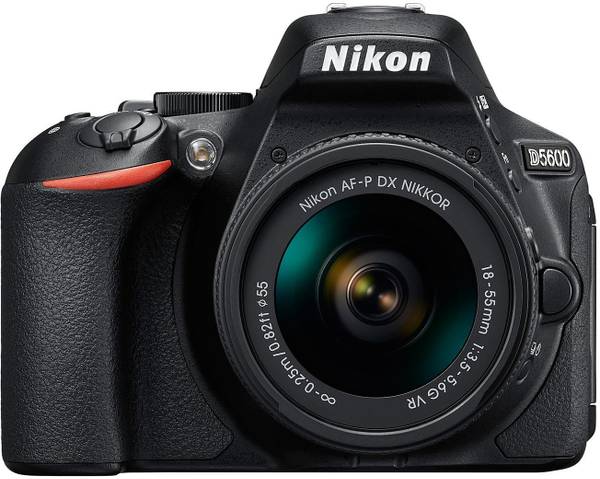 Nikon D5600 stands second on our list, being a subtle upgrade to widely popular Nikon D5500. The D5600 sports an APS-C CMOS sensor clocked at 24.1 MP. Powered by an Exspeed 4 Image processor, Nikon D5600 is one of the true performers at the price. You get a 39 point AF system with fast performance and visibly less noise. The level of detail is really remarkable. To see all the beautiful snaps, you manage to capture with this beast, we have a 3.2inch, 10 million dot resolution LCD display, which can be articulated out. Nikon D5600 competes for head to head with Canon EOS 800D in ISO with a range of 100-25600, meaning that the camera is well capable of handling low-lit scenes as well as extra-lit situations. With a continuous shoot capability of up to 5fps, burst mode is really good on this one. Nikon has left no stone unturned when it comes to connectivity by throwing Wi-Fi, Bluetooth as well as NFC into the mix with D5600. One other department, this camera bests others is battery life, with a superb battery of 970 shots. The Camera weighs only 465gm and comes with 16GB of the memory card and a camera bag. It is our favorite and one of the best DSLR cameras under 50000.
3. Canon EOS 750D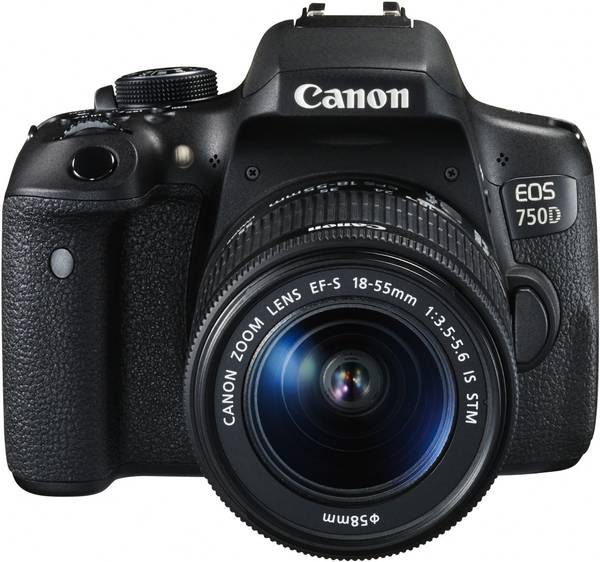 Canon EOS 750D is another mid-range star on our list, with a 24.2MP CMOS sensor, backed by a DIGIC 6 image processor, EOS 750D is a sweet starting point for enthusiasts. With a 19 point AF system combined with Hybrid CMOS 3 system offers superior image quality and fast autofocus. The EOS 750D is capable of handling continues shoots at 5fps. You also get a 3-inch vari-angle, 10 million dots resolution LCD display, which is almost the same as EOS 800D. The ISO range of 750D spreads from 100-12800, which means you get decent performance at nights and also in overly lit situations, this could have been better. The battery on 750D is capable of going for 440 shots on a full charge. The Canon EOS 750D weighs 555grams and is a 2-year old model but still very relevant DSLR by Canon. Talking about connectivity options, we have Wi-Fi and NFC onboard. Canon EOS 750D comes with a 16 GB memory card and a camera bag.
Buy Canon EOS 750D from Flipkart
Buy Canon EOS 750D from Amazon
4. Nikon D5300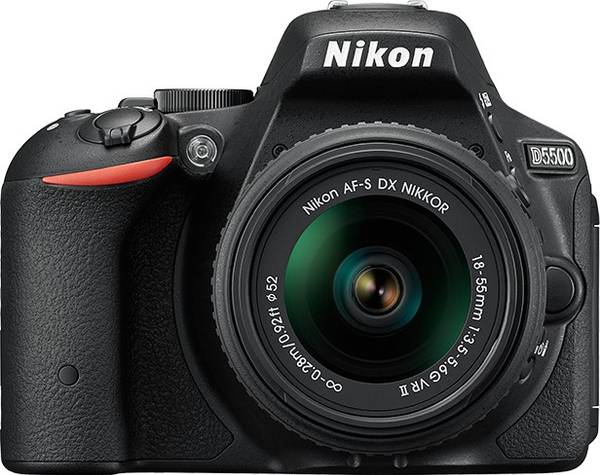 Announced way back in 2016, Nikon D5300 is the where D5600 gets all Its super cool features from. Nikon D5300, however, old is quite relevant for the enthusiasts or any new person starting photography. With a 24.1 MP APS-C, CMOS sensor powered by an Exspeed 4 Image Processor. It has the same 39 point AF system as on the D5600 although a bit old. With an ISO range of 100-25600, D5300 is ready for any scene you'd like to capture whether It lacks light or has the excess of it. It also carries a 3.2inch articulated LCD display with a resolution of 1040k dots. Nikon D5300 is also capable of shooting video at 1080p, 60fps along with continuous shooting at 5fps. The D5300 packs a respectable battery backup of around 600 shots and is fairly light at 480grams. It Comes with a single 18-55mm lens, 16GB memory card and a camera bag.
5. Sony Alpha 68K
Its no news that Sony exudes quality and trust, Sony Alpha 68k extends Sony's heritage into the DSLR space being rapidly teared down between Canon and Nikon. Alpha 68K boasts a 24MP CMOS sensor, with a BIONZ X image processor at the heart of it. If there's one thing Sony should be praised most about is the AF system on this camera. It is a 79 point AF system based DSLR where autofocus is way too fast. Apart from usual tricks, Alpha 68K can track 2D, 3D as well as 4D objects now. With an ISO range of 100-25600, Sony Alpha 68k is a proud performer in low-light and over-lit situations, equally. Alpha 68K support 8fps continues shooting with AutoFocus. The display on this one isn't mighty impressive but still offers a 2.7inch LCD display with a scarce resolution of 460k dots. Weighing 610 grams, Sony Alpha 68k has a respectable battery backup of 580 shots. One special thing about Alpha 68K is that it has an Indian colour profile to get more optimised and natural shots in the subcontinent. Sony Alpha 68K is a great starting point, If you can go past the not-so-good display. This is the best DSLR under 50000 from Sony.
Buy Sony Alpha A68K from Amazon
So we have reached the culmination of this post and Its time you write instead of us about how good/ helpful was this article to you. (Even If It wasn't) We would like to hear from you, what you think about photography, DSLRs, and SuggestPhone. Here, we listed some of the best DSLR cameras under 50000 in India 2019. Did we miss something? Do you agree or do you disagree with our list? Do tell us on our social media channels.
---
---
Latest Articles on our blog
---
9 Best Wireless Bluetooth Earphones & Headphones Under 2000 in India 2020
In this blogpost, we take a look at the 9 best wireless bluetooth earphones & headphones under 2000 in India 2020. These earphone and headphone use bluetooth technology to connect to your phone and stream music. If you are a regular wired earphone user, you would love the wireless experience.
---
AMX XP 60 Review: One Charger For All of Your Devices
AMX has recently introduced a 4 port charger that has 1 PD port and 3 USB ports. The Power delivery port can be used to charge the laptop, MacBook, iPhone, Pixel and other latest smartphones. The other 3 ports are conventional Type-A ports and you can normal Type-A to MicroUSB or Type C to charge your phone, smartwatches, bands, power banks, etc. In this article, we are going to take a look at the brief review of AMX XP-60. We have covered the features, specs, design, and performance.
---
Best Headphones & Earphones Under 3000 in India (Wireless Bluetooth & Wired)
Everyone loves music and In this article, we bring you the list and brief reviews of best headphones and earphones under 3000 in India 2019. This list has both earphones and headphones. Both wired and wireless bluetooth earphones/headphones have been covered in this article from brands like Sony, Samsumg, JBL, boAt and Motorola. The price range varies from 2000 to 3000 rupees.
---
The 8 Best Earphones Under 1500 and 2000 in India September 2019
A list of top 8 best earphones under 1500 and 2000 available in India as of September 2019. Best earphones from brands like Sony, JBL, Noise, Sennheiser, and bOAT have been listed in this article. All these earphones have excellent sound quality and provide an immersive listening experience.
---