---
Hey, ladies and gentlemen! Hope you are doing great. Here, once again, continuing the spree, we have our answer to one of the most asked questions around, What are the best earphones under 2000. Well, If you are also seeking the latest answer to this age-old question. We've got you covered. In this post, we present our best picks in earphones in the sub-Rs. 2000 category. Hold tight!
You will see earphones priced between Rs. 1000 and 2000 on this list. If you are on a tight budget then take a look at our list of best earphones under 1k. All these earphones deliver excellent sound quality and provide an immersive listening experience. They have good build quality as well but still, if you are not careful, they do get damaged so we have added a case as well which will protect your new pair of earphones.
We have covered best earphones from top brands like Sony, Skullcandy, Soundmagic, Sennheiser, and Audio Technica. First, we take a look at the best ones under 2000 and then we will go through the best earphones available under 1500. All these earphones are latest and were launched in January 2019 or before that. Let's start.
Best Earphones Under 2000
Deals/Offers: Take a Look at the Best Deals Available in Flipkart Sale! Extra 10% Discount with SBI Cards on All Products.
1. Sony MDR-XB55AP Premium In-Ear Extra Bass Earphones
Sony's MDR-XB55AP is a popular set of In-ear earphones by Sony, that truly takes the bass to a whole new level. These earphones are what bass lovers' dreams are made of. Sony MDR-XB55AP pack ultra-powerful 12mm neodymium drivers that just blow the competition away when it comes to volume and bass. The sound is not only powerful but also quite balanced and lively. The highs and lows are splendid, the sweetness of mid-range is just to be cherished. The balance is great as the lows are not eclipsed due to that humongous bass.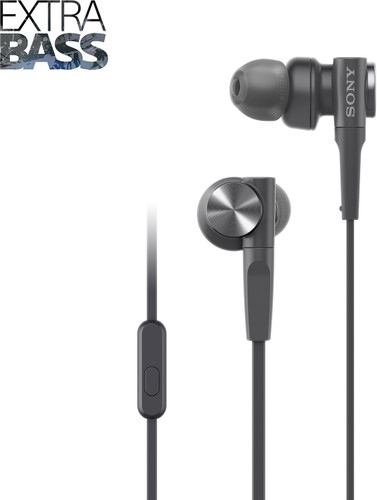 The design is somewhat different and looks cool. The silicone tips come in 3 sizes and are comfortable with a secure fit. The build is premium and sturdy, the cord is serrated, tangle free and also of great quality with gold plated jack. These are one soul-moving pair of earphones which we absolutely admire, the value that Sony packs in this ultrapowerful, deeply comfortable pair of earphones are a must buy. The mic on this one is also decent and picks up voice nicely.
Though these are not sports-focused, the secure fit and sturdiness make these earphones almost competing with the ones designed with sports in mind. There is absolutely no compromise in sound quality and precision. It speaks or rather screams volumes about itself, that premium feel coupled with mind-blowing sound, makes these our best pair of earphones under 2000.
Buy Sony Earphones from Amazon
Buy Sony Earphones from Flipkart
2. SoundMagic PL30 In-Ear Earphones
Soundmagic? Yeah, you may not have heard the name, but you definitely got to hear the crisp clear and balanced sound these earphones pump. The bass is also superb and the sound lies in the harmony of all the factors that make a pair of earphones perfect. The design is not the most unique and beautiful one you could find, but the sound definitely is worth praise. The highs, lows are delectable, the mids are quite stable.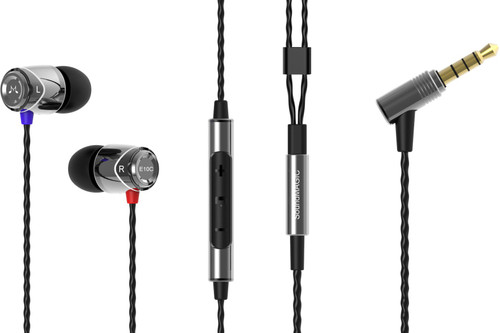 The sensitivity of these headphones is quite remarkable too. The build is solid and of all things that take unwanted attention - the cable is 1.2m in length and tangle free. The issue with E10S being volume controls not available on the inline remote. E10C answer that. The earphones weigh just 15 grams and are comfortable. The rugged and sturdy build makes them sports-ready but there are no claims on these being sweat-proof by SoundMagic.
The 10mm neodymium driver pumps dynamic and powerful sound. The only minor glitch we observed is that the mic is not that sensitive so you might need to get it close to your mouth in noisy environments. All we can say is that SoundMagic E10C are absolute bang for bucks. You can get these impressive pairs of earphones from Amazon and Flipkart at under Rs. 2000.
Buy SoundMagic Earphones from Amazon
Buy SoundMagic Earphones from Flipkart
3. Sony Extra Bass MDR-XB510AS In-Ear Sports
Sony's MDR-XB510AS is one hell of earphones, crafted to delight the bass lovers and entangle the music lovers with rock-solid performance in all kinds of music genre you would like to listen to. These earphones use Sony's popular Extra Bass technology to power some insane base, that elates the listening experience. The 12mm neodymium drivers, backed with an amazing sensitivity of 112db/mW. These earphones exude balanced, rich and dynamically powerful sound that just mesmerizes everyone.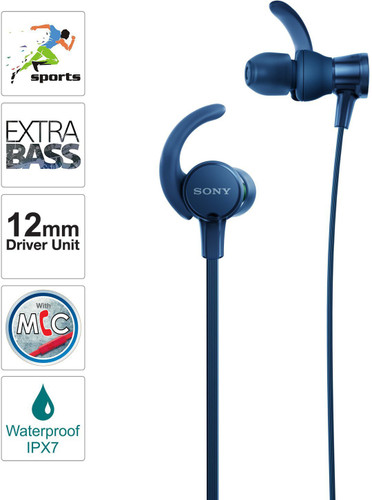 Let's talk beyond sound quality because these earphones have a lot than just sheer quality sound. MDR-XB510AS are IPX5/7 water resistant, so run in rain or shower listening to music, these earphones are ready to take that. Kept with sports in mind, these earphones also have arc supporters to place and hold them securely in your ears, so no matter how hard to jump and twirl, these earphones are not gonna leave your ears. The microphone is also a decent one with omnidirectional support.
Weighing at just 9 grams, these headphones pack extra heavy sound in an extra light body, ensuring peak levels of comfort. The metal build looks unarguably premium and robust as well. The standard 1.2m long cord with gold-plated jack looks quite strong too. The inline remote is simple and doesn't bear a lot of controls, just a single button, so there might be some inconvenience there, for some people. We at SuggestPhone absolutely love these earphones from Sony. They are one of the best earphones under £30 in the UK. Sony MDR-XB510AS can be purchased from Amazon for around ₹ 2000.
Buy Sony Earphones from Amazon
Buy Sony Earphones from Flipkart
4. Sennheiser CX 275 S In-Ear Earphones
These budget warrior earphones from Sennheiser, offer impressive sound quality and comfort at an equally impressive price. The Sennheiser CX 275 S, are a solid pair of in-ear headphones with a good level of bass, strong lows and mids and good highs. The sound quality struggles just a notch at highs but It's not that big. The bass is not the best of class but a lot more than normal users would ask for. The audio is powerful and dynamic, the frequency range is great too.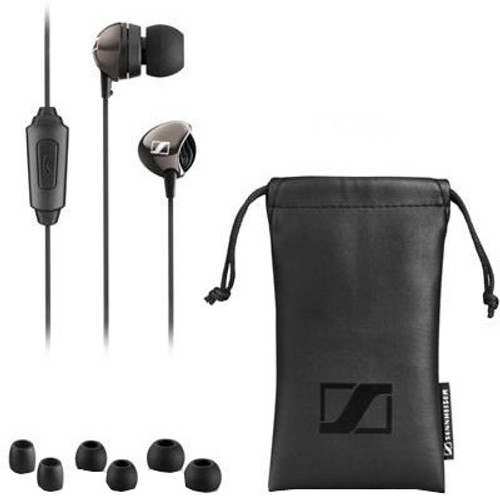 Overall, these earphones pack a decent sound experience at a not-that-high price as you'd expect from a big name like Sennheiser. Though sound performance is satisfying, I don't like the build quality, much owing to that plastic feel that these earphones exhibit. The build doesn't appear solid and sturdiness is a question you'd be asking yourself, once you pick these earphones. On the positive side, the plastic built grants lighter weight and added comfort.
These earphones are not sports-ready. Sennheiser could've achieved a better balance between build and comfiness. The earphones are also good at noise isolation and are worth commendation in that aspect. The cord is standard, 1.2m in length, also tangle free, that's a plus. The comfort that comes with these earphones coupled with the impressive and balanced sound from Sennheiser, makes these a decent purchase. These Sennheiser CX 275 S are one of our favorite earphones under 2000. Sennheiser offers a 2-year warranty on their earphones and you can get it replaced easily.
Buy Sennheiser CX 275 From Amazon
Buy Sennheiser Earphones from Flipkart
Best Earphones Under 1500 in India
1. Skullcandy S2PGGY-392 Smokin Buds2 Earphones
Skullcandy is a well-known name, and here we have Skullcandy S2PGGY-392 Smokin Buds2 earphones other well-known earphones in the sub ₹2000 category. The design is a bit different but not that radically different from others but the snug shape, with rubber tips, allows better fit and comfort in ears. They are powered by 9mm audio drivers which is not insanely loud but does the job quite nicely. The sound quality is decent, well balanced and powerful.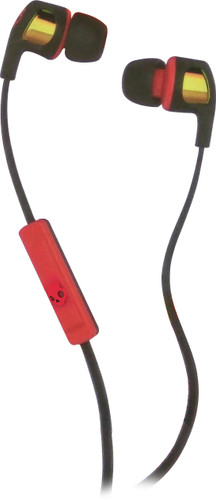 The highs are strong, the bass is decent and doesn't eclipse the lows. Don't expect insane bass, so If you are a bass-lover, these Skullcandy earphones might not satisfy you to fullest. The build quality is good enough, could've been better. The plastic build is not very assuring in terms of sturdiness. These earphones use off-axis technology to keep the earphones secure in your ears, which is really nice. The headphones are good-looking nonetheless and don't fail to embark that premium and funky Skullcandy look.
The cable is flattened out 1.2m, tangle free. I don't find these earphones justifying the supreme sound branding as It's not that extraordinary. The materials used are not the very best but workable. If you are a Skullcandy fan, and a not so crazy bass lover, these Skullcandy S2PGGY-392 Smokin Buds2, might be a great choice for you. You can get these super cool headphones from Amazon for under 1500 Rs.
Buy Skullcandy Earphones from Amazon
Buy Skullcandy Earphones from Flipkart
2. House of Marley Smile Jamaica In-Ear Headphones
These ultimately natural Smile Jamaica In-Ear earphones coming from much appreciated House of Marley are a really sweet pair of earphones for the ones who are lovers of precise, natural and powerful acoustics. The earphones come in a striking wooden enclosure which creates a more natural sound than others. If you are a bass lover, these earphones are not going to suit you much. Having said that, these earphones have ample bass and treble, what we admire is the balance and accuracy of notations.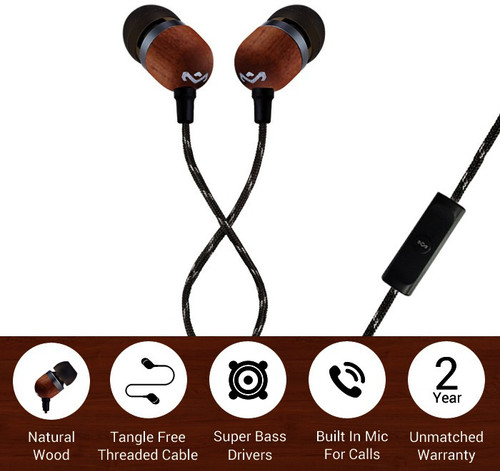 These earphones are ultra-light and comfortable. The build quality and design are strikingly beautiful with a tinge of cultural look, comforted by popping colors, that make it look uber cool at the same time. The acoustics are great, the bass is not a strong point for these earphones. The noise isolation is not out of the league but works good enough. If you are a casual earphone user, who puts comfort, balance, and precision above rest, these earphones are a delightfully great choice.
These are not designed keeping sports in mind, so not swear resistance or special efforts to make the fit more secure. Though the build is sturdy with that great design, the cord is a standard 1.2m long, also tangle free, which definitely helps. These are one of the best earphones you can get at under 1500.
Buy Marley Earphones From Amazon
Buy Marley Earphones From Flipkart
3. Sony MDR-EX155AP In-Ear Earphones
If you are looking for some quality big name earphones, close to ₹ 1000, these budget hero earphones by Sony, Sony MDR-EX155AP are a great choice. The earphones are powered by 9mm neodymium drivers that pump balanced yet powerful and dynamic audio, that provides a wonderful experience. The bass is not top notch as you'd expect but a lot better given the price. The tonal quality is great, the lows and the highs are distortion free, even at high volumes.
These are amazingly powerful headphones. On the design front, the build of the headphones is quite decent and you won't find any issues with respect to building quality as the metal finish really looks spectacular. The frequency range is quite impressive, with good levels of separation. The earphones are super light as well and come with 3 pairs of secure fitting earbuds. The mic on this one is decent too. The in-line set of control with a single button is not the most versatile but works conveniently.
The cord is standard, 1.2m long which is of decent quality. These are one of the best earphones at the price, close to ₹ 1000. Not designed for sports, these earphones maintain impressive sound quality and build with superb comfort.
Buy Sony Earphones from Amazon
Buy Sony Earphones from Flipkart
4. Audio Technica SonicFuel In-Ear ATH CLR100iS BL Earphones
Audio Technica has been making some solid strides in the budget segment in the past couple of years. SonicFuel ATH ATH CLR100iS is an amazing budget offering from the renowned brand in the western world. The earphones are great and pumping bass-full, clear, accurate and balance in audio. The sound quality is one of the best you'd get at the price. While you'll be delighted with the sound quality of these budget offering, the build quality has suffered a lot of compromises as It seems.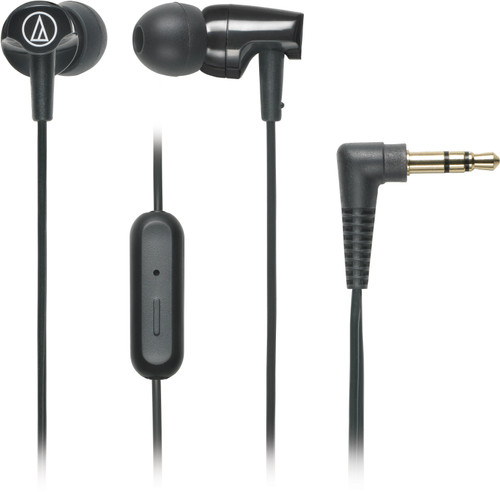 The earphones are not great on build quality, the sturdiness is not something we could speak of at lengths here. The earphones look decent but are not ready for harsh use, so If you wanna get these, keep them with good care. The cord quality is not that great either. These are a pretty great piece of earphones in sound performance but we would have been happy If ATH CLR100iS were more solidly built. Audio Technica ATH CLR100iS can be bought for under Rs. 1500.
Buy Audio Technica Earphones from Amazon
Buy Audio Technica Earphones from Flipkart
Closing Notes: Waiting To Hear From You
So that's It folks, hope we did a good job bringing you the best earphones under 1500 and 2000. These earphones are tried and tested best in the arena and we are sure, you won't regret buying them. Earphones are an essential accessory, so much that It isn't really an accessory anymore but hold a good sweet spot in our device arsenal.
Music is the lifeblood for many of us, It inspires us, moves us and elates us. So for the love of music, we hope we served you well in this article. Did we miss any great earphone in the sub-1500 to 2000 range? If you think, some other earphone deserves a place here, do tell us. If you can spend a bit more then do check out our list of best headphones and earphones under 3000 in India.
---
---
Latest Articles on our blog
---
TOP 8 Best Earphones Under 1000 in India June 2019
In this article we discuss various types of earphones and headphones and how to select the best ones according to their specifications. After that we take look at the top 9 best earphones under 1000 available in India as of June 2019. These earphones deliver immersive audio experience without breaking the bank.
---
Best Smartwatches in India with Reviews & Buyer's Guide
In this article we have listed the things you should keep in mind before buying a smartwatch and the top 7 best smartwatches available in India as of June 2019. Take a look at the best smartwatch under 5000, 10000, 15000, 20000 and 30000 in India.
---
The TOP 10 Best Earphones Under 500 and 700 in India 2019
In this article, we take a look at the top 10 best earphones under 500 and 700 available in India as of May 2019. These budget earphones offers decent sound quality and bass. The earphones are from companies like boAt, Leaf, Boult, MI and Realme which all are making a strong mark to offer you the best in this price range.
---
9 Best Car Chargers In India 2019 (USB Mobile Chargers with Fast Charging)
In this article, we list down the best car chargers in India as of 2019. We have listed the specs and features of the 9 best car mobile chargers. These car chargers are priced between Rs. 300 and 1000 and most of them offer dual USB ports with Qualcomm Quick Charge 2.0 or 3.0 technology for fast charging. These chargers are suitable for both Apple iPhones and Android phones.
---
Qualcomm Snapdragon 660 vs Snapdragon 675 vs Helio P70 Detailed Comparison
In this article, we cover the detailed comparison of the processors in limelight for the phones in Rs. 10000 to 20000 price range: Qualcomm Snapdragon 660 vs Snapdragon 675 vs Helios P70 processors. A point by point comparison of cpu, gpu performance, camera, connectivity, audio quality and benchmarks is covered here.
---