---
Hey, ladies and gentlemen! Hope you are doing great. Here, once again, continuing the spree, we have our answer to one of the most asked questions around, What are the best earphones under 2000. Well, If you are also seeking the latest answer to this age-old question. We've got you covered. In this post, we present the best earphones under 1500 and 2000 in India 2019.
You will see earphones priced between Rs. 1000 and 2000 on this list. If you are on a tight budget then take a look at our list of best earphones under 1k. All these earphones deliver excellent sound quality and provide an immersive listening experience. They have good build quality as well but still, if you are not careful, they do get damaged so we have added a case as well which will protect your new pair of earphones.
We have covered the best earphones from top brands like Sony, JBL, Noise, Sennheiser, and bOAT. First, we take a look at the best ones under 2000 and then we will go through the best earphones available under 1500. All these earphones are the latest and were launched in September 2019 or before that. Let's start.
SuggestPhone's List of Best Earphones Under 2000
Deals/Offers: Check Out the Best Deals and Offers Available on Amazon.in Today!
1. Sony MDR-XB55AP Premium In-Ear Extra Bass Earphones
Sony's MDR-XB55AP is a popular set of In-ear earphones by Sony, that truly takes the bass to a whole new level. These earphones are what bass lovers' dreams are made of. Sony MDR-XB55AP pack ultra-powerful 12mm neodymium drivers that just blow the competition away when it comes to volume and bass. The sound is not only powerful but also quite balanced and lively. The highs and lows are splendid, the sweetness of mid-range is just to be cherished. The balance is great as the lows are not eclipsed due to that humongous bass.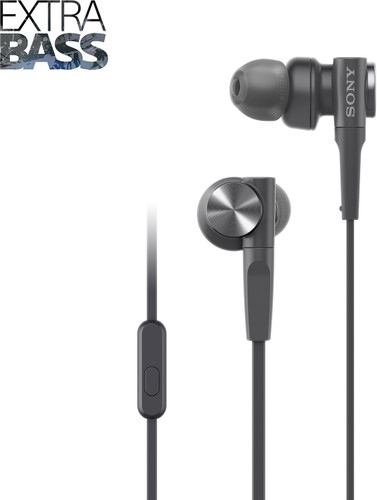 The design is somewhat different and looks cool. The silicone tips come in 3 sizes and are comfortable with a secure fit. The build is premium and sturdy, the cord is serrated, tangle-free and also of great quality with gold plated jack. These are one soul-moving pair of earphones that we absolutely admire, the value that Sony packs in this ultrapowerful, deeply comfortable pair of earphones are a must buy. The mic on this one is also decent and picks up voice nicely.
Though these are not sports-focused, the secure fit and sturdiness make these earphones almost competing with the ones designed with sports in mind. There is absolutely no compromise in sound quality and precision. It speaks or rather screams volumes about itself, that premium feel coupled with mind-blowing sound, makes these our best pair of earphones under 2000.
Buy Sony Earphones from Amazon
Buy Sony Earphones from Flipkart
2. boAt Rockerz 255F Bluetooth Headset with Mic
boAt is a name that is no stranger to the Indian audience. If you are looking for a great set of wireless earphones under 2000 that you can take to the gym too. The Rockerz 255F is the way to go.
The earphones though made of polycarbonate and are of great quality. The great build comes with the icing of IPX5 rating making it splash and sweat proof for when you use it in the gym. The cable used here is also flat type and this makes it less vulnerable to wear and tear.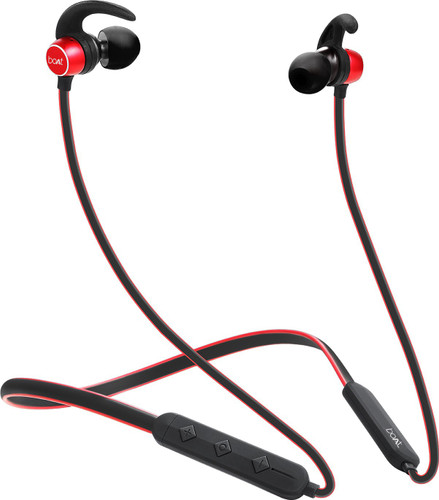 The head of the earphones also has magnets in them so that when you are not using the earphones you can stick them back to back and keep them together. The inline buttons give you access to volume and track control. The onboard microphone also allows for hands-free calling and adds to that extra bit of convenience.
All the features mentioned above sound well but how do they actually "sound"? The good news is this that we have a 10mm driver that powers the earphones. The drivers deliver not only great music clarity for their size but pretty great bass too. You will also benefit from the CSR 8635 Chipset from Qualcomm, which makes sure that you get uninterrupted music and music listening time of 6 hours. The charging time over the micro USB port is 2.5 hours. All in all, the amount of tech you get for the price is simply amazing and with a warranty covering manufacturing defects for an entire year you should do just fine. This is one of the best wireless earphones under 2000 in India.
Buy boAt Earphones from Amazon
3. JBL T290 Wired Earphones with Mic
JBL is a name that keeps coming back when we speak of a tier 1 brand for earphones. The T290 from JBL's Pure Bass Sound series is one of the best examples of quality music with professional tuning by one of the pioneers in the field of the music system.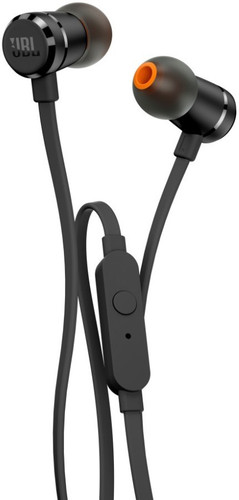 The T290's have an aluminum casing that houses a pair of 8.7mm drivers. The aluminum casing gives the earphones an amazing premium feels that not impossible but difficult to find in most earphones in this price range. The 8.7mm drivers might sound small are tuned by JBL's 60+ years of experience of delivering quality sound.
The ear tips are made of silicon and will be completely skin-friendly. The earphone cable is flat type and is also tangle-free. The 1 button control comes also with a mic to give you the option for playing/pausing your music while the microphone gives you a hands-free calling feature. Finally, the headphone jack is bent at a 45o angle preventing the jack from accidental bends. The warranty of a year will finally keep you covered from all manufacturing defects. If you are looking for wired earphones under 2000 with a mic then this is a good option from JBL.
Buy JBL Earphones from Flipkart
4. Sennheiser CX 275 S In-Ear Earphones
These budget warrior earphones from Sennheiser, offer impressive sound quality and comfort at an equally impressive price. The Sennheiser CX 275 S, are a solid pair of in-ear headphones with a good level of bass, strong lows and mids and good highs. The sound quality struggles just a notch at highs but It's not that big. The bass is not the best of class but a lot more than normal users would ask for. The audio is powerful and dynamic, the frequency range is great too.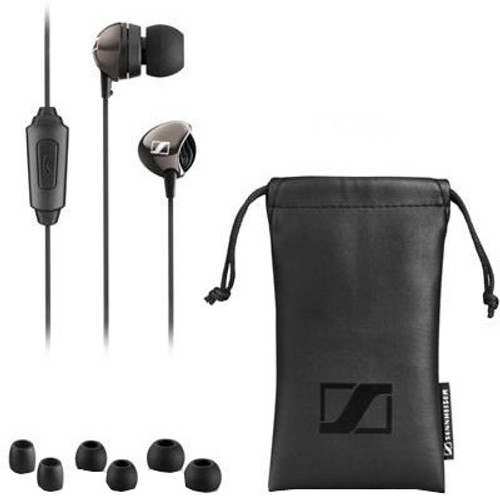 Overall, these earphones pack a decent sound experience at a not-that-high price as you'd expect from a big name like Sennheiser. Though sound performance is satisfying, I don't like the build quality, much owing to that plastic feel that these earphones exhibit. The build doesn't appear solid and sturdiness is a question you'd be asking yourself, once you pick these earphones. On the positive side, the plastic built grants lighter weight and added comfort.
These earphones are not sports-ready. Sennheiser could've achieved a better balance between build and comfiness. The earphones are also good at noise isolation and are worth commendation in that aspect. The cord is standard, 1.2m in length, also tangle-free, that's a plus. The comfort that comes with these earphones coupled with the impressive and balanced sound from Sennheiser, makes these a decent purchase. These Sennheiser CX 275 S are one of our favorite earphones under 2000. Sennheiser offers a 2-year warranty on their earphones and you can get it replaced easily.
Buy Sennheiser CX 275 From Amazon
Buy Sennheiser Earphones from Flipkart
SuggestPhone's List of Best Earphones Under 1500 in India
1. JBL Endurance Run Wired Earphones with Mic
If you don't want to spend a ton and yet want a pretty decent music experience and especially if you want it from a tier-one brand. The Endurance Run from JBL is an amazing offering for earphones that are priced under 1500 rupees.
The earphone is made of both soft and hard polycarbonate thus making it really lightweight and easy to use. The material used here is not only lightweight but also skin-friendly and JBL brands it by calling it FlexSoft. The cable used in here is tangle free and will come in great handy when you are tossing it in your bag only to use it untangled later.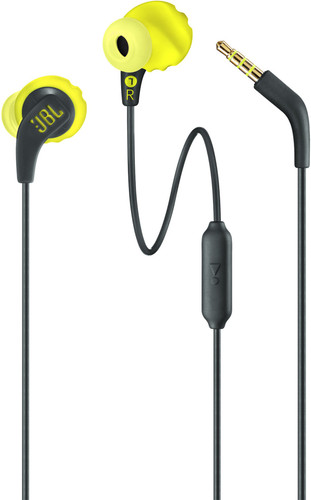 The entire body of the earphone is also IPX5 rated thus you could also use it during extensive workouts in the gym while working out. This is thanks to the IPX5 rating that makes it sweat and dustproof. The earphone tips also come with magnets to hold them in one place when they are not in use. JBL has also included a flip hook design that locks behind your ears to keep them from falling off.
As per how do these earphones sound, they are classic JBL you know. Firstly, we get to work with 8.2mm drivers which might not be large to deliver thumping bass. However, it is more than enough to deliver quality sound. The lack of heavy bass is made up of balanced music quality and you will love it. This again is majorly thanks to JBL's tuning and experience in the sound department for over 6 decades. All in all, the sound quality of the earphones is pretty good and you will love it.
Buy JBL Earphones from Flipkart
2. House of Marley Smile Jamaica In-Ear Headphones
These ultimately natural Smile Jamaica In-Ear earphones coming from much appreciated House of Marley are a really sweet pair of earphones for the ones who are lovers of precise, natural and powerful acoustics. The earphones come in a striking wooden enclosure which creates a more natural sound than others. If you are a bass lover, these earphones are not going to suit you much. Having said that, these earphones have ample bass and treble, what we admire is the balance and accuracy of notations.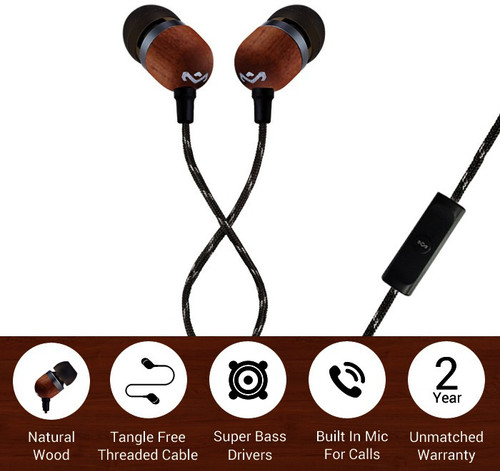 These earphones are ultra-light and comfortable. The build quality and design are strikingly beautiful with a tinge of cultural look, comforted by popping colors, that make it look uber cool at the same time. The acoustics are great, the bass is not a strong point for these earphones. The noise isolation is not out of the league but works good enough. If you are a casual earphone user, who puts comfort, balance, and precision above rest, these earphones are a delightfully great choice.
These are not designed keeping sports in mind, so not swear resistance or special efforts to make the fit more secure. Though the build is sturdy with that great design, the cord is a standard 1.2m long, also tangle free, which definitely helps. These are one of the best earphones you can get at under 1500.
Buy Marley Earphones From Amazon
Buy Marley Earphones From Flipkart
3. Sony MDR-EX155AP In-Ear Earphones
If you are looking for some quality big name earphones, close to ₹ 1000, these budget hero earphones by Sony, Sony MDR-EX155AP are a great choice. The earphones are powered by 9mm neodymium drivers that pump balanced yet powerful and dynamic audio, that provides a wonderful experience. The bass is not top notch as you'd expect but a lot better given the price. The tonal quality is great, the lows and the highs are distortion free, even at high volumes.
These are amazingly powerful headphones. On the design front, the build of the headphones is quite decent and you won't find any issues with respect to building quality as the metal finish really looks spectacular. The frequency range is quite impressive, with good levels of separation. The earphones are super light as well and come with 3 pairs of secure fitting earbuds. The mic on this one is decent too. The in-line set of control with a single button is not the most versatile but works conveniently.
The cord is standard, 1.2m long which is of decent quality. These are one of the best earphones at the price, close to ₹ 1000. Not designed for sports, these earphones maintain impressive sound quality and build with superb comfort.
Buy Sony Earphones from Amazon
Buy Sony Earphones from Flipkart
4. Noise Tune Elite Bluetooth Wireless Neckband Earphones
Now Noise might not be as famous as any tier 1 brand like JBL or Sony or even a tier 2 brand such as boAt. However, thanks to its quality products and aggressive pricing it has been making quite the "Noise". No puns intended.
The Tune Elite is made of mostly plastic material that does not make it feel cheap but you will not get any premium vies coming out of it either. However, that said the build is pretty darn solid for a product that's priced under rupees 1500. The magnets on the ear tip hold the earphone in place when not in use. The IPX5 rating gives users peace of mind when being used while doing sweat related work. The remote control enables you to play, pause, skip tracks, control volume and thanks to the inbuilt microphones you can even answer or reject calls.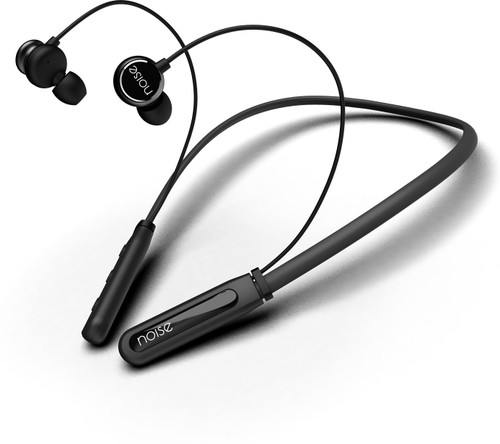 The sound department is again rock solid. Though we don't know the driver's size used. The sound output is truly great for the price. With an impedance of 32 ohms and a frequency response of 50Hz, you can be assured that you are going to get some quality music. We have Bluetooth 4.2 onboard and a connectivity range of 10m. The 130mAh battery onboard delivers 10 hours of music listening time and a standby time of 65 hours.
Last but not least in most of cases we find the warranty of the product to be of 1 year while that on the accessories to be 6 months. However, it is truly commendable of Noise providing a year of manufacturing defect warranty on both the earphones and the accessories too.
Buy Noise Wireless Earphones from Amazon
Buy Noise Wireless Earphones from Flipkart
Closing Notes: Waiting To Hear From You
So that's It folks, hope we did a good job bringing you the best earphones under 1500 and 2000. These earphones are tried and tested best in the arena and we are sure, you won't regret buying them. Earphones are an essential accessory, so much that It isn't really an accessory anymore but holds a good sweet spot in our device arsenal.
Music is the lifeblood for many of us, It inspires us, moves us and elates us. So for the love of music, we hope we served you well in this article. Did we miss any great earphones in the sub-1500 to 2000 range? If you think, some other earphone deserves a place here, do tell us. If you can spend a bit more then do check out our list of best headphones and earphones under 3000 in India.
---
---
Latest Articles on our blog
---
9 Best Wireless Bluetooth Earphones & Headphones Under 2000 in India 2020
In this blogpost, we take a look at the 9 best wireless bluetooth earphones & headphones under 2000 in India 2020. These earphone and headphone use bluetooth technology to connect to your phone and stream music. If you are a regular wired earphone user, you would love the wireless experience.
---
AMX XP 60 Review: One Charger For All of Your Devices
AMX has recently introduced a 4 port charger that has 1 PD port and 3 USB ports. The Power delivery port can be used to charge the laptop, MacBook, iPhone, Pixel and other latest smartphones. The other 3 ports are conventional Type-A ports and you can normal Type-A to MicroUSB or Type C to charge your phone, smartwatches, bands, power banks, etc. In this article, we are going to take a look at the brief review of AMX XP-60. We have covered the features, specs, design, and performance.
---
Best Headphones & Earphones Under 3000 in India (Wireless Bluetooth & Wired)
Everyone loves music and In this article, we bring you the list and brief reviews of best headphones and earphones under 3000 in India 2019. This list has both earphones and headphones. Both wired and wireless bluetooth earphones/headphones have been covered in this article from brands like Sony, Samsumg, JBL, boAt and Motorola. The price range varies from 2000 to 3000 rupees.
---
7 Best Bluetooth Speakers Under 1000 & 1500 in India 2019
This article helps you with the list of 7 best Bluetooth speakers under 1000 & 1500 in India 2019. Portable BT speakers from F&D, Portronics, Zoook, boAt, Logitech, Blaupunkt and iBall have made it to the top 7 list. We have covered review of each of these speakers along with basic details of the design and battery life.
---