---
Let us admit it that regardless of the inbox content of your brand-new smartphone, earphones are that one accessory that 90% of companies have stopped providing. For the record not all of us are audiophiles. Thus, spending a ton of money on earphones that will be used for making calls and occasional music listening does not make sense.
But do not worry this article is exactly what the aforementioned category of audience needs. Here we bring you the best earphones under 500 and 700 available in India 2019. It is 2019 and brands like boAt, Leaf, Boult, MI, Realme are trying to push every limit to bring its users the best value for money product and here we review each of the best earphones under 500 and under 700.
Like always read on to find out what suits your taste. Since this article has earphones with a price around 500, for people with a higher budget, you can look at our coverage of best earphones under 1000 and best wireless earphones under 2000.
SuggestPhone's List of Best Earphones Under 500 and 700
We have covered a total of 10 earphones on this list. All of them are of wired type. If you are looking for wireless bluetooth earphones then you need to increase your budget to around 1000 at least. Let us now take a look at 10 best earphones under 500 and 700 and look at the price, features, and review of the same.
Deals/Offers: Check Out the Best Deals and Offers Available on Amazon.in Today!
1. boAt BassHeads 100 In-Ear Headphones with Mic (Black)
Our first choice is BassHeads 100 from boAt. boAt is a very well-known brand when it comes to audio related tech on a budget. The BassHeads 100 is exactly that. The BassHeads 100 comes with a 10mm driver which not only pumps more sound but also sound with better bass.
The total length of the cord is a good 1.2m to give you enough length to work with. The build quality even being plastic has a pretty sturdy design. The overall music quality is pretty decent and you will not be disappointed with them. It also comes with an in-line microphone control with a microphone for hands-free calling.
It comes with physical buttons to play, pause and forward the music. The audio quality is amazing in the price range and it has punchier output. With an average rating of 4 of 5 by over 60000 customers and a price tag of just under 400, you can rest assured with the quality of these earphones.
Overall it is a great value for money product and comes in various color variant to choose from and 1 year of company warranty.
Buy boAt BassHeads 100 on Flipkart
Buy boAt BassHeads 100 on Amazon
2. Mi Earphones Basic with Mic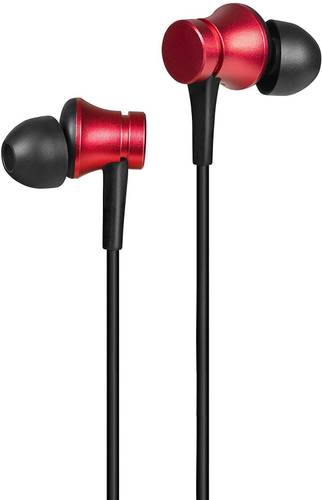 Up next at the 2nd position we have the Mi basics earphone form Xiaomi. This is very similar to the BassHeads 100 mentioned above with a few differences that add up to the user's experience. The earphones are built with aluminum that simply adds premium build to the design quality. The ear-tips are made up of silicone and make a perfect fit in the ear and overall design feels lightweight.
Apart from this, the music quality is great as expected from MI products and the sound quality is also boosted due to the aluminum alloy sound chamber. The earphone head is also tilted at 45 degrees to push sound directly into the ear.
The microphone also works perfectly and you can easily talk over the call with any disturbance. This is of the best in-ear earphones in this price and comes in Red and Black color variants with 6 months of MI warranty.
Apart from our positive reviews of this great earphones under 500, more than 2 Lakh users have given it an average rating of 4.3 on 5 stars.
Buy Mi Earphones Basic on Flipkart
Buy Mi Earphones Basic on Amazon
3. Boult Audio BassBuds Loop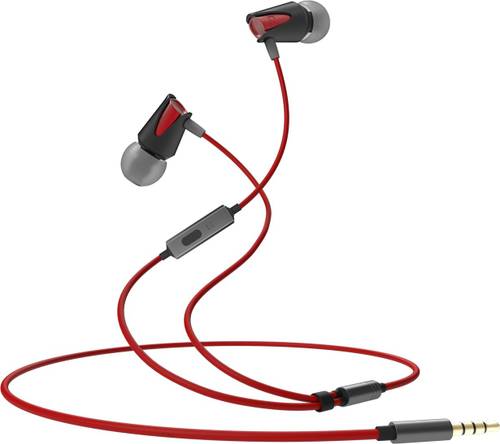 Now this company might not be extremely popular but if you trust us, it is basically the One Plus of earphones. What it means is this that boult brings quality audio products at an extremely affordable price. The BassBudds Loop puts a stamping to it. To begin with, these are one of the 2 pair of earphones that come with a Kevlar reinforced cable for extra protection.
The earphone is made of neodymium drivers which act as micro woofers. They also feature aerospace grade aluminum that basically delivers great punchy base even with the relatively small form factor. The interesting fact about these earphones is also this that the earphone cable itself acts like earphone loops to provide a snug fit.
The earphones also come with inline mic control much like the previous models. The control can not only be used to play/pause music but also to summon voice assistants which you can use to perform the fuctioning of pyhsical buttons using your voice control.
It is simply amazing how much of tech has Boult fit into these earphones considering the low price tag of rupees 399. The Audio BassBudds Loop list 3rd on our search to the best earphones under Rs. 500 in India
Buy Boult BassBuds on Flipkart
4. Realme Earbuds with Mic for Android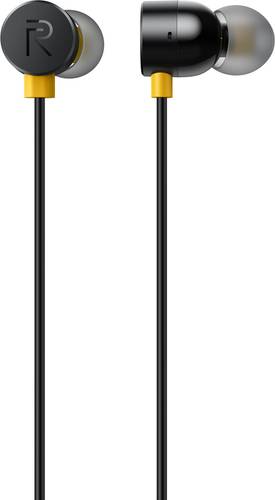 Now Realme is a well-known brand when it comes to budget smartphones, however very few people actually know this that they also make earphones. The Realme earbuds from Realme make a great earphone for regular users. This is the only earphone on our list today that comes with the largest drivers at 11mm to deliver amazing audio making it a sound choice for audiophiles. These are also the only earphones on the list to come with built on magnets to help keep the earphones together when not in use.
The sound quality coming out of these earphones will definitely pack some punch thanks to the 11mm drivers. The cable is no ordinary one as much like the aforementioned boult earphones these too come with Kevlar fiber cables.
The earphones also feature standard 3 buttons remote control for controlling music and also for taking and making calls. These buttons can also be used to summon voice assistant.
Coming at just a tad below the 500 rupees mark at 499, the Realme earphones are the best sounding earphones on the list for under 500 budget audiophiles.
5. boAt BassHeads 162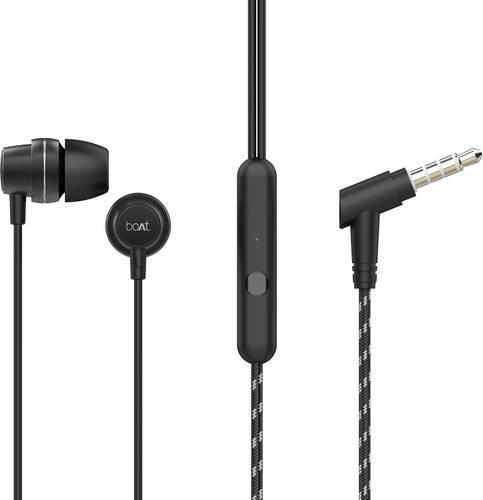 The upgrade to the previously mentioned BassHeads 100 is the BassHeads 162.
The BassHeads 162 is actually a worthy upgrade considering the changes that you get. Sound quality wise the 162's uses the same drivers as the 100's. However, it is the material used that makes the upgrade worthy assisting the 10mm drivers for delivering those pumping bases.
Now the upgrade comes in the form of the design cue. The build is more attractive and the cable that was previously only plastic is now braided. Not only this but the headphone jack is also gold plated and is angled to prevent accidental cable pulls.
The built-in microphone also adds a comfortable option to take calls as in other listed earphones and the microphone works seamlessly. The upgrade from previous boAt headphones comes in terms of design and sound quality. If you can spend a few more bucks, then prefer these boAt earphones.
This earpiece is certainly the best earphones under 500 with mic in India in 2019
Buy boAt Bassheads on Flipkart
6. Flipkart SmartBuy Rich Bass Wired Metal Headset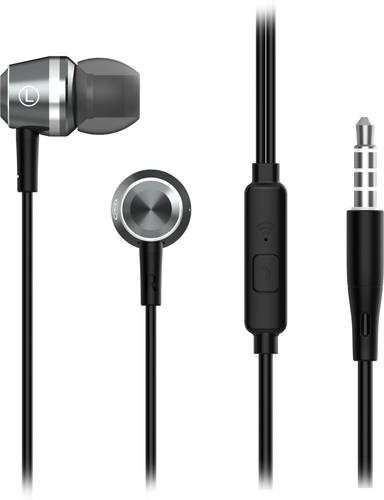 Now if you want earphones that just work and don't really want the best sound quality or the best build, look no further. The 6th device n our list is an in-house product from the house of Flipkart. The SmartBuy rich bass is the cheapest earphone that is featured on our today's list of best earphones under Rs. 500 in India.
The earphones have a pretty basic design. With mostly plastic build with the exception of the earphone head that has a metal build. Apart from this the earphones also feature 9mm neodymium magnets that deliver pretty decent sound quality. The earphones also feature a sweat-free design as they are silicone coated. The earphone comes with inline mic control for controlling music and hands-free calls.
So for a price of under 300, you get a mic based earpiece with decent sound quality. This is a good option only if you have a very tight budget and are not much concerned about the enriching sound quality.
Buy Flipkart SmartBuy Headset on Flipkart
7. Audio Technica ATH-CLR100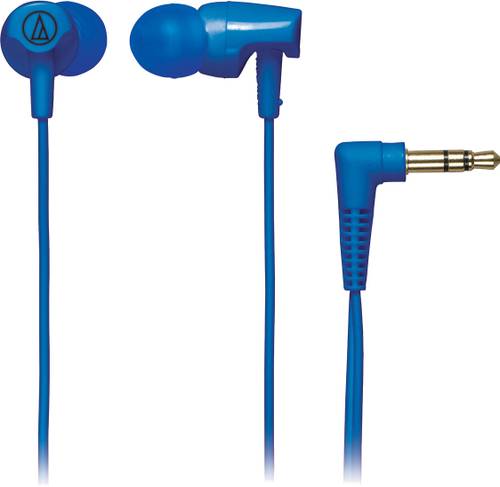 The last earphone on our list is from a company that has its root dug deep into the world of audio. We look into the ATH-CLR100 from Audio Technica. The earphones, in general, look extremely ordinary. It comes in 5 different colors and the promise of superior sound quality from Audio Technica.
The drivers used in the earphones are the smallest ones at only 8.5mm on our list today. However, these earphones are very evidence that size does not matter. Thanks to the over the year expertise of Audio Technica the earphones have received a rating of 4.2 of 5 from over 6000 users.
The sound quality is simply amazing that will surely give you a run for the money. Apart from the great sound quality the earphones also come with clever design cues. For one the earphone head is bent at an angle to push sound directly into the ears. To top that up the headphone jack is gold plated and is also bent at 90 degrees to prevent accidental pullouts.
The build quality is not the best here but the sound quality surely one of the best among top earphones for under 400 to 500 price range.
Buy Audio Technica ATH-CLR100 on Flipkart
7. Leaf Bolt Wired Earphones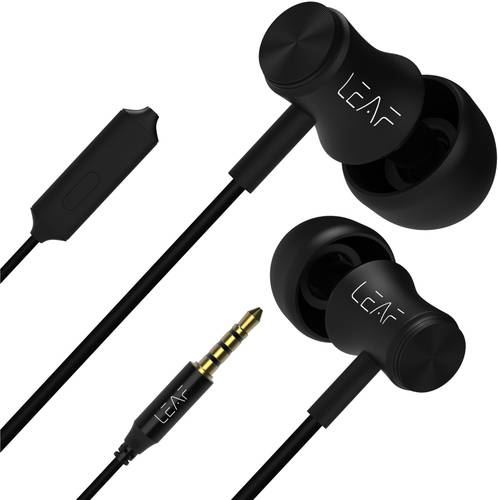 Leaf might not be a very popular company as it is fairly new in the Indian market. However, if you can extend your budget a tad bit more this and the next 2 offerings are probably the best option out there.
So, coming back to the Bolt. To begin with, they carry powerful 12mm drivers delivering deep and punchy base. The drivers are also aided by aerospace grade aluminum chamber and magnetic circuit to provide better sound isolation and better frequency transfer.
The earphone also comes with an inline microphone and button control and summon the voice assistant of choice. Leaf has also gone with premium materials with the cable being made of premium leather and the 3.5mm headphone jack being coated with gold. The cable is also coated with Kevlar for extra protection on the inside. Apart from this the earphones also tangle free and are also sweat proof. Leaf does not mention any form of certified protection however its good to know that it does have some protection rather than having no protection at all.
The Leaf Bolt wired comes at a price of under 700 rupees and is a great option if you are ready to spend that extra buck.
Buy Leaf bolt Earphones on Flipkart
Buy Leaf bolt Earphones on Amazon
9. boAt Bassheads 225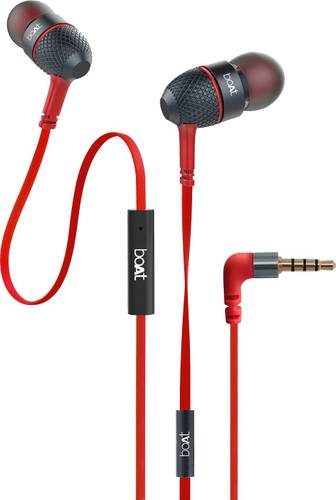 Next, we have the BassHeads 225 another earphone that crosses the 500 rupees price bracket but delivers for what it has to offer.
The 225's have 10mm drivers to deliver rich and punchy bass. The microphones on the mic control also allow for some noise-cancellation during a phone call. Due to the design and snug fit of the earphone design, there is also passive noise isolation. The 225's is a hugely popular product and has an average rating of 4.2 ob 5 from over 2 Lakhs plus customers. Now that's saying something. Apart from this the earphones have a tangle-free design and have a gold-plated headphone jack.
The overall sound quality from the earphones is good however we do feel that its tad bit expensive.
Buy boAt BassHead 225 on Flipkart
Buy boAt BassHead 225 on Amazon
10. Ant Audio W56 Stereo Wired Earphone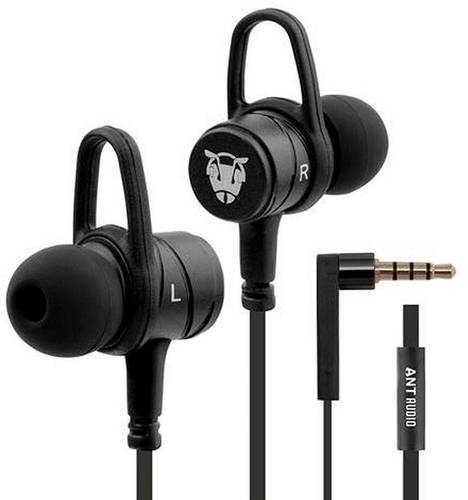 The last earphone on our list today is the W56 from Ant Audio. Again, this might be a fairly new brand but it definitely delivers. The earphone has an aluminum casing and is forged over 20 processes to keep them corrosion resistant. The hollow type flat cord coupled with the oxygen-free copper wire last way longer when compared to normal plastic ones.
The earphones also feature 45-degree in-ear design and ear hooks to deliver the sound directly to the ears and to keep the earphones in place. In the sound department, Ant Audio has not mentioned the size of the drivers however it does say that they are using features like X-bass and HD audio to deliver superior sounding music.
With a rating of 4.1 of 5 and a user base of 2000 plus customers, these are a great option when the price tag of under 700 is considered.
To wrap everything together, we have covered a whole range of earphones in every price range possible. We have covered earphones costing as low as rupees 299 to the mark of rupees 700 that our very title of "Best earphones under 500 and 700 in India" was based on.
We have also covered a few categories like best sounding earphones, earphones with the best build and overall well-balanced earphone. In the end, we are pretty sure that you definitely find an earphone that fits your choice and needs.
---
---
Latest Articles on our blog
---
9 Best Wireless Bluetooth Earphones & Headphones Under 2000 in India 2020
In this blogpost, we take a look at the 9 best wireless bluetooth earphones & headphones under 2000 in India 2020. These earphone and headphone use bluetooth technology to connect to your phone and stream music. If you are a regular wired earphone user, you would love the wireless experience.
---
AMX XP 60 Review: One Charger For All of Your Devices
AMX has recently introduced a 4 port charger that has 1 PD port and 3 USB ports. The Power delivery port can be used to charge the laptop, MacBook, iPhone, Pixel and other latest smartphones. The other 3 ports are conventional Type-A ports and you can normal Type-A to MicroUSB or Type C to charge your phone, smartwatches, bands, power banks, etc. In this article, we are going to take a look at the brief review of AMX XP-60. We have covered the features, specs, design, and performance.
---
Best Headphones & Earphones Under 3000 in India (Wireless Bluetooth & Wired)
Everyone loves music and In this article, we bring you the list and brief reviews of best headphones and earphones under 3000 in India 2019. This list has both earphones and headphones. Both wired and wireless bluetooth earphones/headphones have been covered in this article from brands like Sony, Samsumg, JBL, boAt and Motorola. The price range varies from 2000 to 3000 rupees.
---
The 8 Best Earphones Under 1500 and 2000 in India September 2019
A list of top 8 best earphones under 1500 and 2000 available in India as of September 2019. Best earphones from brands like Sony, JBL, Noise, Sennheiser, and bOAT have been listed in this article. All these earphones have excellent sound quality and provide an immersive listening experience.
---