---
Its a traveler life and we sure as hell want our favorite tunes to be with us on the go, so here we are for the confused buyer looking for some great piece of audio-tech under Rs 3000 in India. We've got some stellar stuff to show to you so let's get started with the list and reviews of best headphones and earphone under 3000 in India 2019. In this article, we have covered 4 best and latest earphones and 3 best headphones available under 3000. The list is updated with earphones launched in 2019 or before that. Both wired and wireless Bluetooth earphones along with their reviews in terms of sound quality, build quality, battery and pricing have been covered. Let's take a look at the list and then we will go through the brief review of every headphone/earphone.
SuggestPhones's Best Earphones & Headphones Under 3000
Sony MDR-XB510AS Earphones
Samsung EO-BG920BFEGIN Bluetooth Wireless Earphone
JBL T205BT Bluetooth Headset
boAt Nirvanaa Tres Triple Drivers Earphones
Sony MDR ZX220BT Bluetooth Wireless Headphones
Motorola Pulse Escape Headphones
Sony MDR-XB450 On-Ear Headphones
Now let us take a look at the brief review of each of the best headphones and earphone under 3000. For your ease, these earphones and headphones have been listed with direct product links of Flipkart and Amazon in case you decide to buy one. In case you are looking for the best earphones under 2000, you can head here.
Deals/Offers: Check Out the Best Deals and Offers Available on Amazon.in Today!
1. Sony MDR-XB510AS Earphones
Well, If you are looking for a great pair of earphones under Rs 3000, there are almost no options that eclipse Sony MDR-XB510AS in-ear earphones. The incredibly stylish and brilliantly sounding earphones are one complete package with amazing looks. Packed with Sony's 12mm Neodymium audio drivers, the sound these exude is no less of riches.
It is powerful, dynamic and balanced. The bass is baffling and we can't expect more sound prowess from an audio gear this size. The bass occasionally sounds too much and gets irritating at some points which is the only complaint we could dig about these earphones, so if you are a bass frenzy - these earphones are your new love. Equipped with a mic on the cable, which is good. The cord is 1.2m long and tangle-free just as you'd like It to be. Commenting on the build of these earphones, Its visibly metal finish with rubber ear cups which come in 3 sizes in the box, so you can pick up the ones which suit you best.
Also despite that sturdy built, the earphones just weigh 9 grams so it is quite comfortable to be on the go with these. And If you are into the gym or running or doing some physical activity these won't just get off your ears thanks to the locking rubber hooks that fit onto the earphones and then take a curl around your ears to keep the music in your ears secure. These earphones come in a variety of colors so you have a choice there as well. Since Sony MDR-XB510AS are more inclined towards fitness with a flair for style, there's IPX5 rating making these headphones splash proof. This is on one our favorite and best earphones under 3000.
Buy Sony MDR-XB510AS from Flipkart
Buy Sony MDR-XB510AS from Amazon
2. Samsung EO-BG920BFEGIN Bluetooth Earphones
See who we have here - Samsung with a beautifully amazing pair of wireless earphones. The Samsung EO-BG920BFEGIN as they are called just speak volumes in terms of their premium build and the volumes continue to speak or rather roar when your put these earphones in your ears.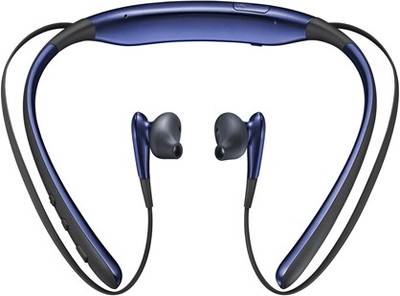 So, the design is not very new, there's a big plastic joint to which these earbuds join, so not a truly wireless pair of earphones for the fact. The earbuds are magnetic so whenever they are out of ears and in front they are supposed to stick to each other, nice and easy. These Samsung earphones are powered by 12mm audio drivers which pour in amazing, dynamic and immersive sound. The sound is definitely impressive and we do feel it could have been better with the lows but that is not big of an issue unless you are a nitpicker.
The earbud shape is a bit weird but It fits and stays in ears nicely. Though, It can fall off if you start running after a while. What is impressive is that there are dual microphones at back and front to do better noise cancellation and they do. The sound volume during calls falls off a bit but that's not a major issue - the mics work great. The controls are right there in the band and we really like them, Its a practice If you are new to this design and It will take a few days to learn. The earphones are more for normal day to day business than sports hence you don't find any mechanism to get the earbuds fit securely or waterproofing for the record. The build quality is really pleasing and that is the only other thing apart sound that'll catch your eye here.
Buy Samsung Level U from Flipkart
Buy Samsung Level U from Amazon
3. JBL T205BT Bluetooth Headset
JBL is a well-known brand in the audio equipment market, be in wired or wireless earphones or speakers. It comes with a unique design and brilliant sound quality. The sound these earphones exude is crystal clear with good separation.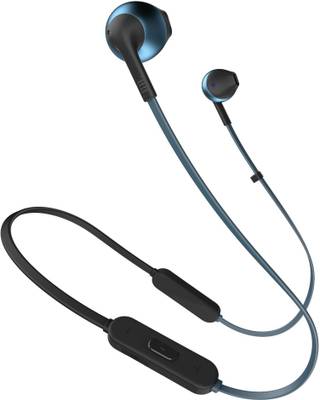 This earphone is in-ear style earphones and support wireless Bluetooth connectivity. The earphones are lightweight and adjust easily around your neck. The bass levels are really commendable with un-compromised clarity to go along with. The earphones are a real steal deal if you care about amazing sound quality and durability in one package.
This JBL also supports mic so you can answer calls without any hassle. The earphones have a charging time of under 2 hours and can be used nonstop for a duration of 6 hours. It comes in 4 different colors which you choose as per your preference.
The audio quality and design are two topmost requirements from an earpiece and this JBL earphone does a great job in both the departments. It is one of the Best Bluetooth earphones for 2000 to 2500 budget range.
Buy JBL Bluetooth Earphones from Flipkart
Buy JBL Bluetooth Earphones from Amazon
4. boAt Nirvanaa Tres Triple Drivers Earphones
And you thought, two audio drivers are enough - Boat is here to prove you wrong with the Nirvanaa Tres, which pack not two but three audio drivers each 6mm Neodymium which needless to say are capable of powering your ears with thunderous sound, deafening volume levels and great quality. If you love bass, you have to love these earphones because bass stands out on them. The separation and clarity of sound are quite admirable as well.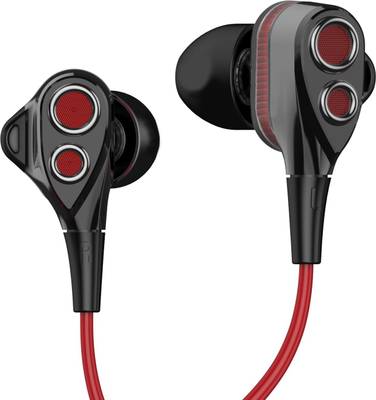 The design takes a different turn which is quite weird at first sight but If Its new, Its cool, right? The build quality is quite premium though and reflects some finesse from Boat. The inline mic is a good one as well and really makes calling using these headphones great. Though these look quite bulky but they are quite ergonomic and comfortable not as much as we'd like them though. After an hour or so you start to feel some weight in your ears which is not appreciated. The cord that comes along is standard but looks decent and feels better. Boat calls that the cord has a superior coating and we agree.
Due to their slightly bigger size, the noise isolation is quite better. The inline controls work fine, no complains there too. Again there is no IP rating so they are not your sports buddies, the earphones have more grams than usual earphones so they come off from ears quite easily so if you intend to run with them in ears, that's gonna be tough. What these earphones are really good at is unparalleled sound and for us, that's really enough to recommend these amazing pair of earphones from Boat. This is on one our favorite and best earphones under 3000 from boAt.
Buy boAt Nirvanaa Tres From Flipkart
Buy boAt Nirvanaa Tres From Amazon
5. Sony MDR ZX220BT Wireless Bluetooth Headphones
Let's just start off with the Sony MDR ZX220BT - An awesome pair of wireless headphones from a name as big as It gets-Sony. Frankly, Its a steal deal as the headphones are very close to our hearts. Why? well, start off with the robust build which doesn't compromise conformability as the headphones unbelievably light. The ear cushions are soft and the frame - made of durable plastics is very flexible thus you don't get the pinna aches after a few hours of usage.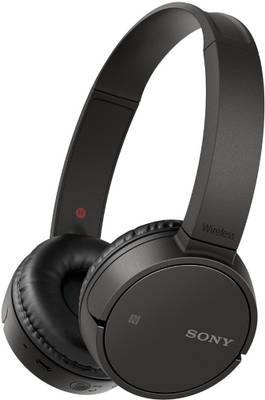 Inside we've got imperious 30mm Neodymium audio driver pairs - which just pump powerful and dynamic music through your ears. On the bottom we find comfortably large, round - volume controls, with the micro USB port besides for charging and a small hole which is the microphone. The sound is unmistakably Sony with good bass levels and just the right balance and richness. The sound is not baffling as is the case with almost every wireless headphone out there so don't be critical if It doesn't blast off like Its wired competitors but for music listening, It is well loud and balanced sound.
Sony MDR ZX220BT is equipped with Bluetooth 4.1 which provides excellent connectivity up to 10 meters and is quite an energy efficient with 2.5 hours of charging giving up to 8 hours of listening. The connection is hassle free but you can't connect more than one devices. The inbuilt microphone is decent enough, we mean we are not impressed but It does the job quite well in most cases but picks up a good deal of noise as well due to Its placement which is the Achilles heel of almost all wireless headphones. So small talk, If you are looking for a good pair of headphones without any cords tangling around, rich sound, deep bass and of course the Sony love - go get Sony MDR ZX220BT. These headphones are one of our favorite and one of the best wireless headphones under 3000.
Buy Sony MDR ZX220BT from Flipkart
Buy Sony MDR ZX220BT from Amazon
6. Motorola Pulse Escape Wireless Bluetooth Headphones
So, here we come with another headphone on the list - Motorola Pulse Escape Over-Ear Headphones which have been one of our favourites in the price segment for quite long. The over-ear headphones sure look bulky but are not that much, they just weigh 227 grams and still Its a lot to make your ears pain - they don't.
The cushioning is really lovely and the frame is of good quality but since Its plastic, It is quite fragile so we would recommend keeping these away from force. Packed with dominating 40mm audio drivers, we don't need to tell you what such big audio drivers mean. These headphones go seriously loud, too loud for their own good and at high volumes, the sound quality falters a bit but at that high volume really who's listening? It is clear and punchy just as we would expect from headphones with ear cups like these. Due to big ear cups and over-ear approach, the sound isolation is pretty big deal with these.
The control buttons are on the cups as standard and we don't have any complaints in that department. Since these headphones are wireless, powered by Bluetooth 4.1, the headphones can pump nonstop music for up to 10 hours as said by Motorola but In real life usage, they can't go beyond 8 hours given heavy usage. The connectivity is effortless and convincing up to 60ft. There's Aux port so whenever the battery dies, you can just switch to wired mode and voila your music isn't gonna stop.
The inbuilt mic enables users to make calls with these headphones and it is a decent experience. For us, Motorola Pulse Escape is one complete, value for money package. This is true masterpiece from Motorola and one of our top picks for best wireless headphones under 3000.
Buy Motorola Pulse Escape from Flipkart
Buy Motorola Pulse Escape from Amazon
7. Sony MDR-XB450 On-Ear Headphones
Sony MDR-XB450AP in this list comes as no surprise. These headphones embody one of the best combinations of rich sound and style coupled with aggressive pricing. No doubt, masses love these headphones. There's Sony's iconic bass with solid, punchy sound with no compromises in sound quality. These headphones go fairly loud all thanks to the 30mm Neodymium audio drivers from Sony. Of course, you can't be super critical with sound in the price range in discussion here, still, If you want good, balanced yet powerful sound, these headphones are a great blend of style with razer metal finish which comes in some amazing colours to go.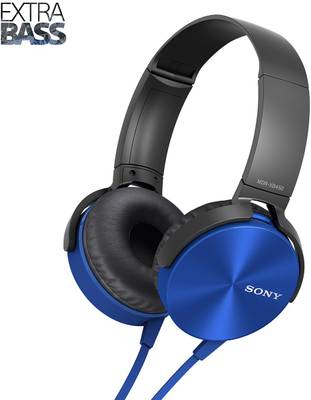 These Sony headphones are a good value for money headphones. The built is really flashy and feels good, though it is not that tough. Besides having an impressive sound quality, Sony has made a comfort value attached to XB450, these headphones are really comfortable and don't grip your head too tight. The ear cups are wrapped nicely and don't wear out that easily. As with most Sony headphones, the design language is quite similar and the headphones can be packed along quite easily as they swivel fold.
The headphones connect nicely with a well built 1.2m long cord which is tangle free as well. Due to slightly bigger cup size, the headphones have better isolation and create an immersive listening experience. The comfort level is good but you can get some pain in the earlobes over extended use (> 3 hours). These Sony XB450 are quality and value for money headphones at the price from Sony. These come is a variety of colors and with and without mic option which you can check on the links below.
Buy Sony MDR-XB450 From Flipkart
Buy Sony MDR-XB450 From Amazon
So that's all folks, hope the list of best headphones and earphones you under 3000 in India was useful to you. Again, music is a really unique taste for everyone - the same stand out for audio equipment so maybe these devices might not be the best for you but again these are the best according to the masses who have used these audio gear over longer durations. So, did we miss some great audio tech on the list? Do tell us. We have some other amazing curated lists crossing over different price ranges and categories, do check them out as well for some more choices.
---
---
Latest Articles on our blog
---
9 Best Wireless Bluetooth Earphones & Headphones Under 2000 in India 2020
In this blogpost, we take a look at the 9 best wireless bluetooth earphones & headphones under 2000 in India 2020. These earphone and headphone use bluetooth technology to connect to your phone and stream music. If you are a regular wired earphone user, you would love the wireless experience.
---
AMX XP 60 Review: One Charger For All of Your Devices
AMX has recently introduced a 4 port charger that has 1 PD port and 3 USB ports. The Power delivery port can be used to charge the laptop, MacBook, iPhone, Pixel and other latest smartphones. The other 3 ports are conventional Type-A ports and you can normal Type-A to MicroUSB or Type C to charge your phone, smartwatches, bands, power banks, etc. In this article, we are going to take a look at the brief review of AMX XP-60. We have covered the features, specs, design, and performance.
---
The 8 Best Earphones Under 1500 and 2000 in India September 2019
A list of top 8 best earphones under 1500 and 2000 available in India as of September 2019. Best earphones from brands like Sony, JBL, Noise, Sennheiser, and bOAT have been listed in this article. All these earphones have excellent sound quality and provide an immersive listening experience.
---
7 Best Bluetooth Speakers Under 1000 & 1500 in India 2019
This article helps you with the list of 7 best Bluetooth speakers under 1000 & 1500 in India 2019. Portable BT speakers from F&D, Portronics, Zoook, boAt, Logitech, Blaupunkt and iBall have made it to the top 7 list. We have covered review of each of these speakers along with basic details of the design and battery life.
---