---
Hola lads, hope you are doing good. Headphones are no more limited to audiophiles and hardcore gamers. As we see, headphones are getting more common and mainstream nowadays, one of the major drivers behind this growth is the availability in the budget segment. The sound quality and experience are inarguably much better than earphones. We are headphone kind of guys instead of earphones, so here are our best headphones under 1000 in India 2019.
Deals/Offers: Check Out the Best Deals and Offers Available on Amazon.in Today!
1. Skullcandy S5LHZ-J576 Anti Headphones
These minimalistic yet extremely comfortable budget offering from one of the most pronounced audio equipment manufacturers, Skullcandy. The J569 comes at the top of the sub Rs 1000 range from Skullcandy and offer a really stellar sound experience for the price. The sound is crisp and clear at most times with good mids and lows, these perform nicely at highs too. Also for longer durations, the headphones are lightweight and the cups fit nicely, being soft enough.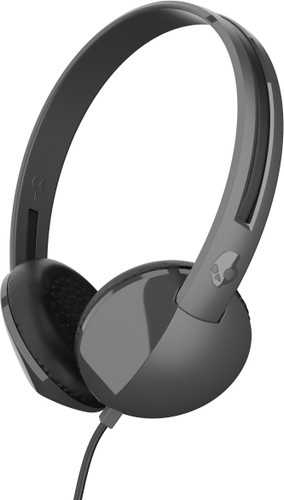 The bass is close to the best in the range but I certainly can't name them as the headphones with the best bass in range, If you are more into the high base, you ought to get the Sony MDRZX310APRCE, next in line. Having said that, the base is not feeble and is solid for most users. The noise cancellation is also satisfactory but not the best, compromised due to that lightweight and minimal frame. Wearing these for longer durations is easy and your ears won't pain.
Skullcandy has maintained a respectable balance between sound quality and build quality with these as the headphones exude some supreme sound performance. If you are into the technical details, the Skullcandy S5LHZ-J569 pack robust 40mm drivers, with 24Ohm Impedance. The corded, on-ear, comfortable audio powerhouses are of course adjustable, the cord as it comes is not tangle free, so good luck with that. The 120cm long cord is also not detachable from the headphones.
The headphones are not well built for rugged use, so handle with care, the plastic build can be brittle if you go hard on these. So a little care with these Skullcandy headphones will take them a very long, comfortable lifetime. Nice build, the great sound quality makes it one of the best headphones under 1000 in India.
Buy Skullcandy Headphone From Flipkart
Buy Skullcandy Headphone From Amazon
2. Sony MDRZX310APRCE Headphones with Mic
Sony MDRZX310APRCE on-ear headphones, stand second in our picks. For these are an extreme delight at the price by Sony. The budget rounded headphones deliver punchy sound with rock-solid bass, the best in the category period. If you like more bass, these headphones are for you. Sony has pumped their expertise in music into these headphones, as they pack powerful 30mm audio drivers at a standard 24Ohm Impedance.
These are completely different from the above mentioned Skullcandy ones as these take on the style quotient quite seriously and look dangerously amazing. The build quality is also significantly solid than Skullcandy ones. The sound these ones deliver is an absolute delight for ears. The highs, the lows are clear. The mids are solid as well. The low frequency bound is at 10Hz and the upper one is at 24000Hz, all thanks to the padding of a few extra thousand hertz at each end that the sound quality is truly amazing and the vibrancy in sound is also quite something to reckon.
The Inbuilt mic and controls on the cord come really handy. The mic is decent as well for phone calls and stuff, not as good but certainly respectable at the price. As these headphones are not minimalistic at all, the weight adds up and the ears start to get a little stiff/sweaty after an hour of use. These are quite adjustable but the frame tends to get a little off-shape after a month or two.
Also, these are foldable, so If you keep these folded for long, expect a little distortion in shape but not that much. The cord, which is a comfortable 1.2m in length is gold plated and looks pristine, Its also not detachable from the headphones. If you can bear a little weight for that superb style and decent sound quality, these Sony MDRZX310APRCE headphones will make a perfect choice. You can get these from Flipkart for just under Rs. 1000.
Buy Sony Headphones from Flipkart
Buy Sony Headphones from Amazon
3. Motorola Pulse Max Headphones
Well, If the top 2 plunged you into a dilemma, there's more. These extra powerful budget beauties from Motorola just make the competition in the sub Rs 1000 category so alive. If you want some hardcore, heavy ass, over-ear headphones, look no further than Motorola Pulse Max. These headphones come with awesome Neodymium based 40mm audio drivers that pump in tremendous sound. The sound quality is no less than enthralling at the price.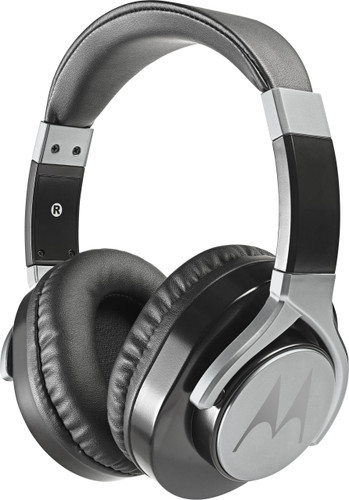 Due to that bulky build, the noise cancellation is far better than others. Motorola has tried to craft some amazing badass headphones, with some weight on them, quite literally. These headphones are not very heavy but certainly enough to put your ears into pain after a few hours. The sound is superb, with the highest sensitivity among the lot, and that is very much witnessed in those deep lows and extreme highs, that these Pulse Max handle quite impeccably. The frequency coverage is also decent and makes the overall experience full of satisfaction. What I like, is that the 1.2m long cord is of robust quality, which also can be detached from the headphones. The build is supreme and doesn't feel like a sub Rs 1000 headphone.
These are quite stylish and power sounds like none else. Not the best in comfort due to added weight, but It is not that great If you are looking for a pair of over-ear headphones in the first place. These are no doubt adjustable and the cord is of decent quality as well. The inbuilt mic works nicely, without any issues. My verdict is that, If you can handle that added weight and noticeably large shape, you won't regret buying these quality headphones from Motorola for under Rs. 1000.
Buy Motorola Headphones from Flipkart
4. Philips Bass+ SHL3070 On-Ear Headphones
The name pretty much speaks it all, these superb headphones from Phillips pound deeper base and posses a rich, crisp and clear sound with a good level of detail and vibrancy. The frequency coverage is admirable, the 32mm audio drivers really work hard pumping rocking volume levels. The bass is deep, no doubt but It isn't as good as the Sony MDR ZX310 mentioned above. The sound quality is more or less same, but I feel these on-ear budget offering from Phillips fall short before the balance of Sony.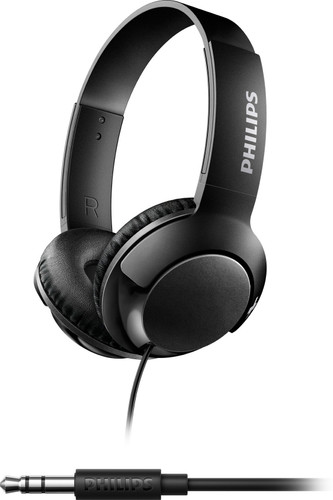 I personally feel that these ones are a shade less powerful than MDR ZX310 but that shade is not very staggering. These Bass+ headphones from Phillips lose their richness at lows but compensate for it with better isolation. The design looks premium and is also quite lightweight at just 130 grams. The pain is still there, all thanks to that rigid frame that just forces the ear lobes into submission by pain over significantly longer durations of use (> 2 hours).
The headphones are okay-ish in build quality, and have a rich appeal to them in sound quality, justifying the price. The cups are comfortable and of decent quality, and the fabric won't wear off easily. The cord is of usual, 1.2m in length and is non-detachable. These are also foldable and hence easier to carry around. All things considered, I think these headphones are quite powerful and make a great choice in the under 1000 category of headphones.
Buy Philips Headphones from Amazon
5. Boat Bassheads 900 Wired Headphones
Well, Boat is joining the budget party too, starting with Bassheads 900, on-ear headphones that bring Boat-standard sound quality at nominal prices. These decent headphones from Boat come at just shy of Rs. 1000 and pack solid 40mm audio drivers. The power output is of 120mW and that just feels full of clarity and crispness. The sound quality is not the best of Boat of course but isn't certainly the best in price range too. Though these headphones deliver deeply solid bass and clear highs and mids, the lows are not that good.
These on-ear headphones from Boat feature a usual design with an average build quality which isn't insurmountable but also not very brittle. The comfort is not something you should expect from these over a few hours. Though the cups are soft and self-adjusting. The quality is not that good and the cups tend to wear off rather speedily over just a few months of use. Secondly, the plastic frame of the headphones is stiff, which results in pain in ear lobes after a few hours of continued use.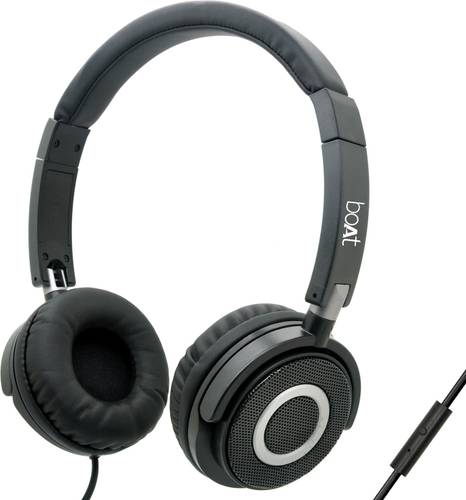 Despite having decent performance in the sound department, these headphones are not the ones you can put on for longer durations. Weighing at 150 grams, the boat bassheads are on the mid-side of the spectrum. The cord is a usual, 1.2m long which is not detachable. Overall, it is a nice pair of headphones with mic and one of the best under 1000 in India.
Buy Boat Headphones From Amazon
Buy Boat Headphones From Flipkart
6. JBL T250SI Wired Headphones
Another budget beauty from JBL named T250SI to join our list of best headphones under 1000. These ones are quite similar to C300SI except a few minor differences. The headband is quite comfortable as It comes with better padding, which also makes it more breakable than C300SI on harsh use and occasional pulling. The build is a bit on the downside compared to C300SI whereas the sound quality remains same top notch in the price range.
This one powers sound with deeper bass as with C300SI and the sound is almost distortion free even at full volume, though bass at full volume gets a bit out of colour. The sound reproduction is admirable. The sound quality is as good as C300SI, but C300SI just falls a notch above T250SI in my opinion. The cord is again, 1.2m in length, which is non-detachable. These on-ear budget headphones from JBL deliver a decent sound with acceptable quality as the price but don't do much to astound us.
The cups are claimed to be self-adjustable and are covered by poor quality fabric that wears out quite rapidly. Certainly not the best performers in the sub-Rs. 1000 category. Now, talking about cons, If C300SI were weighing at 209 grams and that felt heavy, T250SI carry some odd 50grams more and weigh at 258grams, making it more perilous to keep them on for longer durations without hurting your earlobes. I certainly don't recommend these, If you are a longer-duration user. For shorter periods, JBL T250SI fare well for the price. You can buy JBL T250SI for just under Rs. 1000.
7. Sony MDR-ZX110 Wired Headphones
Sony has a strong footing in the budget segment headphones, one of the most popular and widely loved offerings from Sony is MDR-ZX110. These headphones come at an unbelievable price of just Rs 699, coming from a major brand like Sony. These headphones pack solid bass and rich sound at the price. The sound doesn't outclass its competitors but falls very close, and at the price, you certainly can't complain about.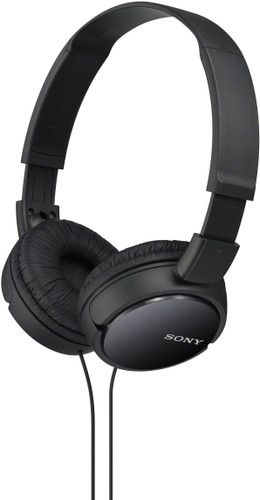 The build quality is decent as well, the adjustment extensions don't seem very reliable but they hold on quite well until you go hard on them. The cups are soft, comfortable and don't pain ear lobes over longer durations. They are certainly more comfortable than the JBL offerings in the range and that is a real delight. Powered by 30mm neodymium-based drivers, the sound output is good, reproduction of frequencies is admirable. Despite being low on price, these headphones have decent lows and highs with respectable volume output.
The base is not on par with ZX 310 discussed above, but enough to rock your ears out. If you are not a hardcore audiophile, looking to take a go at headphones, ZX110 are the cheapest and best value for money headphones you can start with. The cord is usual 1.2m in length and non-detachable. To your liking, the headphones fold up in swivel making them easy to carry. Its worth mentioning that the frame is not that robust and suffers distortion over time, so take care. Also, there's no mic in the Rs. 699 model, the one with the mic is priced higher, so select accordingly.
These are the best Sony headphones you can for under Rs. 1000 in India.
Buy Sony Headphones from Amazon
Buy Sony Headphones from Flipkart
8. Sennheiser HD 206 Wired Headphones
One possibly can't end the list without talking about old relics, Sennheiser HD 206 has been in the budget headphone scenario for a very long time now. HD 206 has been a classical pair of budget-oriented over-ear headphones from the world praised Sennheiser. These over-ear headphones may look like overkill in sound but in reality, that's not the case. The HD 206 provides clear mids but struggles in highs and lows.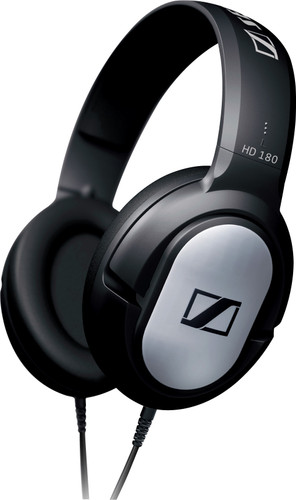 The audio drivers are not the most powerful ones and hence lower sound volume. There are quite more cons than pros for HD 206, there's no mic, the low volume, no volume controls on the headphone, struggling lows and highs and so on. The isolation is pretty decent owing to that large shape, that covers the whole of your earlobes quite easily. The build is pretty usual and doesn't stun in design as well as comfort. The entry-level Sennheisers are quite clear in mids and deliver well in that range.
Apart from that, If you have a big crush on Sennheiser then only you should go for these budget relics from the German audio company. Here's the link to get it from Amazon:
Buy Sennheiser Headphones from Amazon
Buy Sennheiser Headphones from Flipkart
So this was our list of best headphones under 1000 available in India. We hope it was helpful and you were able to find suitable headphones. Wireless earphones and headphones are in trend these days. They do provide a lot more comfort and ease of use. If you would like to try wireless earphones/headphones check out our list of best headphones and earphones under 2k in India.
---
---
Latest Articles on our blog
---
9 Best Wireless Bluetooth Earphones & Headphones Under 2000 in India 2020
In this blogpost, we take a look at the 9 best wireless bluetooth earphones & headphones under 2000 in India 2020. These earphone and headphone use bluetooth technology to connect to your phone and stream music. If you are a regular wired earphone user, you would love the wireless experience.
---
AMX XP 60 Review: One Charger For All of Your Devices
AMX has recently introduced a 4 port charger that has 1 PD port and 3 USB ports. The Power delivery port can be used to charge the laptop, MacBook, iPhone, Pixel and other latest smartphones. The other 3 ports are conventional Type-A ports and you can normal Type-A to MicroUSB or Type C to charge your phone, smartwatches, bands, power banks, etc. In this article, we are going to take a look at the brief review of AMX XP-60. We have covered the features, specs, design, and performance.
---
Best Headphones & Earphones Under 3000 in India (Wireless Bluetooth & Wired)
Everyone loves music and In this article, we bring you the list and brief reviews of best headphones and earphones under 3000 in India 2019. This list has both earphones and headphones. Both wired and wireless bluetooth earphones/headphones have been covered in this article from brands like Sony, Samsumg, JBL, boAt and Motorola. The price range varies from 2000 to 3000 rupees.
---
The 8 Best Earphones Under 1500 and 2000 in India September 2019
A list of top 8 best earphones under 1500 and 2000 available in India as of September 2019. Best earphones from brands like Sony, JBL, Noise, Sennheiser, and bOAT have been listed in this article. All these earphones have excellent sound quality and provide an immersive listening experience.
---