---
Hey people! Here, in this post, we answer the much-asked question, about the best headphones under 2000 available in India as of 2019. We have already given out our best picks under Rs. 1000. Do check that one out too. Without further ado, let's get started. The sub-Rs. 2000 category has been brewing up in past couple of months with better and more comprehensive offerings coming up from well-known brands as well as some new ones. Its the age of wireless, and we know that quite too well to include some of the best wireless headphones in the category.
We have considered things like build quality, sound quality, weight and comfort level of the headphones. A headphone which delivers excellent sound should also be lightweight and comfortable so we have considered all that to come up with the best headphones under 1500 to 2000 Rs.
Deals/Offers: Check Out the Best Deals and Offers Available on Amazon.in Today!
The Best Headphones You Can Buy In India Under Rs 2000
Let's take a look at SuggestPhone's Best Headphones Under Rs. 2000 in India. We have included both wired and Bluetooth wireless headphones in this list. Some good options under 1500 have also been added.
1. BoAt Rockerz 510 Wireless Bluetooth Headphones
When It comes to budget wireless headphones, BoAt is really killing it out there. Rockerz 510 is another spectacular set of headphones from BoAt. The headphones take the value for money, very seriously. The extra powerful sound is driven by a set of giant 50mm audio drivers at the core. The quality is unprecedented. If you are already amazed by the sound quality of rockerz 400, rockerz 510 take that quality a few notches higher.
The design is a new one with a more sharp appeal to headphones. I am not a big fan of flashy gamer vibes the design exudes but It is not that bad either. The headphones are well built. The sound is truly high definition, we are not in a shape to complain here about almost anything. The bass is a delightful and thumping. The clarity is superb, the loudness is in a different league the vibrancy, the accurateness, separation. Its all one amazingly balanced experience.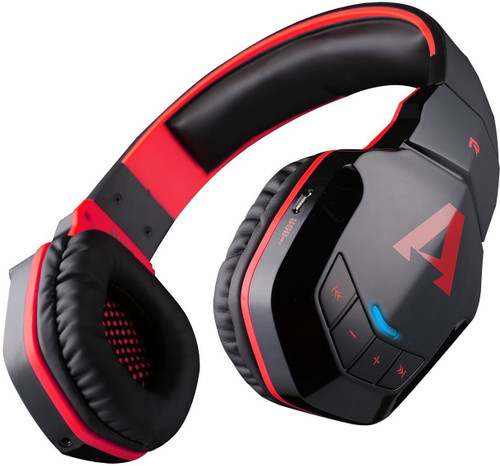 The headphones are heavy at 230 grams and will definitely feel like a load if you are switching from earphones or some ultralight headphones. The cups are comfortable and soft. The material over the cups is of good quality as well and won't wear off anytime soon. The stiffness is something, which could've been better as the headphones might induce pain in earlobes after a few hours of continuous use. The handy set of controls on the headphone itself, make it really convenient and that nice LED notification light will kind of grow on you.
The mic on these headphones is also good and taking calls is easy, thanks to those controls. Rockerz 510 has an extended battery life, that can easily go beyond 10 hours, which might sound magical but Its true. Also, you get the versatility of aux port, so whenever these headphones die on battery, you can just plug the aux port and continue from there. And I must say the aux cord that comes bundled is really great, It is tough and of superb finish.
These headphones take 2 hours to charge completely. With a surprise, just 15mins of charging gets you another 2 hours of listening. For me, these are the best headphones in the category with great wireless listening experience, excellent sound quality, some good controls on board, decent comfort level, sturdy build all at a price, that you won't be able to refuse. Rockerz 510 hence take the first spot on our list of best headphones in India, under Rs. 2000. You can buy these wireless headphones from Amazon and Flipkart for around 1899. Check the latest price by clicking on links below.
Buy Boat Wireless Headphones from Amazon
Buy Boat Wireless Headphones from Flipkart
2. BoAt Rockerz 400 On-Ear Bluetooth Headphones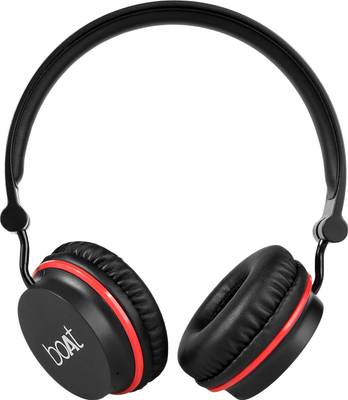 Well, you have already crossed the Rs. 1000 mark, It is a good time to look out for something that sets the bar above, how about wireless? If you think that cutting the cord might be too expensive, believe us, It is not. BoAt Rockerz 400 are just the right thing you need If you don't want to spend too much but still want to get some badass wireless headphones with solid sound performance. These headphones from BoAt have a deep base and are a marvelous buy at the price.
The sound quality is what you'd call high definition and you can't complain anything. Apart from pumping marvelous sound, these headphones are also wireless, all ready for the wireless future. Call it versatile but even after having 7 hours of battery life, you can still plug in an aux cable and enjoy your content without any breaks. The noise cancellation is also respectable. The build is good enough, with foldable ear cups that just add to the design and convenience of carrying these around.
Powered by rock strong 40mm audio drivers, these headphones are blockbuster performers. You also get a set of handy controls on the headphones, that just makes the controlling and switching of music easy. Weighing at just 109 grams, BoAt Rockerz 400 are lightweight beyond doubt and very easy to put on for longer durations. The frame is a bit stiff though, which might result in a little pain over a few hours of continued use. (> 3 hours). As with wireless, the headphones use Bluetooth 2.1, which I won't argue with is quite old but there are no noticeable issues with that. There's no multi-connect and the range is 7-8 meters after which the sound gets interference and the headphones struggle a bit.
The cups are comfortable but not as soft as We would like. The draping material of cups is decent and doesn't wear off easily. As with charging is concerned, these headphones can be charged from 0 to full in 2.5 hours, which is a lot but you are not in a position to nitpick here given the price and offers. If you are eyeing to get some cool wireless headphones which are impressive on sound and equally impressive for your wallet, you ought to try BoAt Rockerz 400, which can be bought from Amazon for Rs. 1499. According to us, these are the best headphones under 1500.
Buy Boat Headphones from Amazon
Buy Boat Headphones from Flipkart
3. Sony MDR-XB450 On-Ear EXTRA BASS Headphones
Sony's MDR-XB450 prove to be one solid competitor in the price range of under Rs. 2000. The headphones pack a thumping and pumping, 30mm audio drivers from Sony. The bass is something you'll cherish on these, as it never misses out, whatever you are listening. The Extra Bass in the name is quite justified. The sound is rich, clear and punchy. None less you'd expect from Sony. The sound is not that astounding, but a few notches on the positive side than others in the competition. The volume is loud enough to rock your eardrums out. The sensitivity is really good at 102db/mW. The sound is not out of the class but certainly one of the best at the price.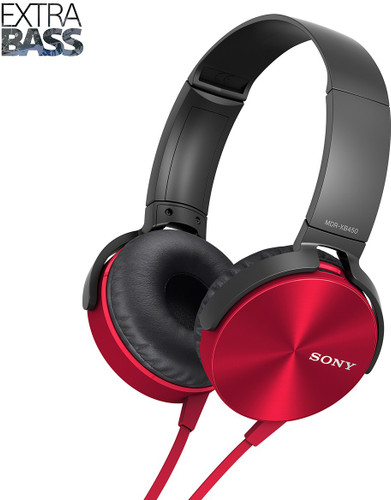 These Sony headphones are a good value for money headphones. The built is really flashy and feels good, though Its not that tough. Besides having an impressive sound quality, Sony has made a comfort value attached to XB450, these headphones are really comfortable and don't grip your head too tight. The ear cups are wrapped nicely and don't wear out that easily. As with most Sony headphones, the design language is quite similar and the headphones can be packed along quite easily as they collapse and fold.
These corded headphones come with a standard 1.2m long cord, which looks solid and saves you time by not indulging you in the eternal untangling game. As these headphones are slightly bigger and cover the ears better, the isolation is better. The comfort level is good but you can get some pain in the earlobes over extended use (> 3 hours). These Sony XB450 are quality and value for money headphones at the price from Sony and unlike JBL, these really do feel like Sony stuff. You won't regret buying these from Amazon, for Rs. 1495. This is another great option if you are looking for a headphone under 1500.
Buy Sony Headphones from Amazon
Buy Sony Headphones from Flipkart
4. JBL T450 On-Ear Headphones
JBL T450 On-ear headphones from JBL, the much loved audio brand, are decent performers with rich sound quality, impressive highs, and lows. The audio experience has some level of depth to it, that enriches the listening experience. The bass is good but not impressive enough, It just is enough to get by for a normal user but bass lovers will face disappointment in these JBL's somewhat entry level headphones in India.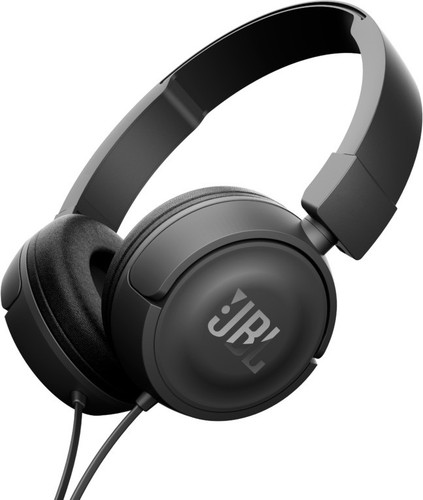 These T450 are powered by JBL's 32mm audio drivers that work satisfactorily but fall short of the expectations that come bundled along with the JBL name. The headphones look nice and the build quality is a lot better than the T250, which can be felt by just a gaze at these. The headphones can be folded, swiveled to collapse that makes them easy to carry. Coming to comfort, these T450 weigh in at just 145 grams which is surely not the lightest but not too heavy as well.
The frequency range is not something that makes us look up to these headphones as the vibrancy in sound is not up to mark. Also, these come in with a mic, which is a decent performer as well. Isolation is worth mentioning too as the leaks are not that great. The cable is thin, 1.2m in length and to save some time, Its also tangle free. Overall, I like the headphones, they produce accurate and clear notes, the mic is satisfactory as well, but It doesn't feel like something worth the price. JBL is, of course, asking a lot here but the offering doesn't match up to that. It is one of the best headphones you can buy under Rs. 1500.
Buy JBL Headphones from Amazon
Buy JBL Headphones from Flipkart
5. Audio Technica ATH-AX1iS Bluetooth Headset with Mic
Audio Technica has been a glaring name in the Indian context in the last couple of years with some pretty competent budget headphones. ATH-AX1iS BL extends AT's the budget arsenal in India. At first look, these are decent looking headphones that that pump solid sound as well. The design is not something that'll make you go wow, but Its a tested and robust one.
The sound quality is good enough with great mids, good highs, and lows. The sound bears a good level of clarity and vibrancy. If you are a bass enthusiast, ATH-AX1iS might not be for you. The bass is good but not one of the strong footholds for these headphones. Talking about comfort, the ear cups are big and comfortable ones. The material which they are draped in is of good quality and won't wear off too soon. The headphones cover the ears nicely and are not breathable, so you might feel sweat after a bit of use.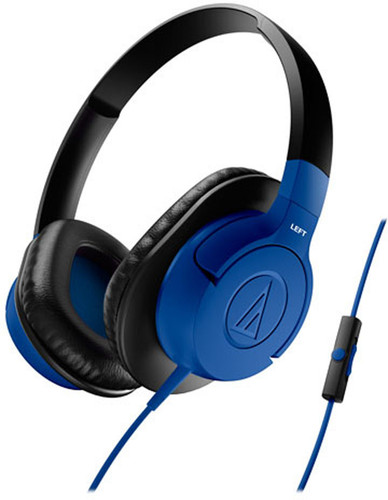 The audio drivers in these headphones are big 36mm ones, but the loudness isn't that staggering. You get some handy in-line controls, on the 1.2m long standard cord with an L-shaped aux port. We would have been happier, had the cord been tangle free but It isn't. Despite that big shape and build, the isolation isn't appreciable. The sound staging is one thing we find worth commenting on these ones, as It really elates the listening experience. In a nutshell, these are a decent pair of headphones from Audio Technica.
Not much to talk about here, good sound quality but not that great bass for bass lovers. Build quality is good enough and makes the headphones very comfortable for longer durations of use. The headphones don't pack something stunning making them a must buy at the price but are a decent choice given the price. You can buy these from Flipkart for under Rs. 2000.
Buy Audio Technica Headphones from Flipkart
Buy Audio Technica Headphones from Amazon
6. Philips SHB4405WT/00 Bluetooth Headphones
Continuing our cut the cord movement, we have another great pair of headphones from Phillips, the Phillips SHB4405. These headphones at just a look are a delight for comfort seekers. These ultra-light headphones are surprisingly strong in build and thump solid sound all thanks to 32mm neodymium audio drivers. The power output is decent but not the best and for some these headphones hence might be low on volume. Nonetheless, the sound quality is decent with strong highs and mids but occasional discrepancies in producing lows.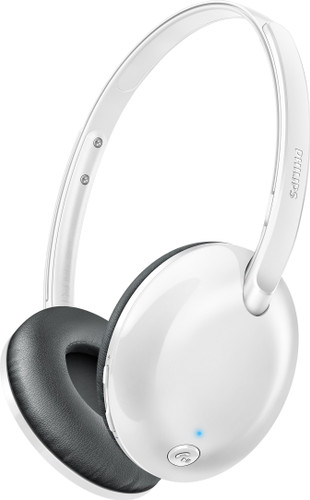 The lightweight attire results in supreme nirvana but also curses these neo-age headphones with sound leaks, as beyond 70% volume, you are not alone listening something, the others get it too, which is not very desirable. Being wireless is one of the great pros and that also strangles some users as these headphones have no aux support, imagine running out of battery in the midway of an enticing flick. That's the end of the road for you until to get them charged again. For me, that's a bummer.
These headphones go wireless with Bluetooth version 4, so come all the benefits. These headphones have a battery life of about 7 hours in real life usage, compared to 9 hours as promised by Phillips. The range is not more than 8 meters and what troubles some people is that the headphones get a bit warm after prolonged use. The ear cups are soft but tend to slip off my ears, I don't know why. There's a whole lot of controls built on the headphones itself, so you don't need to fetch your source device every time you want to toggle something.
The inbuilt mic is also a decent performer and we have no complaints. As you would have guessed, owing to that small, skinny built, the noise cancellation isn't something you should be crossing fingers for. In my opinion, these headphones from Phillips are for those who place comfort and convenience above everything else, even sound. The price doesn't justify the features here, aiming at Rs. 2000, these super cool headphones can be bought from Amazon.
Buy Philips Headphones from Amazon
7. BoAt Rockerz 600 Bluetooth Headphones
We know you are about to call us and remind us that this post was about headphones under Rs. 2000, wasn't it? Yeah, but we think a 100 up is not that big of an increase in price and BoAt rockerz 600 are an extreme delight to have, carrying on BoAt's vision of value for money headphones. Rockerz 600 come after the previously mentioned Rockerz 510 and build up nicely upon the achievements of Rockerz 510.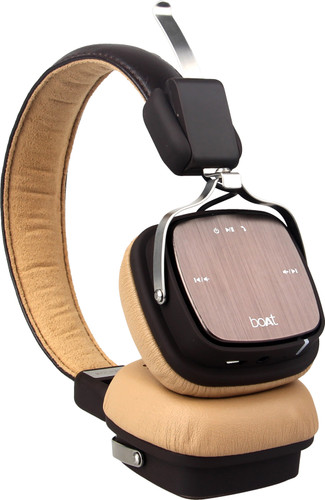 Rockerz 600 has a strikingly different design language and goes more square than its little brothers. The headphones are strong, sturdy and also bear a premium appeal to them. The bass is far better than anything at the price, the sound quality is a notch above the Rockerz 510. The rich, high definition sound is really a treat to ears, the balance, treble, and isolation are a lot better. The ear cups are extra soft and mitigate the slight lack of comfort in case of Rockerz 510.
These are a class apart wireless headphones with solid beats and a relentless thump. The comprehensive set of controls on the ear cup is really convenient. These are versatile as well, with support for aux, If you want to go wired or If the battery runs out. Talking about the battery, these headphones seem to be made of batteries in all, with up to 20hours of playback on a single charge. That's staggering for sure, what's good is that these headphones still get fully charge d in just 2.5 hours, If you are in a bit of haste, just 15 mins of charge will get you through another 2 hours.
The noise isolation and separation is a class apart with these, with that great comfortable design, these headphones strike a strong fashion statement. The cup material is really soft and good quality doesn't seem to wear off that easily. The cord again is a quality one, with 1.2 m in length. At the price, these are a complete package with stupendous sound performance and pure comfort. If you can spare an extra hundred rupees, go on and buy these splendid set of headphones from BoAt. You can get these from Amazon for Rs. 2137. Which is totally justified.
Buy Boat Rockerz Bluetooth Wireless Headphones from Amazon
Buy Boat Rockerz Wireless Headphones from Flipkart
So this was our list of best headphones under 2000 available in India 2019. We hope it was helpful and you were able to find suitable wired or wireless headphones. If you can spend around 3000 then do take a look at the best earphones/headphones under 3000.
---
---
Latest Articles on our blog
---
9 Best Wireless Bluetooth Earphones & Headphones Under 2000 in India 2020
In this blogpost, we take a look at the 9 best wireless bluetooth earphones & headphones under 2000 in India 2020. These earphone and headphone use bluetooth technology to connect to your phone and stream music. If you are a regular wired earphone user, you would love the wireless experience.
---
AMX XP 60 Review: One Charger For All of Your Devices
AMX has recently introduced a 4 port charger that has 1 PD port and 3 USB ports. The Power delivery port can be used to charge the laptop, MacBook, iPhone, Pixel and other latest smartphones. The other 3 ports are conventional Type-A ports and you can normal Type-A to MicroUSB or Type C to charge your phone, smartwatches, bands, power banks, etc. In this article, we are going to take a look at the brief review of AMX XP-60. We have covered the features, specs, design, and performance.
---
Best Headphones & Earphones Under 3000 in India (Wireless Bluetooth & Wired)
Everyone loves music and In this article, we bring you the list and brief reviews of best headphones and earphones under 3000 in India 2019. This list has both earphones and headphones. Both wired and wireless bluetooth earphones/headphones have been covered in this article from brands like Sony, Samsumg, JBL, boAt and Motorola. The price range varies from 2000 to 3000 rupees.
---
The 8 Best Earphones Under 1500 and 2000 in India September 2019
A list of top 8 best earphones under 1500 and 2000 available in India as of September 2019. Best earphones from brands like Sony, JBL, Noise, Sennheiser, and bOAT have been listed in this article. All these earphones have excellent sound quality and provide an immersive listening experience.
---