---
A lot of giants have entered the watch-scene in recent years, Samsung, Motorola, Apple and are giving a hard time to traditional watch manufacturers like Tissot, Tag Heuer, Fossil and even Rolex! People have been slowly accepting the convenience and fitness features a smartwatch offers, unfounded on traditional analog masterpieces.
To be clear, we are not comparing or pitting traditional analog watches against new modern age smartwatches, one is a timeless masterpiece that just endures over generations and the class and finesse that comes with that relic, bolsters the phrase, "Old is Gold". On the other hand, you have these modern age mini mobile phones strapped to your wrists that can do many things, one among them is telling time.
Smartwatches can do pretty much everything a smartphone does, packed in a tiny enclosure, beautifully strapped on your wrists
Although, features, design varies from manufacturer to manufacturer the essence of the concept remains same, save time, have more convenience, and also a fitness tracker in some cases. get notified with a glance, control music on your wrists, make a call, send texts, smartwatches can do pretty much everything a smartphone does, packed in a tiny enclosure, beautifully strapped on your wrists. With some state of the art fitness and healthcare features, smartwatches add a lot of utility to the modern lifestyle.
Well, since we have made our case for smartwatches, let's take a look at our smartwatch buyer's guide.
Deals/Offers: Check Deals of Summer Sale on Flipkart. Get 10 Percent Discount with HDFC card.
Things to Consider Before Buying a Smartwatch
1. Operating System And Compatibility
Know the OS and compatibility of a smartwatch with your smartphone before buying one. The rules are pretty clear here, if you have an Android smartphone, you have to go with Android Wear. If you have an iPhone, look no more beyond the Apple Watch.
2. Apps and Watch Faces
If you would like more polished and well-developed apps on your smartwatch, Apple Watch proves to be better than Android Wear. If watch faces are your thing and you like to customise them to limits, get a new one every day, Android Wear is for you.
3. Display & Internals
If you are good with the touch-based tiny screen with most of the swiping involved, Android Wear will be nice enough. If you like more simplicity, elegance and the trust of physical buttons, Apple Watch is just fantastic.
4. Design & Build Quality
Watches are close to heart for many, being a style accessory It is important that you choose the one that offers a design you like more and suits your work style better. Also, if you like personalization look out for the degree and availability of personalization options for the smartwatch you are considering.
5. Fitness Features
If you are lazy and busy, with low levels of fitness, but you would like to stay fit, with the help of your smartwatch, do look for fitness features like Heart rate monitor and GPS.
6. Other Great Features
If you want some additional features like calling and payments, Apple is leagues ahead in the race than its contemporaries from the Android World, except Samsung. If you are spending a fortune, do look for these features as they make the smartwatch experience complete and fruitful to a whole new level.
7. Battery
The battery is one of the most important questions when it comes to a device this small and this much integral to our daily routine. What good is a smartwatch, If it requires charging before the end of the day? you just can't put it to charging over and over from your wrist.
So this was our buyers guide in brief. If you want to learn more then take a look at its detailed version here: How to select the best smartwatch | Detailed Buyers Guide
We have covered best smartwatches from various top brands like Apple, Asus, Motorola, Samsung, and Huawei. The price of smartwatches on this list is between Rs. 5000 and 30000. So, if you are looking for a smartwatch under 10000, 15000, 20000 or 30000, you will find it here.
List of Best Smartwatches in India
1. Apple Watch Series 3
Hands down, the best smartwatch on the planet right now, is Apple Watch Series 3. It is touted as the gold standard of smartwatches and Its not wrong to say so. Apple Watch Series 3 takes one already great smartwatch to new levels. It has a 1.53-inch OLED display which is gorgeous. Apple Watch Series 3 packs the best smartwatch processor, undoubtedly Apple's custom S2 chip. It carries the same widely loved design language of Apple Watch Series 2 and pumps up the internals along with some new features as well.
The Apple Watch Series 3, no surprises is only compatible with iPhones and is swimming ready with IPX7 certification. It has Bluetooth, Wi-Fi as well as GPS with all the other sensors such as an accelerometer, gyroscope, heart rate monitor, and barometer as well. The LTE variant is not available in India, the GPS version offers 18-hours of battery life and WatchOS 4 by Apple is like icing on the cake. The fitness features are better and more accurate than any other smartwatch out there and the interface/intuitiveness that comes with WatchOS 4 is just lovely.
It comes in two sizes - 38mm and 42mm. If you have an iPhone, look no more your search for a smartwatch ends here on Apple Watch Series 3. You can get it on Flipkart as well as Amazon, starting at Rs. 29,900. We would suggest you go for 42mm variant. Apple Watch Series 3 is the best smartwatch under 30000 to 35000 and best smartwatch in India as well. This Apple smartwatch is one of the best smartwatch available in India with top notch quality but with the price on a higher side,
(Regular Price Rs 32999, Ongoing Sale Price till 16th May - Rs 27900)
2. Samsung Gear S3
Samsung's unsung answer to Apple Watch Series 3 comes as Gear S3. The Gear S3 is not an Android Wear and runs on Samsung's own not much known Tizen OS, though the Gear S3 is compatible with Android as well as iOS devices. It has a 1.3-inch 360 x 360 S-AMOLED display which is certainly one of the best you can find on a smartwatch. It is powered by a 1Ghz dual-core chip and 512MB of RAM.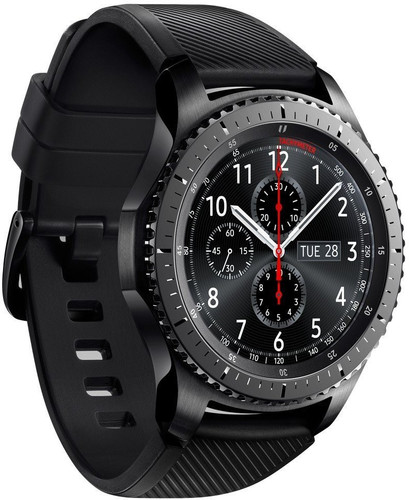 On the upfront, It has a beautiful design and a really long battery life with 3 days of capacity and it is also IP68 protected. For the first time for all the fitness freaks out there, GPS makes it into the Gear S3. It goes head to head with the Apple's 'Gold Standard' - Apple Watch Series 3, with Wi-Fi, Bluetooth as well as 4G to make and receive calls. On the downside and probably the dealbreaker for many is the Tizen OS with a super dearth of apps. You can get it on Flipkart as well as Amazon, starting at Rs. 28,500. Samsung Gear S3 is the best smartwatch between Rs. 25000 and 30000.
Buy Samsung Smartwatch from Flipkart
Buy Samsung Smartwatch from Amazon
3. Misfit Vapor Smartwatch
If you are interested in smartwatches, you would have heard the name Misfit bursting on to the scene. Misfit Vapor is one of the latest and full-fledged smartwatches by the brand. The design is quite similar to Moto 360 with a thick round dial giving It all the military vibes reminding us of the Casio G-Shock range in some aspects.
On the top is a 1.39-inch AMOLED display with a 392 x 392 Pixels resolution with a 326PPI density. The display is one big, bright and vibrant one with great viewing angles as well. Misfit Vapor is powered by a Snapdragon Wear 2100 and has 1GB of RAM and 4GB of onboard memory on Misfit Vapor. Android Wear 2.0 runs the show here or rather Google Wear as the new branding. What that essentially means is that this smart timepiece is compatible with Android devices running on Android 4.3 or later.
Vapor also has heart rate sensor which we found to be pretty accurate but the dearth of GPS doesn't make It a decent running partner unless you carry your smartphone around. It offers alerts for notifications, read texts, reply back and meet your fitness goals with the inbuilt pedometer. The battery like most smartwatches is enough for a day and you will need to charge Misfit Vapor after that. The UI is intuitive and responsive. The Misfit Activity app is impressive with the whole smartwatch for people who want to get working on their fitness and also get a smartwatch experience. This Misfit Vapor is one of the best smartwatches under 10000 to 15000.
Buy Misfit Vapor From Flipkart
(Regular Price Rs 14999, Ongoing Sale Price till 16th May - Rs 9999)
4. Fitbit Blaze Blue & Silver Smartwatch
Fitbit is as common a name as It gets in the wearables arena. Fitbit Blaze comes with a rectangular 240x180 pixels resolution on a 1.25-inch OLED display makes It bright and punchy. The touchscreen is very responsive and the display is awesome with perfect clarity and colours which looks beautiful overall. It is lightweight and we are sure you are going to love the designing through it has some extra bezels on the periphery. The straps are soft and feel comfortable in hand. This watch can handle light water exposure and sweat while exercising.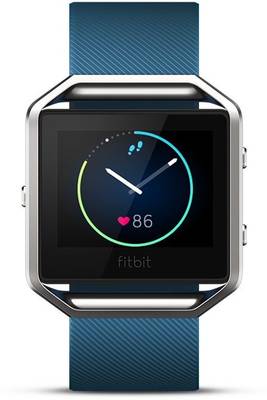 Fitbit Blaze 3 has stupendous 5-day battery life, which even on heavy use will not leave you before 3 days. .This smartwatch from Fitbit has a gyroscope that itself turns on to show the time when you turn it toward yourself and goes back to sleep mode which also helps save battery life.
The wrist-based sensor very accurately tracks your walking, running, cardio and some high-intensity workouts. The app interface is simple and informative and you would not fall short of any expectation. It does not have GPS and will utilise the GPS from your smartphone. It integrates pretty well with Apple, Android and Windows operating system smartphones. The preloaded apps are quite polished and accurate in terms of fitness tracking. The watch faces are limited but the ones that are there are decent ones.
It also has some inbuilt activity that shows you various exercises and how they need to be performed, certainly very helpful for people are just starting out or need some guidance. This smartwatch also notifies you of your smartphone notification of text, calls etc. Overall, it is poised to give you a really nice experience of wearing and using a smartwatch. This is a good option to consider in best smartwatch available in India if you have a budget of under 20000.
Buy Fitbit Blaze Watch from Flipkart
Buy Fitbit Blaze Watch from Amazon
(Regular Price Rs 19999, Ongoing Sale Price till 16th May - Rs 15999)
5. Huawei Watch 2
The next on the list is another round smart timepiece by Huawei, named Huawei Watch. This one features a 1.4inch display, with a rich 390*390 resolution. This one is powered by a Qualcomm Snapdragon 400, with 512Mb of RAM. Huawei Watch is compatible with devices running on Android 4.3 and later, surprisingly It also works with iPhones running on iOS 8.2 and above. It packs all the sensors such as heart rate sensor, accelerometer, gyroscope, light sensor and more.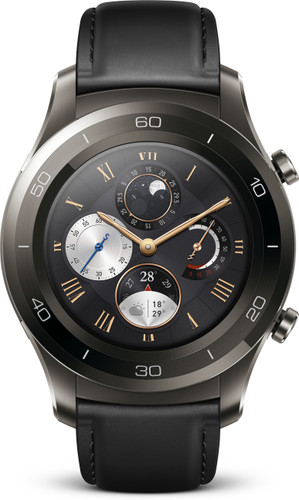 Huawei Watch also happens to be water resistant. It connects via Bluetooth, Wi-Fi and also sports GPS, so expect uber cool fitness features. The Watch 2 also features 4G, so yeah you can place a call from your watch without your smartphone. It also provides you with alerts about notifications and allows you to receive texts and reply back directly from your wrist. On the positives, It has a rich display, is nicely built and packs decent battery to power you through the day. Cons being, the gestures tend to be unresponsive at times, which feels horrible. In my personal opinion, the Watch 2 isn't that good-looking as the Moto 360 but offers some pretty solid features at the price. You can get it on Flipkart as well as Amazon, starting Rs. 18,999. Huawei Watch 2 is one of the best smartwatches in India.
Buy Huawei Watch from Flipkart
6. Fossil Gen 3Q Explorist Silver SmartWatch
Fossil's blend of traditional timepiece design with modern technology is quite admirable and to reinforce this we have Fossil Gen 3 Explorist. This traditional, round-dialed timepiece by Fossil has a solid metal casing which feels very robust and premium.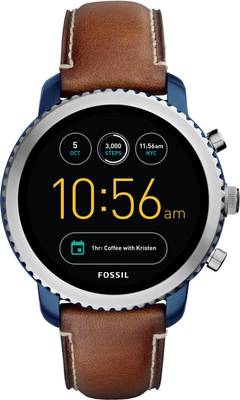 The backcasting is blue, which is a really interesting and pleasing aspect of the design. The metal periphery on top gives this smartwatch a more premium yet conventional timepiece look. The big 1.73-inch OLED display panel has a resolution of 320 x 290 Pixels. It is an impressive display with nice, crisp colours, and good contrast levels which tend to stand out. The curse with Android Wear is still there as Snapdragon 2100 is the best they've got which itself is almost 2 years old now.
There is 512MB of RAM and 4GB of onboard memory to go with It. As you guess, Android Wear 2.0 powers the Explorist. We miss the heart rate sensor but there's a whole lot of fitness tracking sensors and sleep tracking sensors in the watch. There is Bluetooth v4.1 as well as Wi-Fi, the watch is good with notifications and allows to take/reject calls as well. It does not have an onboard GPS. The UI is very good looking and feels quite natural to use. The 3 buttons on the side including the crown are all to control the smartwatch. With a battery life of about a day and these killer looks, Explorist is a good buy for someone looking for an amazing fashion accessory with a tech appeal to It.
Buy Fossil Gen 3Q smartwathcNow From Flipkart
Buy Fossil Gen 3Q smartwathcNow From Amazon
7. Fossil Q Founder
Fossil, a very renowned watchmaker, has also been very active on the smartwatch landscape with Fossil Q Founder, a rugged, traditional and super stylish Android Wear with a Snapdragon Wear 2100, the SoC made by Qualcomm specifically for wearables, along with it is 512MB of RAM. The performance levels of this one add it to one of the best smartwatches around in terms of sheer performance.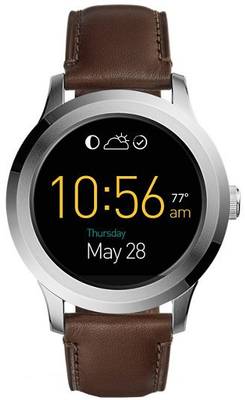 It is IP67 certified so don't worry about sweat or occasional shower. It has Wi-Fi and Bluetooth connectivity options but lacks GPS for the fitness lovers. It has a decent 1.5-inch display at a resolution of 360 x 360. It is compatible with Android 4.3+ and iOS 8.2+. If you are looking for a rugged, round and traditional looking timepiece coming from Fossil, this Q Founder is for you. You can get it on Amazon and Flipkart starting Rs. 13,990. Fossil Q Smartwatch is the best option under 15000.
So that's all folks! This was all we had on best smartwatches in India. We hope it was helpful and you were able to find a suitable smartwatch.
Though you may not feel like It, smartwatches are the next big consumer technology and are building up their case of utility, convenience, and beauty by each passing year. We feel that smartwatches are going to have a big time in 2018.
---
---
Latest Comparisons
---