---
Are you looking for the best smartwatch in India in 2019, then you are at the right place as this article covers the top 7 best smartwatches with reviews and price list in India. We also present the buying guide which will help you decide the best watch for you.
A lot of giants have entered the watch-scene in recent years, Samsung, Motorola, Apple are giving a hard time to traditional watch manufacturers like Tissot, Tag Heuer, Fossil and even Rolex! People have been slowly accepting the convenience and fitness features a smartwatch offers, unfounded on traditional analog masterpieces.
To be clear, we are not comparing or pitting traditional analog watches against new modern age smartwatches, one is a timeless masterpiece that just endures over generations and the class and finesse that comes with that relic, bolsters the phrase, "Old is Gold". On the other hand, you have these modern age mini mobile phones strapped to your wrists that can do many things, one among them is telling time.
Smartwatches can do pretty much everything a smartphone does, packed in a tiny enclosure, beautifully strapped on your wrists
Although, features and design varies from manufacturer to manufacturer the essence of the concept remains the same, save time, have more convenience, and also act as a fitness tracker in some cases, get notified with a glance, control music on your wrists, make a call, send texts. Smartwatches can do pretty much everything a smartphone does, packed in a tiny enclosure, beautifully strapped on your wrists. With some state of the art fitness and healthcare features, smartwatches add a lot of utility to the modern lifestyle.
Well, since we have made our case for smartwatches, let's take a look at our smartwatch buyer's guide followed by the top 7 smartwatch reviews and pricing.
Deals/Offers: Check Out the Best Deals and Offers Available on Amazon.in Today!
Things to Consider Before Buying a Smartwatch
1. Operating System And Compatibility
Know the OS and compatibility of a smartwatch with your smartphone before buying one. The rules are pretty clear here, if you have an Android smartphone, you have to go with Android Wear. If you have an iPhone, look no more beyond the Apple Watch.
2. Apps and Watch Faces
If you would like more polished and well-developed apps on your smartwatch, Apple Watch proves to be better than Android Wear. If watch faces are your thing and you like to customise them to limits, get a new one every day, Android Wear is for you.
3. Display & Internals
If you are good with the touch-based tiny screen with most of the swiping involved, Android Wear will be nice enough. If you like more simplicity, elegance and the trust of physical buttons, Apple Watch is just fantastic.
4. Design & Build Quality
Watches are close to heart for many, being a style accessory It is important that you choose the one that offers a design you like more and suits your work style better. Also, if you like personalization look out for the degree and availability of personalization options for the smartwatch you are considering.
5. Fitness Features
If you are lazy and busy, with low levels of fitness, but you would like to stay fit, with the help of your smartwatch, do look for fitness features like Heart rate monitor and GPS.
6. Other Great Features
If you want some additional features like calling and payments, Apple is leagues ahead in the race than its contemporaries from the Android World, except Samsung. If you are spending a fortune, do look for these features as they make the smartwatch experience complete and fruitful to a whole new level.
7. Battery
The battery is one of the most important questions when it comes to a device this small and this much integral to our daily routine. What good is a smartwatch, If it requires charging before the end of the day? you just can't put it to charging over and over from your wrist.
So this was our buyers guide in brief. If you want to learn more then take a look at its detailed version here: How to select the best smartwatch | Detailed Buyers Guide
We have covered the best smartwatches from various top brands like Apple, Asus, Motorola, Samsung, and Huawei. The price of smartwatches on this list varies from under 5000 to under 30000. So, if you are looking for a smartwatch under 10000, 15000, 20000 or 30000, you will find the best options here.
List of Best Smartwatches in India
1. Samsung Gear S3
Whenever we talk about technology, Samsung is a name that first comes to our mind. I mean they are everywhere. They have their home appliances lineup. Smartphones lineup. Fitness lineup and hell, they are even into military tech.
Well, we are not here to talk about that, but what we are going to talk is about a smartwatch that they make. The first smartwatch on our list is the Gear S3 frontier. The smartwatch firstly greets you with a 1.3-inch AMOLED display with a resolution of 360x360 giving plenty of resolution considering it's only a 1.3-inch display. Colors are beautiful and text is plenty sharp for a smartwatch. And its Samsung we are talking about who makes the display thus we can rest assured that the display is gonna be the best with great outdoor visibility.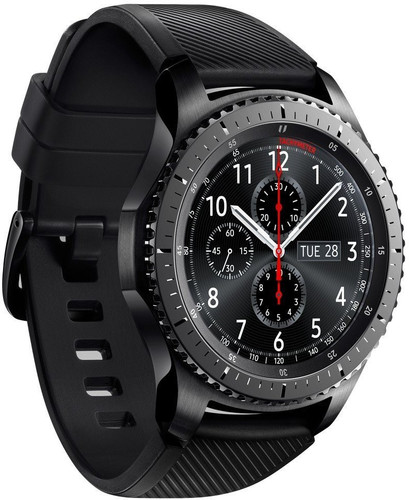 Coming to the build, the entire body is made of metal and it no ordinary one. It's IP68 rated and comes with military grade standard 810G protection too. What does this mean? It means that the gear S3 is one tough gadget that looks like 'Beauty' from the outside and is a 'Beast' on the inside. The display is covered with gorilla glass 3 too. Sticking with inside we have the dual-core Exynos 7270 processor clocked at 1GHz handling things around. This is coupled with a generous 768MB RAM. The watch also comes with an additional 4GB internal storage. The OS running the watch is also Samsung's in-house production just like its processor. Tizen OS for wearables, which in our opinion is a great OS for smartwatches. The watch pairs with both IOS and Android phones over Bluetooth with the companion galaxy gear app. It also has a microphone and built-in speaker to take handsfree call directly from the watch itself.
Probably the most polarizing feature of the watch is its rotating bezel, that's integrated perfectly with the Tizen OS. You can use it to increase or decrease volume to control music. You can navigate through the OS without even having to scroll through the OS. Apart from this, there are 2 buttons to help you navigate too.
The watch also comes with GPS, accelerometer, gyroscope, heart rate sensor, barometer, and altimeter to help you in your day to day fitness activities. The presence of NFC also allows for Samsung pay capabilities.
All this is backed up by a 389mAh battery that is good for 3 to 4 days of light usage or 1.5 days of heavy usage. The charging is done by a magnetic pad that's included in the box.
At the time of launch, the watch was available for nearly 28,000, however, for the current price tag of under 20000, this is a complete steal in our opinion.
Buy Samsung Smartwatch from Amazon
Buy Samsung Smartwatch from Flipkart
2. Amazefit Verge
Now Amazefit might not be as popular of a brand as Samsung but we can assure you the quality of health-related products they make is great. This is an American based brand who provide wearable tech for Xiaomi. In fact they also make the beloved mi band that is vastly popular.
Amazefit markets the Verge as "A fine-looking smartwatch for the fashion-conscious fitness enthusiast", and it is exactly what they say. To begin with, the watch greets with a 1.3-inch AMOLED display running at a resolution of 360x360. Sounds familiar? This is because the display is almost on par with the Gear S3 frontier mentioned above. It even gets gorilla glass 3 protection much like the S3 frontier. Colors will look vivid and text will look sharp thanks to the use of the AMOLED panel.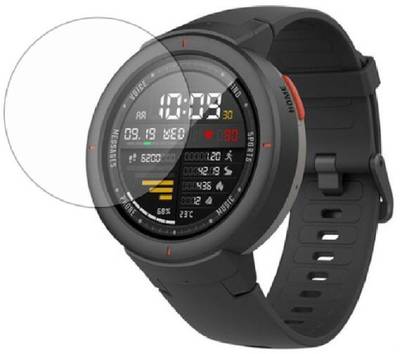 Coming to the internal specs, it has 4GB internal memory for storing and listening to music locally, just like the gear S3. It can track 12 different modes of activities thanks to the plethora of sensors that it comes with. It also has handsfree call feature just like the gear S3 thanks to the inbuilt microphone, however, this feature is available only for android phones. It comes with 4GB of internal memory for storing and listening to songs locally and 512 MB of RAM for running the OS. The phone pairs over Bluetooth with your phone and connects over Xiaomi's Mi-Fit app, for details and finer control of the watch.
The biggest hit that this watch takes when compared to the gear S3 is the overall build which is downgraded to plastic, this could be also attributed to the pricing as this smartwatch costs around half of the Gear S3. However, the performance with whatever features it provides is pretty solid with few to no frame drops at all. The entire watch is IP68 rated and we are pretty sure you'll like it.
All of this is backed by a 390mAh battery that's good for 4-5 days of usage by Amazefit.
The verge is a mixed bag of a smartwatch. Consider it a gear S3 on a lean diet. It gets the basics correct and pretty much stops there. Coming at rupees under 120000 it's pretty decent by considering the whole package that you get.
Buy Amazefit Verge from Amazon
3. Fitbit Versa Lite Edition Smartwatch
Now, Fitbit is one company on this list that needs no introduction. They are probably the most trustworthy brand when it comes to health-related trackers. This is not the first time that Fitbit took a fitness band and a smartwatch and merged them together. They did it with Fitbit Versa but it was a bit expensive.
The answer came in the form of the Versa Lite. While sitting on your wrist, the Versa lite first greets you with its 1-inch 300x300 display. Fitbit claims that the display can go up to 1000 nits. The display is one area that Fitbit has simply knocked it of the park. The entire body of the watch is made of extremely high-grade anodized aluminum. Now it does run on the proprietary OS as this watch offers mainly fitness-related features and connects to your phone over Bluetooth.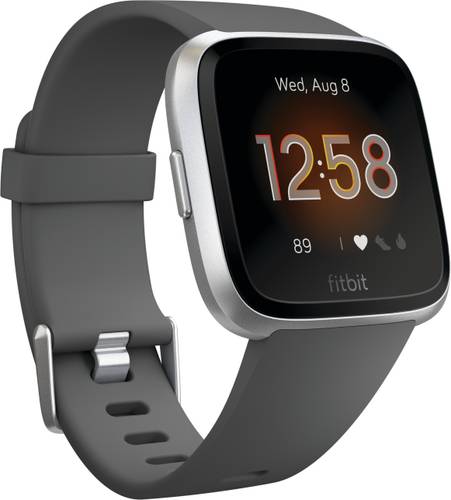 On the hardware running the show, we have ARM Cortex M4F on the processor side of things. Well, this isn't the most powerful processor for a smartwatch but it does come with the advantage of great battery life. Fitbit Lite offers around 4 days of usage depending on usage. There is the presence of a single button to navigate in and out of functions as most of the interaction is done by touching the screen.
Other feature of the watch includes notification sync from phones. Android and IOS platforms alike. Fitness tracking with the most accurate result in the entire list. A swim proof design which is waterproof up to 50m. And last but not the least an air of satisfaction with the results of the watch. There the previous name of Healthy Metrics Research, Inc proves it, itself.
All in all, if you want the best fitness tracking smartwatch on this list look no further. The Versa lite costs under 15000 and it can be your best bet to fetch a Fitbit smartwatch.
Buy Fitbit Versa Lite From Flipkart
Buy Fitbit Versa Lite From Amazon
4. Apple Watch Series 3
Now, no mobile gadget list can be complete without the mention of an Apple product. All hail Apple users. Up next we the most expensive watch on our list. The 3rd gen Apple watch. Let us get 3 if's very clear. If you have an iPhone. If you are most definitely going to buy a smartwatch. And If you gave the money to spend 30K. we advise buying the series 3 watch. You will be the happiest person. And now for those who need convincing.
The watch series 3 is probably the best build and OS adhered watch on our list today. To begin with, Apple watches are so popular that they are right now standing at the 2nd place when it comes to wearable devices. Second only to Xiaomi.
To begin with, the watch has a 1.65-inch Ion-X hardened OLED display for protection running at a resolution of 312 x390 pixels. The unconventional resolution comes from its unconventional rectangular display. The liking of the shape of the watch face is completely choice dependent. Some will love it others will detest it. As for the display itself, it is amazing. Plenty bright and accurate at showing text.
The watch runs on watch OS 4 runs on a dual-core Apple S3 processor and has an 8GB internal storage. This is double the storage that is provided by none of the non-apple watch competition. The watch has a vertically rotating crown on the right side similar to the horizontal one on the Gear s3 and a button. The watch being touch screen enabled makes the button an extension for interacting with the OS and gives the overall watch a nostalgic feeling.
Now, Watch OS 4 might be running things in the series 3 watch nice and smooth. But the home page for apps is simply a mess as apps appear just like small bubble cluttered all together. The second and probably the worst drawback of the watch is the battery as it does not even last an entire day.
This aside the integration of the watch OS with iOS is simply the best. Notifications will not miss a beat. Health and fitness tracking are displayed very clearly and vividly in the companion watch app.
All in all, at a price of under 30000 it might be an expensive buy for Apple users but it's a good buy none the less.
Buy Apple Watch 3 from Flipkart
5. Mobvoi Ticwatch Sports Knight Smartwatch
Now, Mobvoi might not be a name that many of you all might be familiar with. This is a China-based company that deals with tech related to voice recognition and natural language processing. The company was made by ex-Google and Nokia employees.
Coming to the Ticwatch itself at the time of its launch in India it retailed for about 19000.
As the very name of the watch suggests this is a watch aimed towards sports-related activities. Thus, it does not have the metal build that is found on most of the premium smartwatches. The Sports Knight is made with "Top grade Polycarbonate". Thus, you get a very light, does not feel cheap and sturdy design. The watch-strap is made of skin-friendly thermo-plastic polyurethane. There is a single button to navigate through the OS as most of the interaction would be using the touch screen.
The display is simply amazing to look at. Its 1.4 inches to begin with. Runs at a resolution at 400 x 400 pixels and is OLED to ice the cake. Visibility is great and text will look plenty sharp. All in all, the display is simply amazing.
The software running on the watch is Android Wear 2.0 which can be upgraded to the latest wear OS, thanks to Google for that. And the software performance is pretty good and much adhered than it ever was.
The hardware running the show comes in the form of 1.2GHz dual-core MediaTek MT2601 processor. This is backed up by 512MB of RAM and 4GB of internal storage. Now guys don't skip this review just cause y'all heard MediaTek. This is actually a good processor for smartwatches as you would not be playing heavy games or multitasking on a watch after all. Yes, it won't be apple and Samsung level good but it's definitely an A-.
The watch also has a heart rate sensor to monitor your health, with tracking for multiple fitness activities. All this is sent to Google fit for finer monitoring. The watch connects over Bluetooth and is controlled by the Wear OS app. The watch comes with a 300mAh battery which is good for 2 days of usage.
This is a decent watch to consider for an under 20000 budget.
Buy Mobvoi Ticwatch from Flipkart
Buy Mobvoi Ticwatch from Amazon
6. Huami Amazfit Smartwatch
This the cheapest watch on our list of the best smartwatch in India and costs around 5000. This is again from Amazefit and is called the Bip.
In simple words, if you want a no-nonsense smartwatch that only tracks your sleep and steps and gives you very few notification details, just go and buy this watch. Trust us, guys, you will love it. This BIP is also the lightest watch on our list at only 32gm. Now, this price gets you 2 very important features on this watch.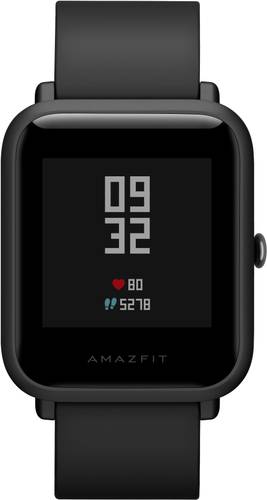 One. A 45 days battery life if you don't use the GPS on the watch for tracking while running around. You get a clean 2 weeks battery life if you use the watch as it should be. That is GPS usage every day, with 24X7 HR sensor on while sleeping.
Second. A host of sensors that are found on many expensive smartwatches. 3-axis accelerometer. PPG HR sensor. Barometer and finally Geomagnetic sensor too. Now the battery life of the watch is great also due to the 1.28-inch Trans reflective display. What does that mean? The display when facing a source of light reflects the light back giving the clear visible text to read without using the backlight led of the display itself. The battery involved is 190mAh and it takes 2 to 2.5 hours to charge fully over the include charging dock.
The processor used here is from MediaTek but is unknown which one. The body is IP68 rated and the square glass front is covered with curved 2.5D gorilla glass 3. The only downside is the lack of a proper app store and the use of a proprietary OS for simple navigation. The watch connects with your smartphone over Bluetooth and can be controlled over the Mi-Fit app. Honestly, we see this more of as a watch that also smart.
However, again if you want a watch that looks more like a watch and gives you only a few notifications. Is also capable of tracking your fitness and last longer than any other smartwatch on this list today. Buy this watch. And honestly, you can't really expect anything else given the price tag of 4999.
Buy Huami Amazfit Smartwatch From Flipkart
Buy Huami Amazfit Smartwatch From Amazon
7. Fossil 4th Gen Explorist HR Smartwatch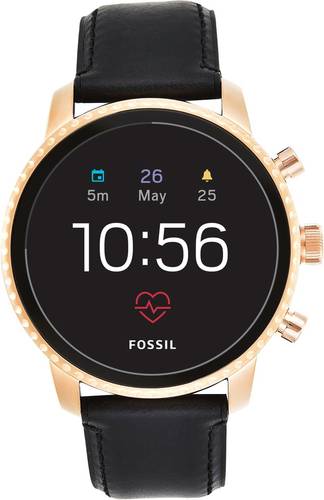 Fossil is no stranger when it comes to watches. After all who would not know a company that is more than 3 decades old. However, they also make pretty darn good smartwatches. Today we look at the fossil 4th Gen Explorist HR smartwatch. When you pick the Explorist you will be greeted with a beautiful and gorgeous 1.77-inch AMOLED display running at 454 x 454 resolution giving you great details and sharpness. The watch is made of high-grade stainless steel and has a great classy look too.
Now interestingly the watch runs on Qualcomm Snapdragon wear 2100. This is supported by 512MB RAM and a 4GB internal storage. So, performance is going to be no slouch on this device. The great hardware is supported by Googles wear OS 2.0. Wear OS 2.0 runs like butter on this watch. Notifications are much more streamlined on this version of the OS and overall you will definitely like the experience.
Navigating through the watch is mainly done using the touch screen and thanks to the 3 buttons on the watch the interaction becomes even easier. The Explorist comes with a 24Hr battery life depending on the owner's usage. However, one of the most polarizing features about the watch is the inclusion of a fast charger. This charges your watch from 0 to 80 in an hour.
Apart from all of this the watch comes with the HR sensor and is waterproof till up to 30m. To top everything, it comes with a 2-year warranty. The Explorist comes at a price tag of under 22000 and is a great buy for that price.
Buy Fossil HR Smartwatch From Flipkart
Buy Fossil HR Smartwatch From Amazon
So this was the list of the best smartwatch in India and its time to finally wrap things up. We have covered smartwatches from every price category possible. We have gone as low as 4999 with the Amazefit Bip. To as high as 29999 with the Apple watch. We have covered smartwatches that are iOS specific to watches that can be paired with both iOS and Android unless you are still using Blackberry OS.
All in all, we can't really decide a winner amongst the 7 watches here as the watches serve similar but specific purposes to different users. However, we can assure you that no matter which one you go for you will definitely not regret your buy. Until next time keep reading my friends.
This was all we had on best smartwatches in India. We hope it was helpful and you were able to find a suitable smartwatch.
Though you may not feel like It, smartwatches are the next big consumer technology and are building up their case of utility, convenience, and beauty by each passing year. We feel that smartwatches are going to have a big time in 2019.
---
---
Latest Articles on our blog
---
9 Best Wireless Bluetooth Earphones & Headphones Under 2000 in India 2020
In this blogpost, we take a look at the 9 best wireless bluetooth earphones & headphones under 2000 in India 2020. These earphone and headphone use bluetooth technology to connect to your phone and stream music. If you are a regular wired earphone user, you would love the wireless experience.
---
AMX XP 60 Review: One Charger For All of Your Devices
AMX has recently introduced a 4 port charger that has 1 PD port and 3 USB ports. The Power delivery port can be used to charge the laptop, MacBook, iPhone, Pixel and other latest smartphones. The other 3 ports are conventional Type-A ports and you can normal Type-A to MicroUSB or Type C to charge your phone, smartwatches, bands, power banks, etc. In this article, we are going to take a look at the brief review of AMX XP-60. We have covered the features, specs, design, and performance.
---
Best Headphones & Earphones Under 3000 in India (Wireless Bluetooth & Wired)
Everyone loves music and In this article, we bring you the list and brief reviews of best headphones and earphones under 3000 in India 2019. This list has both earphones and headphones. Both wired and wireless bluetooth earphones/headphones have been covered in this article from brands like Sony, Samsumg, JBL, boAt and Motorola. The price range varies from 2000 to 3000 rupees.
---
The 8 Best Earphones Under 1500 and 2000 in India September 2019
A list of top 8 best earphones under 1500 and 2000 available in India as of September 2019. Best earphones from brands like Sony, JBL, Noise, Sennheiser, and bOAT have been listed in this article. All these earphones have excellent sound quality and provide an immersive listening experience.
---