---

Hey beautiful people! If you are a seeker of new exciting experiences, the digital world is concocting something that's built to blow your mind. You've surely heard of VR, haven't you? VR or Virtual Reality is a part of a human endeavor to go beyond the usual reality and touch the horizons of human imagination. Before the tech-savvy people in the house go berserk because of my euphemisms, technically, Virtual Reality is a rapidly growing consumer technology which takes you beyond the normal reality into a virtual world where you can do anything and everything, the window to that person, virtual world being a device called VR headset which is just like giant, heavyweight spectacles that strap onto your head using a headband. You can watch movies, play games and a lot more coming soon.
Going Beyond Reality. The Best VR Headsets In India, You Can Buy Right Now
VR is no doubt an emerging consumer technology but has seen some solid involvement from tech-behemoths like Google and Samsung. Virtual Reality content is still not much, but nonetheless, the experience is truly out of this world. So while others figure out, why to get their hands on a cool VR headset and what are the best ones out there, you get an unfair advantage here, as we've got you covered. In this post, we present some of the best mobile VR headsets in India that you can buy right now in 2019. We have covered a total of 6 best VR headsets under 1000, 2000, 3000 and 5000.
Deals/Offers: Check Out the Best Deals and Offers Available on Amazon.in Today!
1. Google Daydream View
When we start the talk about mobile VR headsets in India, the first name that pops out above everyone else is Google's Daydream View VR headset which got a late entry into the Indian shores in 2017. The device comes from the house of Google, so you expect no less, and delightfully Daydream View falls no short of expectations. The build is really sturdy yet feels a lot premium. The exterior is draped in a soft and comfortable fabric which feels really good. There's no overhead band and while you might be sceptical about the single band, It does work really well. There is some light bleeding, which is certainly painful, but Daydream is not the first headset to have this leak. Play store now has a plethora of apps for VR with titles from big names such as Netflix too. A lot of great experience is paid but the free content is not less and surely enjoyable. Compared to contenders, Daydream VR feels supremely responsive and performant. The experience is really immersive and jaw-dropping.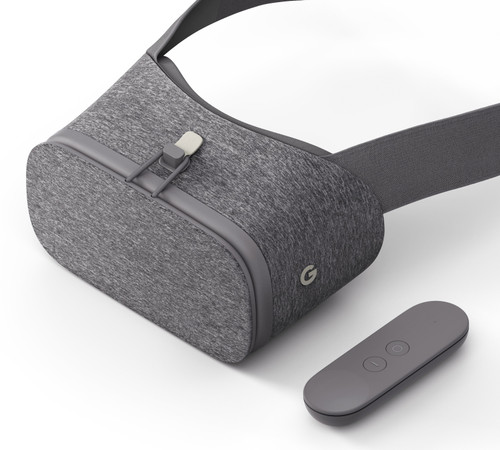 Let's talk about the controller that comes with the device. Its no less sturdy and premium than the headset itself, with a big button up top which is a touch controller, an action button and also serves as a home button. Its really accurate but can suffer a bit when low on battery. Even if it does get a bit disturbed, It takes just 10 seconds to recalibrate it.
Again, similar to almost all Virtual Reality headsets, headache is waiting for you just around the 40-minute usage mark. Google Daydream VR lacks a bit in device support with only a few supported devices and you can count them on fingers - Pixel lineup, Moto Z, Huawei Mate 9 Pro and a few more. In simple words, If you want to have the best of mobile Virtual Reality experience, you got to have the best of Android devices. Daydream is undoubtedly the best cardboard based VR headset out there. If you own a compatible device, then It's a no-brainer, you can't get better mobile VR experience than Daydream View. It is the best VR Headset under 5000 to 6000 price range.
Buy Google Daydream VR Headset from Amazon
2. Samsung Gear VR R322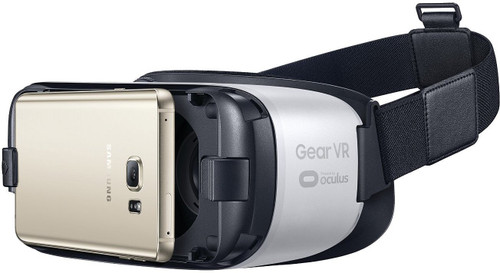 Samsung Gear VR falls at the second spot in our list and is a worthy competitor. It is crafted of plastic materials and feels robust. The rubber, velcro mesh ensures tight yet comfortable grips around eyes. The device is comfortable to the edges, but that's where It feels irksome. The cover for housing the smartphone is really thin and feels feeble.
Talking about compatibility, Gear VR falls short with just a handful of Samsung devices supported, that too the top of the line ones. The controller is heavily inspired from HTC Vive but It works decently. There is a ton of contents for this device and you won't be disappointed with the quality as well. The biggest positive Gear VR has is that It doesn't introduce a headache too soon. You can easily consume content for about an hour before experiencing some uneasiness.
There is a downside though that calibration isn't that good. When you change your position, the screen doesn't accommodate that change and It really sucks at times. The price is not that appealing, but If you own one of the few supported Samsung smartphones, Samsung Gear VR is a choice you won't regret making and is available for around Rs 5000 only.
Buy Samsung Gear VR R322 from Flipkart
Buy Samsung Gear VR Headset from Amazon
3. Advent Basics Virtual Reality Headset with Headphones
Not everything that's not famous is as good as this superb VR headset from Advent is. Well, what you get is total 3D experience whether it be movies, videos or even games. All credits to inbuilt earphones, you can hear audio, take calls and more, all without even touching your smartphone. With a clean, robust design this headset can't be kept away from the premium tag.
Its a little heavy at 410 grams, with soft cushioning to make the grip firm yet comfortable. The 42mm resin glass is really top notch and provides a 360-degree immersive experience without early fatigue and dizziness. The materials are of good quality and pile up to a great Virtual Reality experience on the go. With those earphones, built in the headset gives us more to talk about, that is sound. The earphones are not comparable to the best headphones in your arsenal but do a decent job.
The headset is compatible with all devices whether Android or iOS with a screen size of 4.7 to 6 inches which is fairly standard and provides you with a lot of devices to use the headset with. In our opinion, Advent Basics VR Headset is a really good buy until you have a high-end phone and a big wallet to get a Daydream or Gear VR.
The only thing we miss dearly here is a remote controller, which would have made this headset a value for money champion but looks like you would have to suffice without it.
Buy Advent VR Headset from Amazon
4. Irusu Monster VR Headset with Remote Controller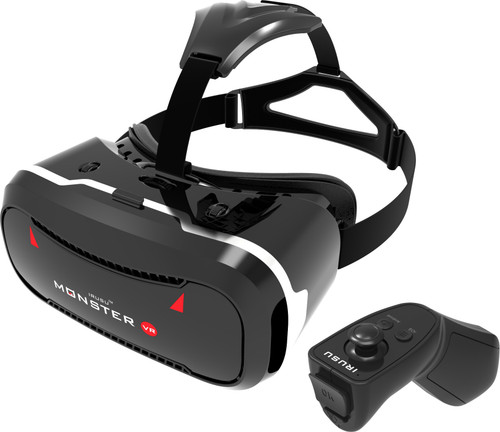 If you are looking for the best VR headset under 2000 range, Irusu Monster VR headset is the best bet. The headset boasts a nice design and is built with high-grade plastic which well does feel high grade but not as premium as you'd expect. Nonetheless, the plastic structure is strong and durable. The headset weighs around 300 grams and is comfortable to wear.
The 42mm resin lenses are of admirable quality packing an immersive 360-degree experience for you. The 3-way head-strap fits well and are of good quality. The lenses are fully adjustable. InterPupillary Distance ( IPD ) adjustment can help people to fine tune the lens adjustment as per one's eyes distance. The Focal Adjustment can be used to focus on the mobile screen for a sharper picture. These controls are located at the top side of the VR headset.
There are no earphones built in, but you do get a Bluetooth remote with a joystick-like controller of which is very useful for navigation and controls. The controller is powered by AAA batteries and they are not included in the box which is a bit frustrating.
On the compatibility side of things, Irusu Monster VR is fairly standard and supports devices of screen size 4.5 inches to 6 inches. Latest phones like Redmi Note 5 Pro would work fine even with a case on. Irusu Monster VR headset works well with the Google Cardboard App. If you want to explore more VR content then check out the Irusu VR App Zone on Play Store.
Irusu Monster VR headset is available on both Flipkart and Amazon for around Rs. 1950. It is our favorite VR headset under 2000.
Buy Irusu Monster VR headset from Flipkart
Buy Irusu Monster VR headset from Amazon
5. Mi VR Play 2
Another big name in the Virtual Reality industry, which is making a lot of buzz in the budget segment is Mi VR Play 2. This VR headset is the best value for money headset you can buy for just over ₹ 1000. Crafted by Xiaomi with premium fabric material just like the daydream VR, the headset is super comfortable and grippy. The cushioning is apt and fits perfectly. Its super light as well with just 183 grams of weight.
The velcro based head-strap can be adjusted nicely. The lenses are of superb quality and provide immersive 3D experience. The front load design is really good with good quality flap. The comfort levels are really great, light bleeding is there, but you got to live with that as that is the case with almost every VR headset. The fabric is really breathable and doesn't let heat generate in the chamber. The headset supports both iOS and Android devices ranging from 4.7 inches to 5.7 inches which might be a bummer for the 6-inch owners. This VR headset from Xiaomi is an absolute stunner at the price of just ₹ 1299.
Buy MI VR Play 2 Headset from Amazon
6. Ocular Swift Adjustable VR Glasses
Getting to our cheapest candidate in the post, Ocular Swift VR headset boasts a new, unique and trendy design. The build is of plastic and feels sturdy but not very durable. The VR headset boasts 42mm resin lens which is of decent quality and provides respectable VR experience. The light bleeding is a bit more than you would want. The headset features a flexible design which is good for 3D movie watching, games and more. The experience is really a cut above others in the category, hence in our list.
One thing that stands out is the cushioning, It is really really comfy and you'd definitely love it. All thanks to this firm grip and extra cushioning, wearing this headset for longer durations is not an issue, this is not completely right though. The lenses are good but not the best in the world so you do get some fatigue after an hour and a half or so. Another thing, which stands out is the weight of this headset is 160 grams, yes! just 160 grams. It's really ultra-light. You can buy this one from for around 900 and it is the best VR headset under 1000.
Buy Ocular Swift VR Headset from Amazon
SuggestPhone's Conclusion
The Best VR Headsets In India, You Can Buy Right Now
So that's It folks, hope we did a good job bringing you the best VR headsets in the country right now. So are you ready for some high fidelity experience, immersive exploration, and a wonderful yet virtual reality? If you can roaring a big yes, then VR headsets are for you. With a ton of content whether it be movies or games, VR is already huge. It's your time to get on the Virtual Reality bandwagon, so go ahead take a read of this post again, share with others and unleash the gates of the virtual world, together.
Have you been using any of the above-mentioned headsets? or used in the past? what were your experiences? Do share with us, we'll be waiting to hear from you.
Please follow us on Facebook and make sure to follow us on Twitter for similar and quality technical articles, We are now on Instagram and Medium as well. Do check us out for some great content there and be sure to follow. Sharing is caring guys, so how can you not share this awesome post with others? Till then, Bye!
---
---
Latest Articles on our blog
---
9 Best Wireless Bluetooth Earphones & Headphones Under 2000 in India 2020
In this blogpost, we take a look at the 9 best wireless bluetooth earphones & headphones under 2000 in India 2020. These earphone and headphone use bluetooth technology to connect to your phone and stream music. If you are a regular wired earphone user, you would love the wireless experience.
---
AMX XP 60 Review: One Charger For All of Your Devices
AMX has recently introduced a 4 port charger that has 1 PD port and 3 USB ports. The Power delivery port can be used to charge the laptop, MacBook, iPhone, Pixel and other latest smartphones. The other 3 ports are conventional Type-A ports and you can normal Type-A to MicroUSB or Type C to charge your phone, smartwatches, bands, power banks, etc. In this article, we are going to take a look at the brief review of AMX XP-60. We have covered the features, specs, design, and performance.
---
Best Headphones & Earphones Under 3000 in India (Wireless Bluetooth & Wired)
Everyone loves music and In this article, we bring you the list and brief reviews of best headphones and earphones under 3000 in India 2019. This list has both earphones and headphones. Both wired and wireless bluetooth earphones/headphones have been covered in this article from brands like Sony, Samsumg, JBL, boAt and Motorola. The price range varies from 2000 to 3000 rupees.
---
The 8 Best Earphones Under 1500 and 2000 in India September 2019
A list of top 8 best earphones under 1500 and 2000 available in India as of September 2019. Best earphones from brands like Sony, JBL, Noise, Sennheiser, and bOAT have been listed in this article. All these earphones have excellent sound quality and provide an immersive listening experience.
---