---
As the world moved from normal phones to smartphones, clunky desktops to sleek laptops, heavy books to lightweight eReaders, we have made our own lives far more comfortable. It does not come as a surprise when our mobile chargers have undergone this transformation. With massive increments coming up every year, it doesn't come as a surprise that wireless charging is the new thing. That's why in this article we have covered 8 best wireless chargers in India 2019. We have covered wireless chargers for both Apple iPhones and Android phones like Samsung S8, S9, S10, LG G7, Google Pixel etc.
Samsung's Galaxy S6 series was one of the first Android phones with a glass back that supported wireless charging. Well at that time it was a great deal because charging your phones without using a cable was considered to be a thing of the future. Since then this feature was further popularized by introducing fast wireless charging. Not only does wireless charging brings a sneak into the future of mobile phone charging, but it also in a way adds to a way of luxury.
On this list of best wireless chargers in India, we have the top 8 chargers list along with their brief review and price list from top brands like Samsung, Philips, Belkin, Google, Portronics and Anker.
So let us now check the list of the best wireless charger in 2019. We have provided the Flipkart and Amazon product links so you can check the latest price and availability. Also, at the end of this article, we also enlighten you about what the specific terms mean and evolution of the wireless charging.
Deals/Offers: Check Out the Best Deals and Offers Available on Amazon.in Today!
SuggestPhones's Best Wireless Chargers in India 2019
The charger listed below have been sorted by price so depending on your budget you can move through the complete list of best wireless chargers. For a budget of between 1000 to 2000, you can refer the below mentioned first 5 best wireless chargers
1. Taslar Universal Standard Qi Fast Wireless Charger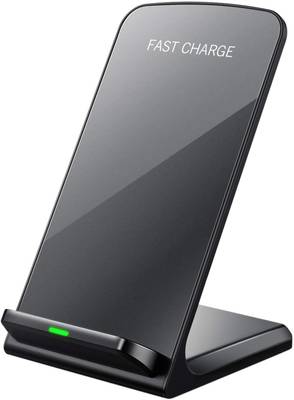 Taslar is a pretty well-known company for providing smartphone accessories ranging from Screen protectors, smartphone cases to wireless chargers. To kick things of the 'universal standard Qi fast charger' by Taslar is the most affordable wireless charger on our list.
The 'universal standard Qi fast charger' is the only charger on the list which happens to be a vertical charger with an output efficiency of about 72% and maximum output of 10W, this wireless charger comes not just with fast charging but also with Qi certification and is compatibility with any QC2.0 and QC3.0 (Quick Charge) charger at your disposal to top up your wireless charging phone to full capacity.
It costs around 1000 rupees and is one of the best wireless chargers under 1000 in India. If you want to try out wireless charging without spending much, then this charger will do the task for you.
Buy Talsar fast wireless charger from Amazon
2. Portronics Toucharge X POR-896 Wireless Charger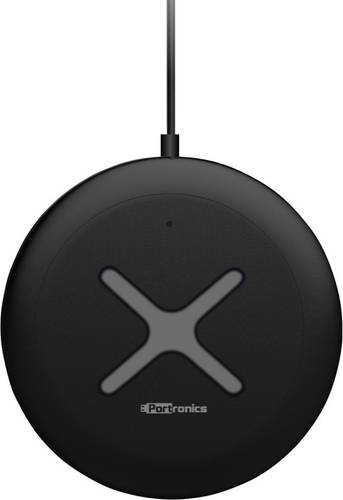 Portronics is a company that is quite popular on Indian e-com websites as they bring quality and long-lasting products at a reasonable price. The Portronics Toucharge wireless charger is one such quality product. It comes with a variable power output feature and supports 10W, 7.5W and 5W charging.
This wireless charger comes with an LED indicator to indicate if the phone is being charged (blue light) or the charger is in standby mode (green light). The LED continuously blinks in case the phone is not aligned properly to the charger.
The pad has an anti-skid design to protect your phone from slipping away. Also, it has overcurrent, overvoltage, and other certified protections to keep your smartphone safe by disabling the charging in case any such event happens. This is one of the best wireless chargers under 1500 and supports all Android phones, iPhones and Qi-enabled devices.
Buy Portonics Toucharge on Flipkart
Buy Portonics Toucharge on Amazon
3. Philips DLP9041 Wireless Charging Pad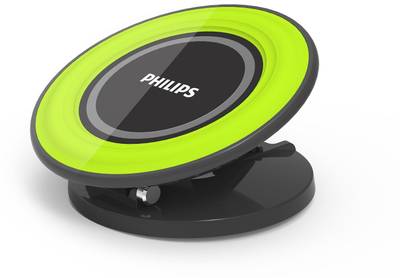 Philips is a big brand for electronics accessories and this wireless charger has strong build quality. It comes with a green color pad which prevents scratching and slipping. This DLP9041 charger supports Qi-enabled devices but does not support fast charging and your phone would take about 3 hours for a complete charge. There is an indicator LED to indicate charging or standby.
It is priced under 2000 and is a decent charger for the price range. Philips offers 12 months of warranty on this charger.
Buy Philips DLP9041 charger on Amazon
Buy Philips DLP9041 charger on Flipkart
4. Anker PowerPort Wireless 5 Pad Charger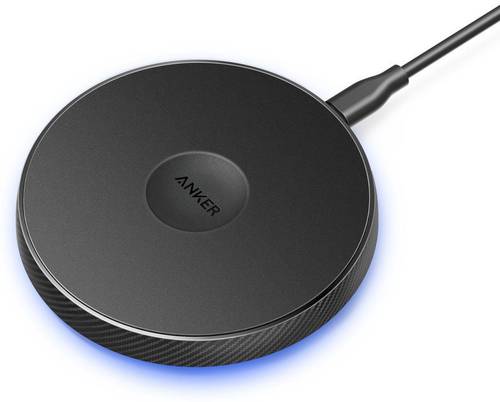 Our next top choice of wireless charger brings us to the 'PowerPort Wireless 5 Pad Charger' by Anker.
Anker is a Shenzhen based electronics company and is widely known for manufacturing computer and mobile peripherals. However, they are also into manufacturing quality wireless charger. This charger has an output of 5W but takes about 10 percent lesser time than other wireless chargers.
It supports all the models of Android and iPhone and can easily charge the phone with most type of cases. This wireless charger is also certified to the removal of safety hazards such as overvoltage protection, temperature control and more. The' PowerPort Wireless 5' is sure to give you the benefits of wireless charging with the assurance and brand value that Anker has to provide a warranty of 18 months.
This charger will cost around 2000 and has safety certifications of overvoltage, overheating, and other similar protection features.
Buy Anker Powerport wireless charger on Amazon
Buy Anker Powerport wireless charger on Flipkart
In case you have a higher budget and need a fast wireless charger, then you can look at this Anker wireless charger
5. Noise Fast Wireless Charging Pad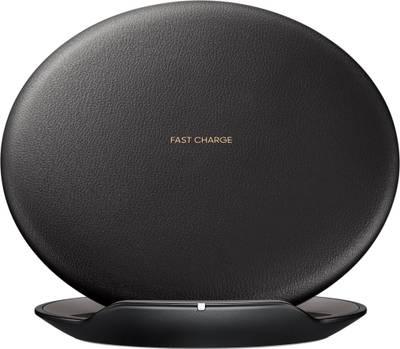 This is a fast wireless charger available for a price of under 2000. The charger is build of leather-like material which looks attracting. Noise is not a very big brand but in our reviews, this charger offered decent performance and hence a place on our list. You can switch between charging pad and stand so you can use it as you want.
There is an LED indicator which turns green while in charging mode and gives a blinking indication if the phone is not aligned properly. This is a built-in fan to ensure that the temperature is in control. The company 6 months of warranty on this product.
Buy Noise Wireless Fast Charger from Flipkart
Buy Noise Wireless Fast Charger from Amazon
6. Belkin Boost Up Wireless Charging Pad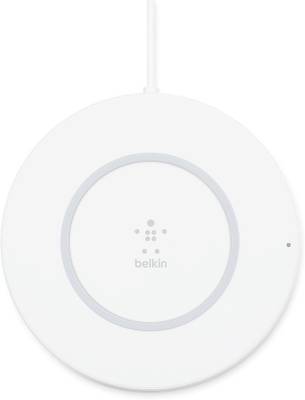 Our next stop on our list of best wireless chargers brings us to the 'Boost Up Wireless Charging Pad' by Belkin. Belkin is an American consumer electronics manufacturing company that has been providing quality products since 1983.
The 'Boost Up Wireless Charging Pad' is a 7.5W wireless charger that is compatible with all wireless charge capable smartphones as it is Qi-enabled. The charger is BIS certified and works efficiently. The reason it sits at the top of our picks is because of its features which include: charge capability of phones with cases on of up to 3mm thickness, however, the metal cases and very thick cases cannot be charged using any wireless charger or the charging might be very slow. The surface is non-slippery so the phone will not skid away.
This charger has all the required protection for overvoltage, overcurrent or overtemperature. It has a Green LED indicator to show that the phone is properly aligned for charging. Overall the charger comes with the most premium design and build on our list of chargers and is a great purchase all around.
Belkin offers a 2-year warranty on the product and can be further extended by 1 year by registering the product on their website
This Belkin wireless charger is the best one available under 4000 to 5000 on different E-commerce websites. You can look at the prices and availability on Flipkart and Amazon on below links.
Buy Belkin Wireless Charger from Amazon
Buy Belkin Wireless Charger from Flipkart
7. Samsung Wireless Charger Duo
It is one of the most expensive wireless chargers in our list and comes with the best of all Samsung branding. This charger support dual phone charging at a time with both slots supporting fast charging. It has a design comprising of a stand and a pad hence offering a great amount of flexibility. It also features a cooling fan which is built into the body of the charger at the back of the charger next to the type c port. This allows the charger to remain cool while charging your device.
If you are looking for a single Samsung wireless charging pad, then you can look at this product. It is a slightly old model but works very well and comes with an AC charging adapter.
This duo charger supports all the Qi-certified devices and has great value for money product given it can charge two phones at a time. It is the best wireless charger under 5000 to 6000 on our list. Samsung offers 6 months of Warranty on this device. If you have a Samsung Galaxy S8, S9, S10 or Note 8/9 phone with Samsung smartwatch, this will be great.
Buy Samsung Dual Wireless Charger on Amazon
Buy Samsung Dual Wireless Charger on Flipkart
8. Google Pixel Stand Wireless Charging Pad
This is the last wireless charger is this list of the best wireless charger and you would surely be amazed by reading the features it offers.
Google pixel is an ultimate tech giant when it comes to smartphones and with the release of the Pixel 3 and the 3XL, last year Google also introduced the 'Google Pixel Stand'.
This Pixel stand is basically a fast-wireless charger for your Google Pixel 3 and 3XL phones. Not only does it charge your pixel phone rapidly but it also provides features like photo display, alarm clock stands and personal assistant at your disposal on the lock screen. The Pixel stand is a must buy for the Pixel 3 and 3XL users.
The charger has a very solid build quality and ultimate design. Google provides 1 year of warranty on this device for any manufacturing fault. These features do come at a price as this wireless charger costs just less than 7000. Depending on your usage and budget, you can look to put your money in this fast wireless charger.
Buy Google Pixel Charging Pad on Flipkart
So this was all from our list of best wireless chargers in India 2019. Hope you were able to find a suitable product for yourself. There are options on each and every price bracket giving you the flexibility on your budget. All these chargers can be used for Apple iPhones like iPhone 8, 8 Plus, iPhone X, iPhone XS, and XS Max. If you have phones like Google Pixel, LG G6/G7 or Samsung S7/S8/S9/10/Note 8/Note 9 then also these will work fine.
Wireless charging offers a plethora of advantages. Other than being portable, it is far easier to drop your phone on a charging pad than plugging it in and out. While the world remains to be polarised over wireless and wired charging, just like between hard copies of books and their eBook version, you can only decide after you have tested for yourself.
As is present in wired chargers, wireless chargers have different standards. The standardized version, or the most popular of the lot, is Qi (pronounced 'chee'). Designed by the Wireless Power Consortium, it is supported by almost every phone that supports the wireless charging functionality. It uses inductive charging and can charge a phone up to a distance of 4cm. This device has a charging pad, on top of which is placed the compatible device. The charging is done via resonant inductive coupling.
With this standardization sweeping over the world, many manufacturers have jumped on the wireless charging bandwagon. Along with Samsung as well as Apple, the others are Asus, Google, HTC, Huawei, LG Electronics, Nokia, Motorola, Xiaomi, BlackBerry and Sony.
---
---
Latest Articles on our blog
---
9 Best Wireless Bluetooth Earphones & Headphones Under 2000 in India 2020
In this blogpost, we take a look at the 9 best wireless bluetooth earphones & headphones under 2000 in India 2020. These earphone and headphone use bluetooth technology to connect to your phone and stream music. If you are a regular wired earphone user, you would love the wireless experience.
---
AMX XP 60 Review: One Charger For All of Your Devices
AMX has recently introduced a 4 port charger that has 1 PD port and 3 USB ports. The Power delivery port can be used to charge the laptop, MacBook, iPhone, Pixel and other latest smartphones. The other 3 ports are conventional Type-A ports and you can normal Type-A to MicroUSB or Type C to charge your phone, smartwatches, bands, power banks, etc. In this article, we are going to take a look at the brief review of AMX XP-60. We have covered the features, specs, design, and performance.
---
Best Headphones & Earphones Under 3000 in India (Wireless Bluetooth & Wired)
Everyone loves music and In this article, we bring you the list and brief reviews of best headphones and earphones under 3000 in India 2019. This list has both earphones and headphones. Both wired and wireless bluetooth earphones/headphones have been covered in this article from brands like Sony, Samsumg, JBL, boAt and Motorola. The price range varies from 2000 to 3000 rupees.
---
The 8 Best Earphones Under 1500 and 2000 in India September 2019
A list of top 8 best earphones under 1500 and 2000 available in India as of September 2019. Best earphones from brands like Sony, JBL, Noise, Sennheiser, and bOAT have been listed in this article. All these earphones have excellent sound quality and provide an immersive listening experience.
---