---

The Watches Worth Watching, Smartly
If you have not been living under a rock for past 3 to 4 years, you know there is a super cool category of consumer product called smartwatches, a pillar in a broad class of visionary devices called "wearables". Watches have been a colossal and timeless accessory for almost everyone for many many years, since the dawn of time you may say. As with every human accessory, watches also got their turn of re-invention and digitalization. Well, by digital we don't mean a tiny 7-segment LCD display, showing time, we mean a lot more whether It be fitness, notifications, messages, calls and more.
Deals/Offers: Check Out the Best Deals and Offers Available on Amazon.in Today!
How to select the best smartwatch?
A lot of giants have entered the watch-scene in recent years, Samsung, Motorola, Apple and are giving a hard time to traditional watch manufacturers like Tissot, Tag Heuer, Fossil and even Rolex! People have been slowly accepting the convenience and fitness features a smartwatch offers, unfounded on traditional analog masterpieces.
To be clear, we are not comparing or pitting traditional analog watches against new modern age smartwatches, one is a timeless masterpiece that just endures over generations and the class and finesse that comes with that relic, bolsters the phrase, "Old is Gold". On the other hand, you have these modern age mini mobile phones strapped to your wrists that can do many things, one among them is telling time.
Although, features, design varies from manufacturer to manufacturer the essence of the concept remains same, save time, have more convenience, and also a fitness tracker in some cases. get notified with a glance, control music on your wrists, make a call, send texts, smartwatches can do pretty much everything a smartphone does, packed in a tiny enclosure, beautifully strapped on your wrists. With some state of the art fitness and healthcare features, smartwatches add a lot of utility to the modern lifestyle.
Well, since we have made our case for smartwatches, let's help you understand what things must be considered before buying one. In the following sections, we'll take a look at some of the most important questions you should answer for yourselves to buy the perfect smartwatch. In the next part, we'll help you with some of our best picks in smartwatches in India. So without further ado, shall we?
1. Operating System And Compatibility
This is perhaps the most contributing feature that defines a smartwatch. The operating system in the primary software that makes the device actually usable for a human user like you and me, It also provides a platform for apps and other features to run on. At present, the smartwatch landscape is pretty much like the one in case of smartphones. You have two major players, Apple vs Others. Apple is a proud creator of Apple Watch, the gold standard in smartwatches, which runs on Apple's proprietary WatchOS operating system. On the other hand, the most used operating system of the globe, Android powers watches as well, called Android Wear.
Google's Android Wear runs on smartwatches manufactured by Samsung, LG, Huawei, Motorola and others with compatibility with Android smartphones running on Jelly Bean (v4.3) and above. Some Android Wear watches work with iOS as well, though the integration is not that sweet. Android Wear 2.0, which was launched in early 2017, brought a myriad of new functionality to Android smartwatches including the ever-powerful Google Assistant, advanced health features and much more.
With Android Wear 2.0, you get the feature to install apps directly on the smartwatch and of course, there is a dedicated Android Wear Play Store to download apps for your smartwatch, by developers around the globe. No surprise on the other front, Apple's watch is made for Apple watch and works only with the iPhone.
The Apple Watch app comes preinstalled in every iPhone and helps iPhone users customise and change a few things on their Apple Watch according to their preference, also there is a dedicated WatchOS app store, where developers can publish apps for the Apple Watch.
Verdict, do know the OS and compatibility of a smartwatch with your smartphone before buying one. The rules are pretty clear here, if you have an Android smartphone, you have to go with Android Wear. If you have an iPhone, look no more beyond the Apple Watch.
2. Apps and Watch Faces
Apps define the experience of a smartphone and that holds true for a smartwatch true. Over the past few years, the smartwatch category has shown major adoption from users as well as developers with thousands of really cool apps available on the app stores of both the ecosystems. Apple leads the race here with over 20,000 well-polished, watchOS apps. Including a ton of fitness apps and other big names such as ESPN, Uber and a lot more. Every major app in the app store for iOS probably has a presence in the watchOS store too.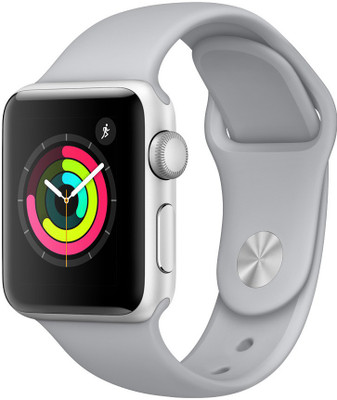 While there are no accurate figures for Android Wear, the platform is very rich too in terms of apps, created specifically for smartwatches, fully optimised and beautifully laid out. Most major apps could be found on the Android Wear app store as well, though the number is not in match with the Apple's roster.
The next thing and probably the screen, you'll watch most on your smartwatch is the home screen or watch face as you may call it. Apple Watch provides a fixed set of watch faces by Apple, including the new Siri watch face, the Mickey mouse one, and a minimalistic one.
The watch faces on the Apple watch provide sufficient variety for all tastes but that's all, there's no option for 3rd party watch faces, that's not the case with Android wear where you can get multitudes of 3rd party watch faces, whatever you like. So, If you like customisability a lot over anything else, Android Wear is your way to go.
Verdict, If you would like more polished and well-developed apps on your smartwatch, Apple Watch proves to be better than Android Wear. If watch faces are your thing and you like to customise them to limits, get a new one every day, Android Wear is for you.
3. Display & Internals
In case of a smartwatch, you have a tiny display and a few buttons, that's all. So that display and touchscreen better be damn good for a great smartwatch experience, if not, you'll live a hellish life where you touch something and something else gets open, all thanks to the small display and a mediocre touchscreen.
Most smartwatches now use a colour LCD/OLED display. The display is the most prominent part of a smartwatch, It should be bright enough, crisp and clear colours with good energy efficiency to work with a small battery on board. Most of the watch manufacturers are now using OLEDs due to increased energy efficiency and thinner structure. Apple used its first ever OLED in the first generation Apple Watch. Samsung started the OLED trend in smartwatches back in 2013 with Galaxy Gear.
The interface of the smartwatch is of much importance, a clumsy, complex interaction language and make the user fret. On such a small touchscreen, the navigation, the display area for content, the layout should be well done to ensure a worthy smartwatch experience. Android Wear presents a great card like interface, which are swipe-able, but the downside is that there's a lot of swiping involved which makes it a bit repetitive and monotonous.
Android Wear 2.0 allows superb switching between apps with just a flick of wrist. How cool is that? but not the best way, as sometime you just might flick your wrist and there you get your app switched, which was totally not expected. So flicking wrist to switch apps sounds super fun but It isn't a great way and involves a lot of unintended app switching, Huh!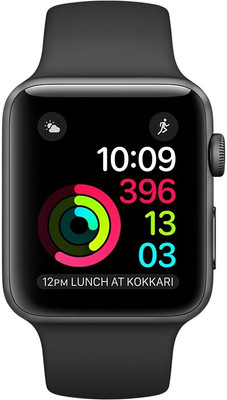 Apple went a little hybrid with use of both buttons and touch for interaction in a superfluid way. The 'digital crown' on the Apple Watch allows scrolling and zooming in an easy way without too much swiping on that tiny display which sort of is annoying. The side button allows for app switching and termination, by just a click and you have all the apps that are running in a card like a manner. The display itself is great and is Force Touch enabled, if you have used iPhone 6S or later, you know what that is and how useful that could be on a screen that small, It almost adds another gesture without much effort by the user and is intuitive at the same time.
Verdict, If you are good with the touch-based tiny screen with most of the swiping involved, Android Wear will be nice enough. If you like more simplicity, elegance and the trust of physical buttons, Apple Watch is just fantastic.
4. Design & Build Quality
After all, a smartwatch is also an accessory to your style and fashion. It should be beautiful and comfortable. Design and build quality are quite decisive when it comes to a device, which is to be worn by you at all times of the day. Most of the smartwatches today, offer a ton of customisation and personalization, whether it be in terms of watch faces or the bands.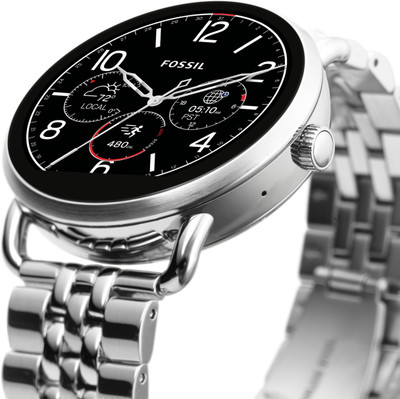 There are some pretty exquisite watches both in Android Wear and by Apple. Look for a design that suits you best and can be personalized easily at will. Traditional watchmakers like Tag Heuer, Emporio Armani, Hermes are also entering the arena which sports a rather traditional watch build in round face, inside you get the power and convenience of a smartwatch. You can also get a lot of different types of straps like the Milanese loop or the standard buckles or sports bands, we have a lot to choose from nowadays.
Verdict, watches are close to heart for many, being a style accessory It is important that you choose the one that offers a design you like more and suits your work style better. Also, if you like personalization look out for the degree and availability of personalization options for the smartwatch you are considering.
5. Fitness Features
With busy lifestyles in cities, people stray away from fitness quite easily. Smartwatches help you to regain that spark of staying fit in your routine by setting easily doable goals that ensure that you stay fit and active throughout the day. some smartwatches almost act like fitness trackers with inbuilt GPS, heart rate monitor and a host of other features for helping you keep track of your fitness and exercises, throughout the day.
If you almost sitting all the time, with no room for going to the gym in your routine, gauging on your desk monitor all day long, smartwatches can help you get that exemplary fitness you once had back, all in your normal routine with some efforts of course. I really like the fitness and healthcare features of smartwatches as they really help people get on track with their well being, and being busy all day long takes a toll on your health, smartwatches prove their utility by pushing you to get that healthy and fit body back, before Its too late.
Not all smartwatches come with fitness features, but If you want to stay fit in your busy schedule, try to get one with these features. It can be really helpful. Instead of buying a fitness tracker, isn't it cool If you get them in your smartwatch itself?
There are some great smartwatches with Android Wear that support these fitness features, but the heart rate monitor isn't as accurate as dedicated fitness trackers like the ones from Fitbit. Apple Watch does good with heart rate, with very accurate results. In addition to heart rate, some smartwatches now have GPS that allows a whole set of exercise tracking, like running, cycling, swimming and a lot more.
GPS and location services are hard on battery life but add on some solid substance to fitness capabilities. Apple Watch Series 3 and others from the Android side of things like Huawei Watch 2 do have GPS onboard making that fitness features extra capable and really worth considering instead of a fitness tracker from Garmin or Fitbit.
Verdict, If you are lazy and busy, with low levels of fitness, but you would like to stay fit, with the help of your smartwatch, do look for fitness features like Heart rate monitor and GPS.
6. Other Great Features
As technology is skyrocketing by each passing day, we see more and more in the same enclosure, we are on track with Moore's law. The same can be seen with smartwatches, as by each passing release we see more and more features packed into that small space on your wrist.
We all have dreamed of placing calls from a device on our wrists, that's no more a dream. Apple Watch Series 3 and Samsung's Gear S3 put LTE on the watch, so now you can place calls too, without any connection with the smartphone. Though battery life plummets down, you do have a new and significant feature.
Smartwatches have been a major component of digital transactions like Apple Pay or Samsung Pay or Google Pay. The smartwatches now come with NFC that enables payments using these technologies a breeze.
Verdict, If you want some additional features like calling and payments, Apple is leagues ahead in the race than its contemporaries from the Android World, except Samsung. If you are spending a fortune, do look for these features as they make the smartwatch experience complete and fruitful to a whole new level.
7. Battery
The battery is one of the most important questions when it comes to a device this small and this much integral to our daily routine. What good is a smartwatch, If it requires charging before the end of the day? you just can't put it to charging over and over from your wrist. Most smartwatches have almost a day's worth of battery and can pull you through the day, but on a busy day most of the Android Wear's are on their tips.
Apple Watch, on the other hand, has approximately 18 hours of heavy usage, so normally It lasts easily for a day and a half to two days, which makes it an attractive choice. Most of the smartwatches use inductive charging, where you don't have to plug the watch in, instead just place on the charger and Its done, the watch will keep on charging, which looks really good.
8. Pricing
In the end, It all boils down to pricing as smartwatches are not yet a mainstream consumer product like smartphones or tablets. Everyone wants to get the best in the price they are willing to shell out.
Most smartwatches in India are available at a price greater than Rs. 15,000, which doesn't rub down good for most of the population due to perceived lack of utility in the population and they are right, smartwatches are not that essential a consumer product right now, but they are getting better.
On the lower side of the spectrum, you get some good wearable fitness trackers like the Mi Band 2 and others from Intex which do a really good job but can't be really called a smartwatch. Below, we highlight some of the best smartwatches & Fitness trackers available in India, in every price bracket.
Smartwatches: Our Best Picks
We have done a separate detailed article where we have listed our best picks. Take a look at best smartwatches in India with reviews.
Wrapping Up: The Timeless Treatise on Smartwatches
So that's all folks! though you may not feel like It, smartwatches are the next big consumer technology and are building up their case of utility, convenience, and beauty by each passing year. We feel that smartwatches are going to have a big time in 2018.
In this treatise, we explained in a great lot of detail, how to select the perfect smartwatch for you and what are the best choices right now. I've been a fan of smartwatches since they started making their mark, after trying a few fitness trackers and other smartwatches, I am in eternal love with Apple Watch Series 3, which I have been using for the past 2 months, nothing comes close.
Click here to check out the Apple Watch Series 3.
Though, these were my thoughts and opinions on the smartwatch landscape right now. What are your thoughts about smartwatches? What according to you is the best smartwatch out there? What would you like to have in future smartwatches? These are some searing questions, which beg answers from you. So go ahead, make some time and like us on Facebook, follow us on Twitter, Instagram and Medium.
We've had quite a few stellar articles now, here on SuggestPhone.com, so why don't you visit us frequently and get some awesome and quality tech content for all your geeky cravings? Thank you very much for reading, see you again here on SuggestPhone.com, until then, have a great time.
---
---
Latest Articles on our blog
---
9 Best Wireless Bluetooth Earphones & Headphones Under 2000 in India 2020
In this blogpost, we take a look at the 9 best wireless bluetooth earphones & headphones under 2000 in India 2020. These earphone and headphone use bluetooth technology to connect to your phone and stream music. If you are a regular wired earphone user, you would love the wireless experience.
---
AMX XP 60 Review: One Charger For All of Your Devices
AMX has recently introduced a 4 port charger that has 1 PD port and 3 USB ports. The Power delivery port can be used to charge the laptop, MacBook, iPhone, Pixel and other latest smartphones. The other 3 ports are conventional Type-A ports and you can normal Type-A to MicroUSB or Type C to charge your phone, smartwatches, bands, power banks, etc. In this article, we are going to take a look at the brief review of AMX XP-60. We have covered the features, specs, design, and performance.
---
Best Headphones & Earphones Under 3000 in India (Wireless Bluetooth & Wired)
Everyone loves music and In this article, we bring you the list and brief reviews of best headphones and earphones under 3000 in India 2019. This list has both earphones and headphones. Both wired and wireless bluetooth earphones/headphones have been covered in this article from brands like Sony, Samsumg, JBL, boAt and Motorola. The price range varies from 2000 to 3000 rupees.
---
The 8 Best Earphones Under 1500 and 2000 in India September 2019
A list of top 8 best earphones under 1500 and 2000 available in India as of September 2019. Best earphones from brands like Sony, JBL, Noise, Sennheiser, and bOAT have been listed in this article. All these earphones have excellent sound quality and provide an immersive listening experience.
---