---
Looking for a truly wireless pair of earphones that do not break the bank. Shots X3 from Noise might be the answer for you.
The Noise Shots X3 comes with the latest and greatest Bluetooth 5.0. This helps in 2 ways. One the Bluetooth connectivity with your phone stays strong and uninterrupted and secondly you the pairing process between your earphones and phones once you take them out of the case in merely just a few seconds. To top everything up the earphones have a connectivity range of in-sight 30m, which means that without any interruption in-between your earphones can stay connected to your phones till up to 30m.
Noise has also tuned the Shots X3 for delivering a bass boost to your music. Yes, it's true that you won't get headphones level bass boost but the size that truly wireless earphones come for Noise has done a pretty good job. This is truly amazing for the price that the Shots X3 come for.
Deals/Offers: Check Out the Best Deals and Offers Available on Amazon.in Today!
Noise Shots X3: Inside The Box
Earbuds
User Manual
Charging Case
USB Charging Cable
Pair of Earbuds
Noise Shots X3: Battery Life and Charging
The Shots X3 comes with a 50mAh battery in each of the earphones. This is good for 2.5 to 3 hours of music listening time. When the battery on the earphones runs dry the charging case 1500mAh battery will juice it back wirelessly. So, if our math was correct this means that the buds can be charged back about 10 times. This means that you get 30+ hours of total listening time before you drain the battery on the case too.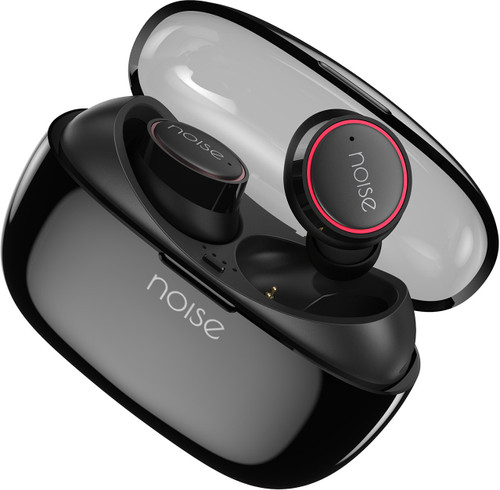 The charging case has magnets and the earbuds fit nicely into the charging points on their own, you don't need to struggle with aligning them perfectly.
The cradle charges over MicroUSB port which sits to the back of the cradle. It is disappointing that you don't get a USB Type C port. However, it's kind of expected from a product that is priced in this range. The charging case has LED indicators to display the battery left and charging status which is useful. As soon as you put in the earbuds, the LED indicators light up.
Noise Shots X3: Design, Build and Performance
Now coming to the design and build of the earphones. The ear tips are made up of silicon while its body is made out of polymer. The overall build of the earphones are decent. However, the same cannot be said about the case. It not this that the build is bad or anything. It's just this that Noise used plastic to make the cradle instead of the polymer that gives the earphones the premium build.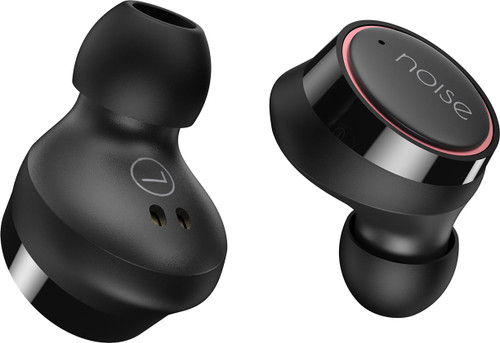 The earphones have inbuilt microphones one them for hands-free calling. They also come with an IPX4 rating which makes them splash-proof but not swim proof. The buttons on the earphones help with music control and the led lights on the earphones indicated the charge on them. On pressing and holding the buttons the voice assistant of the respective operating system is activated and is pretty handy.
The music quality of these earphones is really good. We loved the bass on it. It does a good job of isolating the noise from the outside as well. For calling etc, we won't recommend these earphones because it is useful only if you are in a quiet room. If you are outside, a lot of noise goes in and you have to speak loudly as well.
Noise has also provided 5 color options to help suit your taste. The earphones come with a year of warranty from all manufacturing defects. All in all, the amount of value that you get with these earphones is simply put second to none. These are one of the best wireless earphones under 3000 as of now.
Pros:
Good Sound with excellent bass
Best in class connectivity with Bluetooth 5.0.
Good capacity charging case
5 different color options to choose from.
Cons:
Type C port instead of MicroUSB would have been better.
The charging case build is slightly cheap due to the plastic material.
Not suitable for calling in outside noisy environments.
Noise Shots X3 are available at Noise Official Website, Flipkart and Amazon for around Rs. 2999. Here are the links if you would like to buy one:
Buy Noise Shots X3 from Amazon
Buy Noise Shots X3 from Flipkart
Buy Noise Shots X3 from Noise Official Website
---
---
Latest Articles on our blog
---
9 Best Wireless Bluetooth Earphones & Headphones Under 2000 in India 2020
In this blogpost, we take a look at the 9 best wireless bluetooth earphones & headphones under 2000 in India 2020. These earphone and headphone use bluetooth technology to connect to your phone and stream music. If you are a regular wired earphone user, you would love the wireless experience.
---
AMX XP 60 Review: One Charger For All of Your Devices
AMX has recently introduced a 4 port charger that has 1 PD port and 3 USB ports. The Power delivery port can be used to charge the laptop, MacBook, iPhone, Pixel and other latest smartphones. The other 3 ports are conventional Type-A ports and you can normal Type-A to MicroUSB or Type C to charge your phone, smartwatches, bands, power banks, etc. In this article, we are going to take a look at the brief review of AMX XP-60. We have covered the features, specs, design, and performance.
---
Best Headphones & Earphones Under 3000 in India (Wireless Bluetooth & Wired)
Everyone loves music and In this article, we bring you the list and brief reviews of best headphones and earphones under 3000 in India 2019. This list has both earphones and headphones. Both wired and wireless bluetooth earphones/headphones have been covered in this article from brands like Sony, Samsumg, JBL, boAt and Motorola. The price range varies from 2000 to 3000 rupees.
---
The 8 Best Earphones Under 1500 and 2000 in India September 2019
A list of top 8 best earphones under 1500 and 2000 available in India as of September 2019. Best earphones from brands like Sony, JBL, Noise, Sennheiser, and bOAT have been listed in this article. All these earphones have excellent sound quality and provide an immersive listening experience.
---
7 Best Bluetooth Speakers Under 1000 & 1500 in India 2019
This article helps you with the list of 7 best Bluetooth speakers under 1000 & 1500 in India 2019. Portable BT speakers from F&D, Portronics, Zoook, boAt, Logitech, Blaupunkt and iBall have made it to the top 7 list. We have covered review of each of these speakers along with basic details of the design and battery life.
---